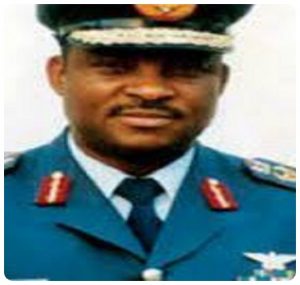 Former Defence Correspondent and Executive Assistant to the Governor of Delta State on Communications, Dr Fred Latimore Oghenesivbe, has described the demise of the former Chief of Air Staff, Air Marshal Nsikak Eduok, as a monumental loss to the nation and the Nigerian Air Force, NAF.
He said Eduok was not only a proficient combat pilot but also led a proactive advocacy for the nation's superior air fire power, and practically brought inestimable reforms to the Nigerian Air Force, during his tenure as Chief of Air Staff.
Oghenesivbe further asserted in his condolence message to the Chief of Air Staff, Air Marshal Sadique Abubakar, and the entire Eduok family, that the late former NAF CAS was a brilliant, articulate and disciplined officer who combined military duties with robust external relations, saying that he made quality friends and partnered greatly with Journalists and Defence Correspondents attached to Military Defence Headquarter, DHQ, during his service tenure as the Air Power Chief of the nation's Air Force.
"I was appointed as Associate Editor of the Airman Magazine of the Nigerian Air force during AM Eduok's tenure by DOPRI, in my capacity then as the West African Bureau Chief of World Airnews Magazine; which was heavily subscribed by the Nigerian Air Force.
"And I recall vividly the enviable roles played by late AM Eduok in repositioning the Air Force and the reforms that followed after the Chief of Air Staff Conference and NAF Reunion in Markurdi, Benue State State in 1998.
"NAF Air power was visibly reinvigorated, he boosted morales of men and officers, and made fighter jets and Hercules C1-30 operational equipments functional in required capacities.
"AM Eduok was exceptionally a kind hearted superior officer who always desired to see broad smile on the face of those around him. He will be missed greatly.
"I pray that God grant the NAF and Eduok families the fortitude to bear the irreplaceable loss caused by his gallant exit, and God to grant the departed soul peaceful eternal rest," Oghenesivbe prayed.