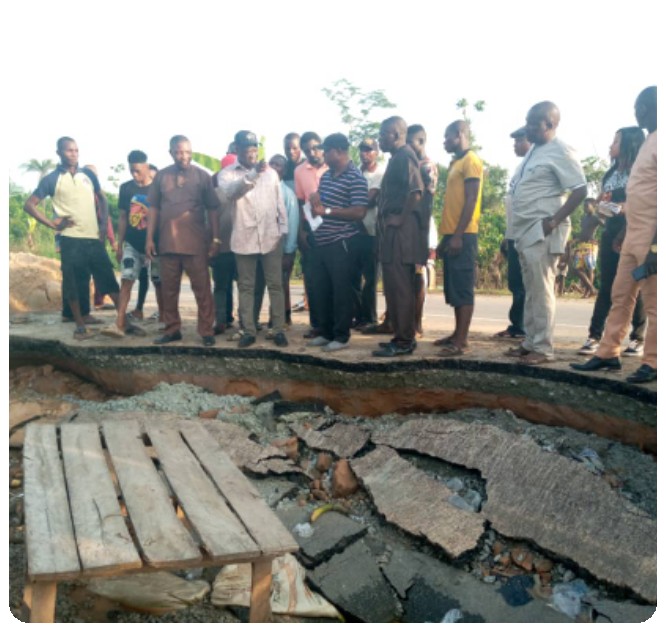 Delta state government has said it will not raise a completion certificate for a Lagos state based marine company, Portplus Nigeria limited, handling the controversial N1.5 billion road project at Ikpide-Irri riverine community, Isoko South Local Government Area of the state following poor execution of the project.
According to the state government, no Certificate of Completion should will be issued to the contracting firm except the road project is completed according to specification and standard
Governor Ifeanyi Okowa had in 2017 awarded the controversial contract to his political ally, Portplus limited which an elder brother of the contractor and ex-President-General of the community, Michael Omojefe, said that the contract was a 'kola nut contract' from the governor as appreciation to his younger brother for contributing to the governor's electoral victory in 2015.
Since the commencement of the project, series of protests by indigenes and pressure groups resulting from shoddy job have trailed the project.
Briefing Journalists Wednesday in Asaba, over attitudes of some contractors cutting corners in execution of government projects across the state, the commissioner of works, James Augoye, disclosed that series of complaints have rose from the Ikpide-Irri road project concerning shoddy job and as such no completion payment will be made to the contractor.
"The Ikpide-Irri road project has been a long standing issue. The Projects Implementation, Evaluation and Monitoring team was there, I have personally visited the project when the heat was high and I have held several meetings with the contractor to ensure that the road is executed according to the designs and BEME specification and he assured me severally to deliver a good job.
"Even in our last management meeting, I did say and we agreed that there is no certificate of substantial or final completion should be given to that job until we are very sure that all the snacks raised by Projects Implementation, Evaluation and Monitoring team and my engineers are resolved.
"Until those issues are put in place no substantial completion certificate should be given to the contractor and that is standing. So whoever decided to give final certificate to that job will be doing that at his or her risk, the directors, field engineers are all aware of that and my eyes are on that job because so many issues have come up.
"The job will be executed to specification and standard because those in Bayelsa state will see the job and be able to admire what we are doing. The job is a rigid concrete pavement and it should stand the test of time. If we do not get it right in that very project that means it will not stand. I want to assure the people of Ikpide-Irri that we want to stand by our position to ensure that job is completed according to specification and standard.
Augoye, however sounded a warning of sanction to officials of state government who are conniving with contractors in the execution of road projects, adding that the governor Ifeanyi Okowa led government would not tolerate any shoddy jobs execution anymore as a certificate of completion will not be issued to any contractor for such poorly executed projects.
"The Ministry of Works will not tolerate a situation where field, zonal officers, the monitoring and evaluation team will attest to shoddy road construction that failed the true test of the specification. Such jobs will not be certificated, even as such officers will be made to face stiff sanctions.
"We are hearing stories that contractors are saying whether their jobs are done to specification or not they will still get payment. Is not with the Ministry of works, the ministry will not condoned that. So, any contractor that does not work according to specification and does not comply with the Delta State Projects Implementation, Evaluation and Monitoring team, our field engineers will not have his job certified for payment.
"Contractors must cooperate with the project implementation monitoring team whenever they are on site and oblige them with all necessary documents which they need to ensure they carryout their work effectively, field engineers must also provide the team with documents such as drawings, designs and the likes whenever they need them.
"I want to assure that jobs been done by the Ministry of works are within the specification given to contractors. The Ministry of Works has three layers of project supervision which start with the field engineers/superintendent engineers, the zonal chief engineers at the level of projects sites who carryout day to day supervision of projects being executed by the state government under the ministry of works." Augoye stated.