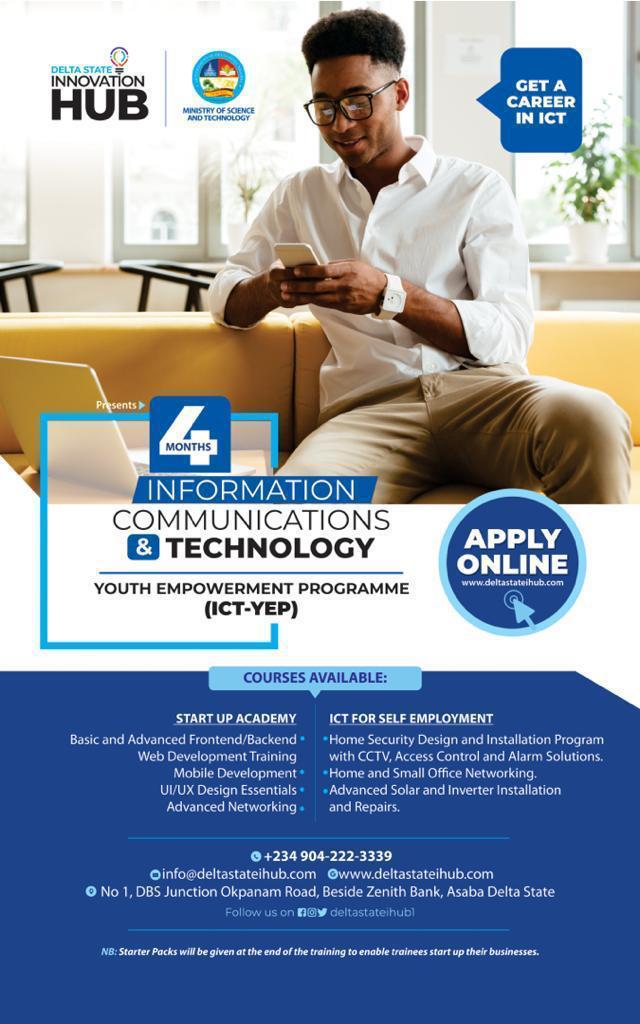 By : Akpovoke Otiti
ASABA – T H E Delta State Commissioner for Science and Technology, Hon. Engr. Mathew Itsekiri has inspected the Information & Communication Technology ICT Innovation Hub along Okpanam Road, Asaba billed for the training of youths , in the state.
Speaking shortly after the inspection, the Commissioner said the centre was part of government's effort to create job opportunities for youths to be self-reliant and improve the socio-economic development of the State , through ICT.
According to him, the centre will immediately commence Four Months free training exercise of 450 youths to become employers of labour, "that the wisdom of training our youths remain prosperity for all Deltans. "It is for changing our youths to come up with innovative ideas that if implemented, will go a long away in changing our own way of life," he said.
Hon Engr. Itsekiri said , No fees was attached for the training, and once one meets the requirement, the registeration remain free online.
He disclosed that the training centre has been equipped with state of the art facilities and all the resources persons are already on the ground waiting for the final day of the free onlie registeration to commence.
The Commissioner urged youths to take advantage of ICT to make vocations for themselves instead of depending on government.
According to him, "I urged Delta state youths to utilise the centre for the development of the state as the state government has provided all needed environment and logistics for the training."
The Commissioner however thanked Governor Ifeanyi Okowa for identifying with the need of the people through the usage of ICT in the state.
He assured that the youths would take the advantage of the centre, to make a vocation for themselves and ensure that the state and the country at large move to the next level of development as Free STARTER PACKS will be given to the beneficiaries ,  Kindly visits www.deltastateihub.com
"We appreciate Sen. Dr. Ifeanyi Okowa for these ICT programme, Delta youths will definitely key in to this noble agenda to make sure we take our people to the next level," Itsekiri said.
These programme would reduced, encourage and empower youths to take advantage of it toward reducing over dependence on government.
"This is an effort by Sen. Dr. Ifeanyi Okowa towards addressing unemployment by making ICT tools available for youthS to significantly encourage and promote digital innovation and job creation in the state " he said.