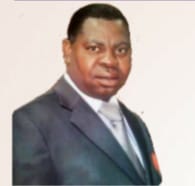 LESS than two months to the March 31st, 2021 date for the annual Maris Public Service Lecture, Secretary to Maris Trust Council, Comrade Fidelis Egugbo, has said that the profile of those who will enlighten the public about the topic would be released in series.
Egugbo, in a statement he issued in Asaba on Wednesday, stated that based on the ravaging effects of COVID-19 on economies of nations, corporate organisations and individuals, the topic for discussion, "Effective Tax Administration For The Delivery Of Democratic Dividends", has become even more relevant now than when it was mooted about a year ago.
It is in the light of the importance under the current situation in the land that serious preparations for a seamless public lecture have continued.
The statement said in part, "The issue of tax administration is a thorny one that most people shy away from but its discussion even in hushed tones cannot be avoided as it cuts across all spheres of life in any given geopolitical entity.
"Before the breakout of the Coronavirus disease or COVID-19 pandemic, the Maris Trust Council had met and aggreed on "Effective Tax Administration For The Delivery Of Democratic Dividends" as the apt topic for discussion for the year 2020 edition.
"Unfortunately, the COVID-19 pandemic swept across the globe and took the world by storm, which made the Council to postpone the event.
"As an event that has a fixed date annually, that is, the Wednesday before Easter Sunday, this year's edition falls on March 31st and the Chairman of the Delta State Internal Revenue Service, Chief Monday Onyeme has agreed to deliver the lecture.
"The Attorney-General and Commissioner for Justice, Delta State, Peter Mrakpor (SAN); the Executive Chairman, Enugu State Internal Revenue Service, Mr Emeka Anthony Odo; Accountant-General of Lagos State, Dr. Shefiu Abiodun Muritala; the Executive Secretary, Delta State Micro, Small and Medium Scale Enterprise Development Agency (DEMSA), Hon. (Barr.) Orezi Esievo, and the Chairman, House Committee on Public Accounts, Delta State House of Assembly, Hon. Tony Elekeokwuri, are expected to be discussants at the lecture, while Dr. Kemi Emina will be the Moderator.
"Covid-19 pandemic is unprecedented in its global reach and impact, posing formidable challenges to policy makers especially in Nigeria that had increasingly experienced a lot of job losses.
"Nevertheless, we are happy that preparations are in top gear to ensure a successful lecture and individuals, corporate organisations and groups that want to identify with the guest lecturer, discussants, moderator or Maris Trust Council, in terms of placement of goodwill messages, advertorials or sponsorship of the event, which will (by the grace of God) take place at Orchid Hotel, Asaba, Delta State, are free to reach the organisers.
"Today, as earlier said, we present a brief profile of Chief Monday Onyeme, our Guest Lecturer:"
BIOGRAPHY OF SIR MONDAY JOHN ONYEME (FCA), PMJE, NLCF
Chief (Sir) Monday John Onyeme was born on 30th March, 1965 at Ibabu, Onicha Ukwuani in Ndokwa West Local Government Area of Delta State.
Sir Onyeme, who holds the prestigious traditional title of Odoziani 1 of Ibabu Kingdom, has had a 'lion's share' of outstanding accomplishments in life.
He spent some of his life in the northern parts of Nigeria where he obtained his First Primary School Leaving Certificate in Army Children School, Sokoto, Sokoto State. He proceeded to Government Secondary School, Gummi, Kebbi State (1977-1982). Due to his excellent grades in his GCE O' Level he was admitted to study Accounting at Federal Polytechnic, Kaura-Namoda, Zamfara State, where he came out with a distinction grade in his National Diploma before proceeding to University of Calabar.
A 'Malabite', as graduates of the University of Calabar are called, he earned his Bachelor of Science (B.Sc) degree in Accounting in 1990 with a Second Class Upper Division.
He later enrolled for a part-time programme with Safe Associates Accountancy Tutors, Surulere, Lagos.
The icing on the cake in his professional pursuit was when he became a Chartered Accountant in 1993. He then proceeded to the Federal College of Education (Technical), Asaba where he received a Diploma in Computer Science in 2002.
His wealth of knowledge susequently prospered beyond the shores of this country.
He was at the Northumbria University in the United Kingdom (UK), where he bagged a certificate in Information and Communication Technology (ICT). The Northumbria University later awarded him a Masters Degree (MA) in Business Management; and, it was not just an MA degree as this came with a well-deserved commendation from the Newcastle-based university.
Sir Onyeme, a Chartered Accountant par excellence, has made a difference in all the organizations he has worked, consistently bringing his wealth of knowledge and experience to bear on the realization of organizational goals and targets.
He was the Bursar of the National Open University of Nigeria (NOUN), a position and responsibility he discharged faithfully when he was appointed in September 2006.
Before then, he was the Bursar of the Federal College of Education (Technical), Asaba between November 2005 and September 2006. While at the institution, the handling of its finances was in safe hands under his watch as Chief Accountant.
Before higher positions came his way, he had climbed the ropes in professional practice as an Assistant Chief Accountant (Head, Finance and Supplies) at the National Agriculture Land Development Authority, Asaba between July 1996 and October 2000 and was Chief Accountant at Octopus Continental Enterprises, Lagos between July 1995 and June 1996.
Indeed, a rich working experience is an attribute that Sir Onyeme has in large stock as he kept garnering it over the years, including the banking industry.
Between September 1993 and June 1995, he was the Senior Executive Assistant (Audit) at Commercial Trust Bank, Lagos as well as worked in the audit department of the National Electric Power Authority (NEPA), in its Lagos Office between February 1992 and August 1993.
He also had a feel of the academic world as an Assistant Lecturer, Federal Polytechnic, Kaura Namoda, Zamfara State from October 1991 to January 1992.
Moreover, he rubbed minds with national and global counterparts through attendance of trainings, seminars and workshops locally and internationally. These took him to foreign climes like Dubai, Sudan, Florida, Texas, London, Oxford, Mauritius, Paris, South Africa, India and many other places.
Sir Onyeme has various publications to his credit, including one he displayed his research prowess, titled "Corporate Environmental Accounting and Reporting in the United Kingdom: A Survey of Selected Companies in Cumbria (2004)."
His professional warchest includes membership of the Institute of Chartered Accountants of Nigeria (ICAN), Nigeria Institute of Management (NIM), Chartered Institute of Taxation of Nigeria (CITN) and Chartered Institute of Internal Auditors of Nigeria.
A fraud buster, he is also a member of Association of Certified Fraud Examiners.
Sir Onyeme, a Knight of Saint Christopher (KSC) of the Church of Nigeria (Anglican Communion) as well as a noble Knight, was appointed as the Chairman, Delta State Board of Internal Revenue (DBIR) on September 30th, 2015 to September 30th, 2019.
As a results of his contributions to the optimal increase of the Internally Generated Revenue Service of the State and his commitment to service delivery, he was reappointed by the Delta State Governor, Senator (Dr.) Ifeanyi Okowa, as Chairman, Delta State Internal Revenue Service (DSIRS).
Sir Onyeme is a philanthropist, a humanitarian who is a committed member of the International Association of Lions Club where he was the District Governor 404A1, International Association of Lions Clubs Nigeria between July 2018 and July 2019 where his contributions towards the betterment of humanity and his legacy projects for the good of the society still speak volume and continue to attract various awards.
Sir Onyeme is married with five children. He speaks English Language, Ibo, Ukwuani and Hausa fluently. For these rare qualities, which he possesses in quantum, and for his level-headedness and determination in pursuit of success, his trajectory has lined with lofty achievements.