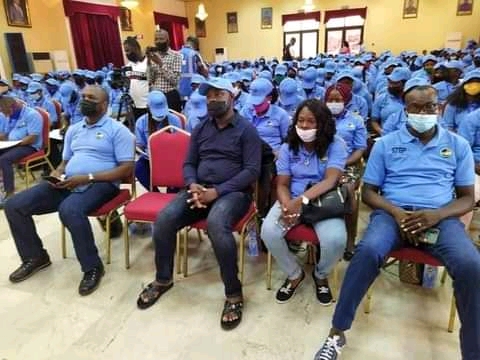 By Enweliku Kent
The Government of Delta State has commenced 2020/2021 cycle of job and wealth creation programme to make it 5,074 entrepreneurs that have been enrolled in the state through the office of job and wealth creation since 2015 till date.
The state Chief job creation officer Professor Eric Eboh stated this during the orientation and workshop exercise with the beneficiaries of 2020/2021 Skills Training Entrepreneurship Programme (STEP) in Asaba Delta State on Thursday April 1,2021 said that the first cycle of 2020/2021 beneficiaries targeted one thousand persons for the programme.
Three hundred and twenty persons are enrolled for the first cycle on fashion design and tailoring, welding and fabrication, electrical installation and solar work.
The statement said that these first cycle is between six to eight months time frame that covers the four skills for the STEP programme. Others follow in the subsequent cycle which are targeted to end this year.
He noted that the goal for job and wealth creation is to train, equip, establish and produce entrepreneurs, also reduce poverty in the state.
Ebo further explained that YAGEP, GEEP and STEP are the programmes from the Job and wealth creation office, while Rural Youth Skills Acquisition Programme (RYSA) is from the office of Ministry of Youth Development Asaba. Others are Child Girls Programme from the Ministry of Women Affairs and ICT for the office of Science and Technology.
According to Prof Eric Eboh, the 5074 persons enrolled so far started from the first tenure of these administration 2015/2016 to 2020/2021 sessions
He also disclosed that 23,567 persons applied, 12,930 pre- qualified, while 600 persons were selected for the STEP training, adding that 400 persons will be enrolled in a very short time in YAGEP and GEEP programme.
Meanwhile, commissioner for youth development
Mr Ifeanyi Egwunyenga urged the beneficiaries to have a grateful heart to the creator and the state government for this wonderful opportunity, adding that they should take the training serious in other to become future Entrepreneurs.
Mr Eredami Saturday and Onaiwu Florence who enrolled in welding and fabrication section thanked God and The State Governor Sen. Ifeanyi Okowa for this wonderful opportunity given to them, promise that they will not disappoint state government and deltans.