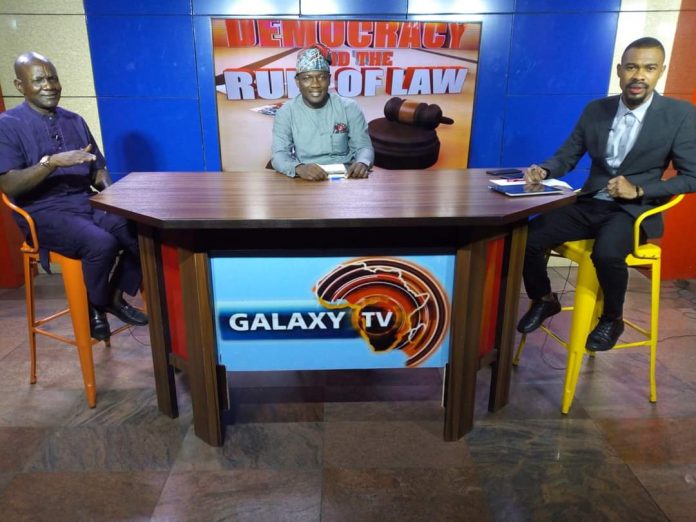 Justice of the Peace, JP, Barrister Fred Latimore Oghenesivbe, has revealed that Delta State is experiencing uncommon socioeconomic and infrastructure transformation because the governor, Senator Dr Ifeanyi Arthur Okowa, is governing the state with the fear of God, and desire to leave a lasting legacy behind.
He made the disclosure at a live public affairs programme; "Democracy and the Rule of Law," aired live via DSTV and GOTV channels by Galaxy Television, Lagos Studio. The programme is designed for Lawyers to discuss and proffer solutions to the issues of governance, democracy and the rule of law in Nigeria.
The EACGOV asserted that the good governance strides of Okowa is obvious and can be seen across the three senatorial districts, adding that those casting aspersions on the platinum governor are either doing so out of petty envy or deliberate attempt to undermine the huge achievements of Okowa administration for selfish political reasons.
Oghenesivbe, who is also the Executive Assistant to the Governor on Communications, noted that the state was in comatose when governor Okowa assumed office in 2015; and inherited a down graded Asaba International Airport, a looted and poorly managed state transport company, bad roads, a state capital denied of beautification and development, dilapidated and completely closed down Technical Colleges, abandoned stadium project in Asaba, state secretariats that could not accommodate all the ministries, departments and agencies, and so on and so forth.
He commended past governors for their efforts in building the state, particularly the James Ibori era which initiated and executed numerous roads and other infrastructure projects across the three senatorial districts, adding that some of the projects executed by Chief Ibori, are still visible in the state, as well as efforts made by Dr Emmanuel Uduaghan.
Okowa's EAC, however noted that the kind of transformation witnessed so far in this administration under governor Okowa is unprecedented in all ramifications, adding that it takes good conscience, visionary leadership and prudent management of resources to attain the level of progress made so far from 2015 till date, and still counting.
"The reverse is now the case because governor Okowa was able to gather required political willpower to change the narratives. Asaba Airport was rehabilitated, upgraded to international standard and concession in line with global aviation practice. Today, wide bodied aircraft are flying into and out of Asaba, operated by six national airlines.
"Abandoned Asaba Stadium project was completed and named; Stephen Keshi International Stadium. In 2018, the state government hosted the 21st African Senior Athletes competition and several International matches played at SKIS. The beauty and standard of the airport attests to the quest by governor Okowa to leave lasting legacy behind when his tenure elapses in 2023.
"The Technical Colleges were rebuilt, equipped and have since commenced normal and regular academic activities and managed by the State Basic Education Ministry. The governor is currently constructing new Technical Colleges, one each in every local government, in his deliberate attempt to boost human capital, development skills and downplay on white collar jobs because Technical Education guarantees automatic self employment. To achieve this objective, the governor and government crested the Ministry of Technical and Vocational Education.
"Within five years, governor Okowa awarded over 500 contracts for the rehabilitation and construction of roads, and as at the last count, over 300 roads have been completed and inaugurated across the three senatorial districts; Delta North, Central and South, respectively. The roads opened up tourism, smooth and effortless transportation of goods and services within communities and across the state.
"The state transport company was revived through public-private partnership. The huge financial burden that hitherto wasted government resources was blocked and management transferred to the preferred partner, God Is Good Motors Ltd, GIGM. Brand new buses were procured and today Delta Line is raking fantastic profits for both government and partners.
"The state capital got a face lift through the Asaba Capital Territory Development Agency and the state Ministry of Urban Renewal. Today, Asaba is a beauty to behold, befitting of a capital city, and the beats goes on.
"A massive ultra modern Hi-Tech State Secretariat is near completion and will soon be commissioned. The gigantic multi billion Naira State Secretariat seats on an expanse of land along Marian Babaginda Way, meant to accommodate all the Ministries, Departments and Agencies, MDAs. it has banking halls, kindergarten, and other facilities that enables civil servants to function more efficiently and effectively. This is another star project Deltans will remember Okowa for, many years after his tenure.
"The recently commissioned Teachers Professional Development Centre, TPDC, in Owa-Oyibu, Ika North East Local Government Area of Delta State, is another enviable achievement of Okowa administration. It is an institute established to train and retrain teachers for career development. It is open to Teachers in Delta and from across the country. It has all it takes in terms of facilities; 110 guest rooms, laboratories, computer room, music and arts studios, quiet environment for study and well equipped 700 capacity lecture auditorium and administrative blocks fitted with elevator.
"There are no cases of fundamental breach of human rights in Delta State by any government official, except for one Aide of the governor who assaulted a female, and he was sacked by the governor. The governor is renowned peace ambassador and does not tolerate abuse of power or breach of any right of citizens of the state.
"Governor Okowa believe strongly in teamwork and to balance governance, he ensured that traditional rulers, youth and women leaders, as well as civil society groups play active roles in peace building process, making Delta the most peaceful state in Nigeria, despite the criminal activities of Fulani herdsmen in the state.
"in a nutshell, governor Okowa is able to achieve so much and still counting, because of his strong desire to leave good legacy behind when his tenure terminates on May 29, 2023.
"And as a good christian, he is well guided by biblical injunctions and fear of God and principles of equity in the discharge of his official and constitutional responsibilities to the good people of Delta State," Oghenesivbe said.
***
Photo: EACGOV Oghenesivbe (extreme left) during the programme in Lagos.