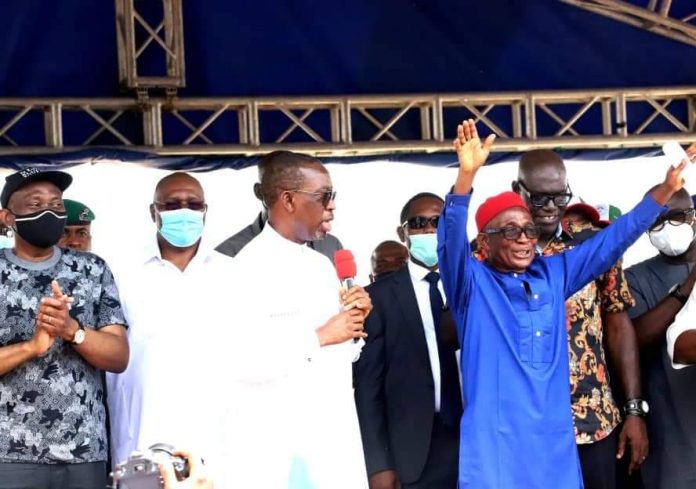 By Fred Latimore Oghenesivbe, Esq.
Delta State Governor, Senator Dr Ifeanyi Arthur Okowa, has said that he maintains high level of mutual relationship with his predecessors, Chief James Ibori and Dr Emmanuel Uduaghan.
He made the clarification while speaking at the Cenotaph in Asaba, while addressing thousands of defectors from the All progressives Congress, APC, who converged at the venue to receive the party's umbrellas, saying that no stranger can cause friction between him and past governors.
"I am building on the achievements of my predecessors and I have done well. Those saying that I did nothing for Asaba people are either blind or not residing in the state capital, Asaba.
"No stranger can deceive us because we are well bonded together. I cherish the robust relationship with former governors of the state, and nobody can come between us.
"At the appropriate time, I will open up on why some people are angry. I choose not to put public funds in private pockets, and we have achieved a lot for our state and people," Okowa said.
The state party chairman while receiving the decampees confirmed the suspension of the federal lawmaker representing Delta North Senatorial District, Senator Peter Nwaoboshi, saying that the Igbuzor politician has been involved in multifaceted anti party activities by engaging himself in the abominable act of political prostitution, unguided utterances, blackmail, unprovoked attacks on the state party leader, and governor, and as such must appear before the party's disciplinary committee to answer to the allegations.
He disclosed that PDP in the state will not deviate from the transparent procedures in handling electioneering matters, and that the politics of 2023 governorship shall be well executed according to plan, not minding whose shoulder will be ruffled.
Esiso, said the party will not leave any stone unturned to ensure that the PDP comes out in flying colours in 2023, adding that anybody, no matter his or her personality; who dare to obstruct the planned actions of the party in the state, will be treated as enemy of the PDP provided the end result of such action guarantees landslide victory for the party.
"APC is an evil party, a dead party and I am happy to receive our brothers and sisters into PDP happy family. Delta State must remain a PDP state, and it shall be so in 2023, and beyond. APC national government failed woefully, Nigeria is now the world headquarter of poverty under Buhari.
"More defections will hit APC in Delta State, from this day forward, until we completely delete the party from every ward and local government. It is achievable and we have commenced the process today.
"Senator Peter Nwaoboshi, representing the good people of Delta North, have been suspended for a period of one month, over anti party activities. We are aware that he has been romancing with APC in the state, and went further to cast aspersions on the governor and our government.
"The party viewed Nwaoboshi's negative actions as anti party, and against our party constitution hence he was suspended, to enable him clear himself within the period of one month.
"The party is not afraid of anybody, no matter how highly placed. We shall remain focused on our goals without fear or favour.
"Delta PDP is not in the pocket of any individual and anybody who dare to mess up PDP shall be dealt with, no matter the status of that individual or group of persons.
"Our amiable governor, Senator Dr Ifeanyi Arthur Okowa, has achieve so much for the state and people, whereas some people are talking nonsense. He turned the entire state to a construction site, and our state has been remarkably transformed. We stand by our governor, anytime, anywhere and any day.
"From today, you are now full members of PDP with all rights and privileges. PDP does not discriminate and there is no such thing as new or old member. You are now a stakeholder in PDP political family.
"Drop your brooms, because we are going to set them ablaze. You will take PDP Umbrella to protect you from rain and sun," Esiso said.
The leader of the defectors and former Chairman of APC in Delta North Senatorial District, Major George Okafor, Retired, said APC internal squabbles choked him and other defectors out of the party, coupled with the obvious failure of APC national government to move the nation forward.
Present at the defection ceremony are; State Party Leader and Governor of Delta State, Senator Dr Ifeanyi Arthur Okowa, Delta Deputy Governor, Deacon Kingsley Burutu Otuaro, Speaker of the State House of Assembly, Rt Hon Sheriff Oborevwori, Minority Leader of the Federal House of Representative, Hon Ndudi Elumelu, Chief Whip-Delta State House of Assembly, Hon Princess Mrs Pat Ajudua, Secretary to Delta State Government, Chief Patrick Ukah, DG Asaba Capital Territory Development Agency, Rt Hon Mrs Mrakpor, and other senior government officials and party leaders.