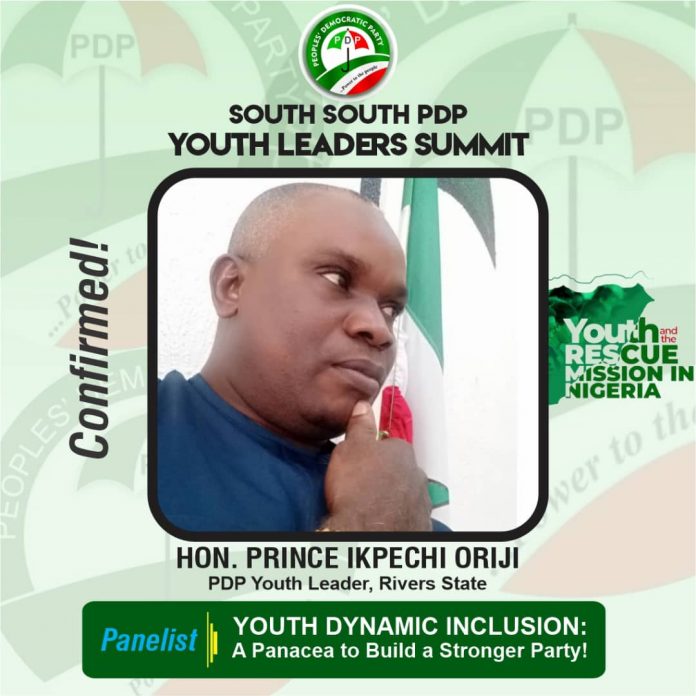 BY CATHERINE OGBOGU
When the purpose of a thing is not known, abuse is not to be blame. In this light, the PDP Youth Leader, Rivers State, Honourable Prince Ikpechi Oriji a refined, dogged, active, resourceful and intelligent youth is ready to set the records straight, as a Panelist on the topic: Youth Dynamic Inclusion, A panecea to build a stronger party, at the South-South PDP Youth Summit billed to take place in March, 2022.
Comrade UYERO Erarawewho Junior, Special Assistant Political to Governor Ifeanyi Arthur Okowa, Cordinator of Core Delta Youth whose core mandate is committed to Good Governance/youth inclusion in governance and Chairman Planning Committee of the South-South Youth Leaders Summit has confirmed Hon. Oriji as one of the Panelist at the event.
In a statement released, Uyero noted that People's Democratic Party, PDP is the leading Party in Nigeria and also the country is among the developing countries in the world and some things are bond to happen to bring the desired change and revolution. This he stated will be discussed and many more aspects that affect the youth at the summit.
In his statement, with so much confidence, he reiterated that confirming Oriji as one of the Panelist for the Youth Rescue Mission in Nigeria was a thing of joy and he believed the working document he will submit on that day by him would be well treated and solutions would be proffered.
He added that having such magnitude of event planned before the general election come 2023, is a great way to synergize and come up with standard solutions for the party which the major point is inclusion of Youth in Governance.