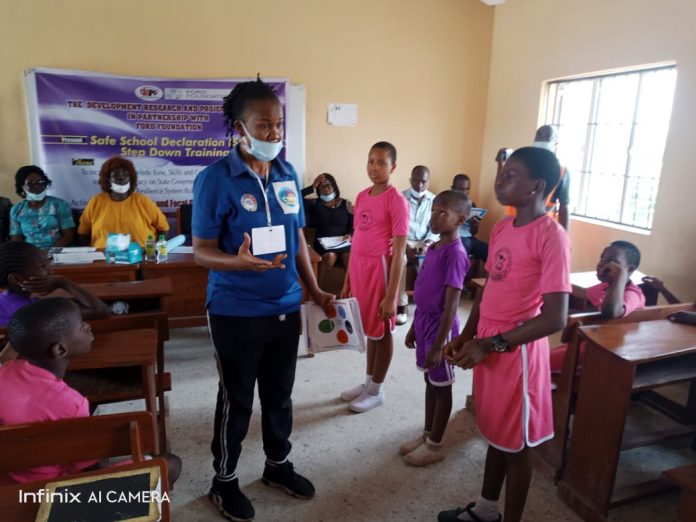 By Magnus Emuji
The need for stakeholders especially government at all levels to put effective measures in place towards ensuring the safety of lives, violence free learning for children and teachers in school environment has been stressed.
The Executive Director of Afro Centre for Development, Peace and Justice (AFRODEP) , Augusta Impact Keneboh stated this at Government Primary School, Junior Staff Quarters, Asaba during sensitisation and focal group discussion on safe school declaration.
Augusta Impact, who said that Afro Centre for Development, Peace and Justice was selected, trained and supported by the Development, Research and Projects Centre (DRPC) in Partnership with Ford Foundation to carryout Sensitization, information sharing and Focal Group Discussion with the key Stakeholders on the Safe Schools, Security and Violence Free Learning Environment.
She said that it was imperative to enlighten the pupils, students and teachers in the state on salient safety tips as well as Prepardness for emergencies responses in school environment.
The AFRODEP Executive Director, noted during the meeting the various roles Parents, Community Leaders, Civil Society Organizations, Educational institutions, Security Agencies can play towards the safety of the children either at school learning environment and in the Community.
She also x-ray the National Policy on Safety, Security and Violence-Free Schools with its implementing guidelines by the Federal Ministry of Education and advocate that the recommendation in the policy be domesticated in Delta State as this will prevent armed conflicts, disruption of schooling system and maximize long periods of learning time both in formal and in formal educational system.
While urging parents to always communicate with their children as a result of the threatening security challenges befalling the nation, Augusta said that their international organisations Partners deemed necessary to organise the sensitisation in five pilot Local Government Areas in Delta to equip not only stakeholders on how best to respond to every security situation but children who are the most vulnerable and affected during conflict if actions are not taken on time.
On the next step after the Sensitization, she said that policy advocacies would be organised to interface with the relevant state government on the essence of scaling up the implementation of the National safety policy in Local Government Areas and at the state level.
Finally, she acknowledged the State Government for the educational infrastructural projects and programme as more robust intervention in areas school safety, Security and violence free learning environment should be given urgent attentions following the recent trends such as molestation, bullying, threats,killings, violence situations across the country.