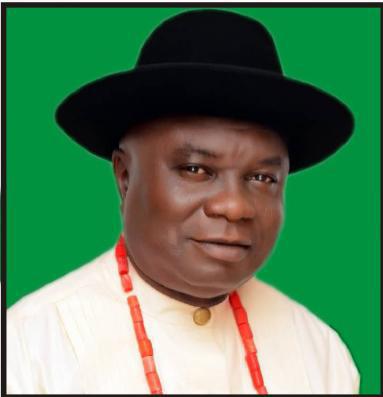 By Stephanie Ikanone Odiete
The Honourable Commissioner for Agriculture and Natural Resources Chief Julius Eyetan Egbedi has resigned his appointment on Friday March 25th, 2022.
Hon Julius Egbedi who was addressing Journalist at his country home in Sapele local government area of Delta State, Said that his resignation is in line with the Constitution and to enable him concentrate on his aspiration of contesting for the position of House of Representatives OSU Federal Constituency
Egbedi said that he decided to run for House of Representatives because of his capability and to enable him bring the dividends of government to the people of Okpe, Sapele, and Uvwie Federal Constituency, adding that there is no better time than now.
In continuation, he said that he had thrown in his resignation letter since March 1st and had intimated His Excellency Governor Arthur Ifeanyi Okowa of his intention to contest for the House of Representatives position.
"In a valedictory speech His Excellency Governor Arthur Ifeanyi Okowa had wish members of his Exco success that have the intention of contesting for one position or the other. We also thanked him for giving us the opportunity to serve the state and work with him he added.
Speaking accordingly, Hon Julius Egbedi said that he decided to run for the House of Representatives position because in life one must aim higher and because he knows that he has the capacity to do better in the green chambers, adding that his wealth of experience as Vice Chairman of Sapele, Chairman of Council and recently as Commissioner will give him a better advantage.
As Commissioner I have brought development within my capacity to my people and my chances of winning is very high and with God on my side I know I will emerge victorious he added.
An Astute Politician and one of the key players in Sapele, Egbedi is also a strong supporter of Governor Arthur Ifeanyi Okowa's administration and was part of the finishing strong mandate for the governor.