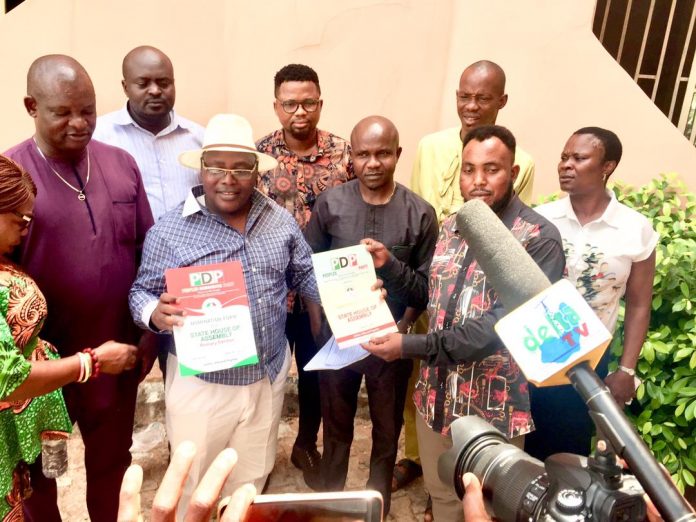 By Kenneth Orusi
Friends and associates from Ughelli South comprising of Olomu and Ughievwen blocs of Ughelli South Constituency, have presented the 2023 Delta State House of Assembly (DTHA) Nomination and Expression of Interest forms for *Pastor Engr. Elvis Peters Uto,* ahead of the election.
Engr. Uto, is eyeing the Ughelli South State Constituency seat on the platform of the Peoples Democratic Party (PDP).
The two blocs which later presented the forms to the topmost DTHA aspirant at the PDP Secretariat in Asaba on Monday, March 28th, 2022, said it's in fulfillment of their pledge for justice, fairness and equity as the Olomu bloc took its turn with Hon. Talib Tebite while the incumbent, Hon. Izeze Reuben Yakubu, is about to complete the Ughievwen turn.
The PDP House of Assembly aspirant, while receiving the forms, expressed appreciation for the kind gestures.
He lamented that the challenges confronting Ughelli South are very enormous and require collective effort to tackle them.
He explained that "Olomu and Ughievwen people present to me the nomination form, the first in political history since the return of democracy and truly they made me shed tears.
They put together their hard-earned resources to come and present this Normination form to me. I am emotional about it.
"Ughelli South is about to get its voice back, Ughelli South is about to get true representation and I want to commend the Ughievwen and Olomu people for their support. This has come in good time. It shows that your heart is for your people and not just for your pockets.
"It shows you are out for the collective interest of Ughelli South and I believe together, we will make it a reality. Ughelli South, is moving from nowhere to somewhere. Ughelli South shall become 'Ughelli something' because God is about to do a new thing in Ughelli South", the elated engineer of repute, declared.
He appreciated them for making it possible, "this is your effort and I promise you that as we get there, we are going there together. It is not a one man show, it is our show together and in this four years, Ughelli South will see true and proper representation", he said.
He called on all sons and daughters of Ughelli South, particularly party delegates who have the interest of Ughelli South to brace up with courage to usher in a properly qualified candidate for the office. "Let's march towards the primaries and do what we know how to do best and let's watch how the game unfolds, the game has just begun", he said.
Speaking on behalf of the Olomu bloc, Hon. Tobore, from Owor, under the Olomu bloc, said: "the batton has been in Ughievwen, but today we have come to present the form to our dear son. We know that he is capable, they should allow the best to do it.
"As I am talking to you, the batton has shifted from Ughievwen to Ewu and we will reap the dividends of democracy from Ughelli South Constituency and Delta State Government in general".
He therefore cleared the air of any alliance between some Olomu and Ughievwen people to return power to the Ughievwen people. She said: "there's no alliance. The position is not a personal property. Look at Delta State today, there's a zoning pattern, Central, South and North. But now it's returning back to Central, so it is the turn of the Ewu people in the case of Ughelli South Constituency".
Also, Mr. Noble Otite, said Pastor Engr. Elvis Peters Uto, is a well known man. "If you want the political movement in Delta State, those of us from Ughievwen, we know that our man has been there but there's nothing to show for it.
"This is the time for us to stand for equity, fairness and justice. We are not talking about who is there now but someone who can get the job done, someone who has helped several people to get development to their Constituencies while in government. He is coming back home and he is a blessing", he posited.