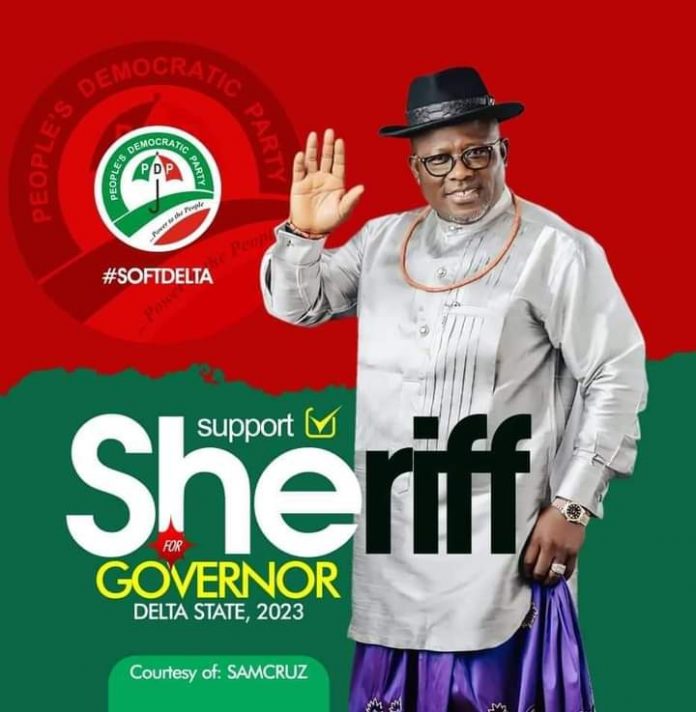 By Fred Latimore Oghenesivbe Esq
#cmpgmedia
I have read misleading articles on social media platforms wherein marketers of a certain unpopular governorship aspirant issued vague and empty threats suggesting that it is only their principal that can guarantee victory for the Peoples Democratic Party, PDP, in the forthcoming 2023 governorship election in Delta state.
Another group based their claims on the unsolicited prophecy by a certain political prophet who erroneously suggested that only the candidacy of a particular governorship aspirant will guarantee rest of mind for the state governor, Senator Dr Ifeanyi Arthur Okowa, after his tenure.
These two separate misconstrued materials shared widely on WhatsApp groups points to the fact that the rising political profile of the high flyer governorship aspirant, Rt Hon Sheriff Oborevwori, JP, is already causing panic, severe agony, acute frustrations and unwarranted bitterness in politically weak camps.
I would like to state expressly that previous governorship elections and the emergence of PDP gubernatorial candidates were not based on unsolicited prophecies. Party primaries were not replaced by unsolicited prophetic utterances. The question is, who among the aspirants directly or indirectly engaged or procured the services of the political prophet?
One begins to wonder why PDP 2023 candidates should emerge via prophetic utterances and not through party delegates votes. Will the independent National Electoral Commission, INEC, accept the party primaries results based on prophetic utterances without delegates votes?
Secondly, what yardstick was considered by the propagandists before arriving at the winning criteria or who will be most ideal to win the governorship election in 2023? Which template did they use to analyze the winning game? Was it based on popularity or human relations permutations? I must say that these town criers are jokers and must never be taken seriously!
Not to belabour the issues, it is clear that these propagandists are agents of distractions positioned to derail the train of progress that is already in motion to advance the socioeconomic and infrastructure development of Delta State.
Rt Hon Sheriff Oborevwori's clear good governance vision is encapsulated in the MORE Agenda tailored towards improved economic growth and rapid development of the three senatorial districts; North, Central and South from May 29, 2023.
Mr Speaker has been and still a key player in the state politics since 1999. He is obviously one of the major arrowheads of Okpe LGA politics in the past nearly three decades and a prominent political leader in Delta Central senatorial district. He is the number three citizen in Delta State, and one of the core stakeholders of PDP in Delta State, a member of state and national legislators caucus.
Oborevwori served at various capacities in previous administrations and worked very closely with past governors, and also served in several campaign committees. He is known to have partly or fully funded some party candidates, made significant sacrifices towards electioneering victories for the party spanning three administrations. Apart from the deputy governor, he is officially the most senior in rank to all other aspirants in the race.
Sheriff, was a household name before he became the Speaker of Delta State House of Assembly, and currently a mega household name as the longest servicing speaker since the creation of the state. He knows the political geography of the state and all the leaders of the party as well as various support groups. There is basically nothing about the politics of Delta or the players that is alien to Rt Hon Sheriff Oborevwori.
Rt Hon Oborevwori is competent, a team player with pleasant personality, excellent human relations, prudent manager of resources, easily accessible, a detribalised Pan Deltan, a consummate leader and a grassroot politician; loved and cherished by party leaders and party faithfuls across the three senatorial districts.
Mr Speaker has been adopted as consensus governorship candidate by Delta Political Vanguard, DPV, Delta State Lawmakers, DTHA, Delta Mandate, DM, Political Leaders of Delta South Senatorial District, Aniocha North group, Uche Bulu Ofu, UBO of the PDP and several other groups.
Therefore, it is laughable for any right thinking individual or group of persons to say or suggest that Mr Speaker is not a popular politician. All students from Primary to University levels in the state have his name in their brains and his photos in their academic test books.
Oborevwori's names has consistently featured in various academic examinations across the state in the past five years. Political Science and Law students have also written extensively about Rt Hon Oborevwori during various academic assignments and projects. How dare you say that Mr Speaker is not popular enough to win governorship election for PDP in Delta State?
Those who crafted that piece of shit failed from the very moment the idea was conceived. Rt Hon Oborevwori is the real deal for Delta PDP governorship election in 2023. It will be unprecedented landslide victory for PDP, like never before.
Mr Speaker's popularity rating is the highest so far, followed by rain of endorsements and adoption as consensus governorship candidate by prominent groups in the state and still counting.
As for the prophet's prophecy, PDP has never based her choice of gubernatorial candidates on prophetic utterances and the Independent National Electoral Commission, INEC, will not accept same as duly conducted party primaries. At best, the prophet should pray for a free, fair and credible party primaries so that the most popular and generally accepted aspirant will emerge in May.
Propagandists must of a necessity stop these unsolicited spiritual prophecies and negative rhetorics. The prophet should wait till he is consulted before rendering prophetic services. INEC does not recognise spiritual corporate social responsibility by spiritual organisations or individuals.
There is no section in the Electoral Act wherein political parties were legally bound to adhere strictly to spiritual prophecies prior to party primaries. INEC will not accept prophecy in place of a credible, peaceful, free and fair primaries.
Delegates must vote, results announced and the winner declared. Supporters and promoters of aspirants are advised to focus on promoting their principals, and not to threaten constituted authorities or engage the services of political prophets to pronounce their principals as divine candidates. We have passed that stage. God spoke expressly before the Prophet's prophecy arrived.
I urge our party delegates to look no further, be SHERIFFIED and vote enmass for the best, and the best is Rt Hon Sheriff Oborevwori, JP, the Ukodo of Okpe Kingdom and National Deputy Chairman, Conference of Speakers of State Legislatures of Nigeria.
Sheriff …Advancing Delta.
***
About the writer: Olorogun Dr Fred Latimore Oghenesivbe, is a renowned political communication strategist, a lawyer, Chairman, Coalition for Media Politics and Governance, CMPG. He holds a doctorate degree in Information and Communication Strategy, PhD.