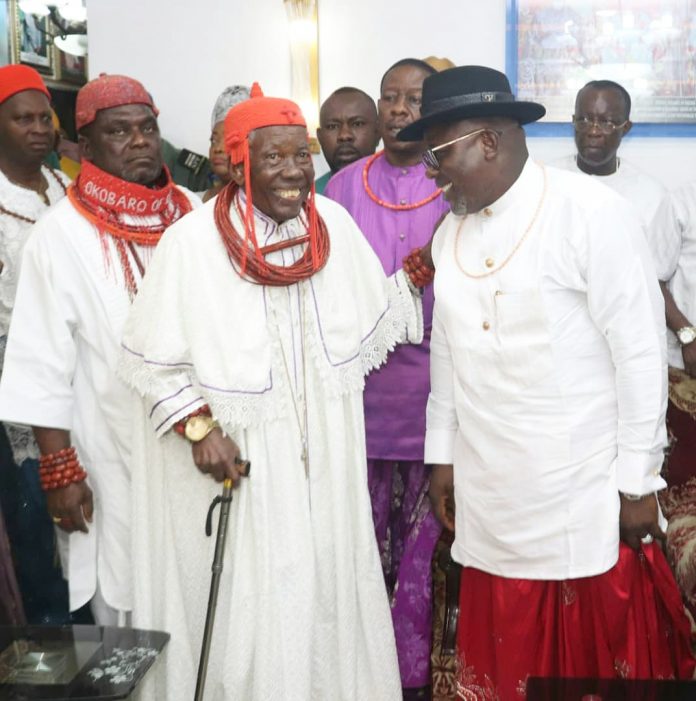 The candidacy of a front line governorship hopeful and Speaker, Delta State House of Assembly, Rt Hon Sheriff Oborevwori, appeared to have been signed, sealed and delivered on Monday 4th April at the royal palace of the Owhorode of Olomu Kingdom in Delta State.
The oldest traditional ruler in Africa (103 years) and Chairman of Urhobo Council of Traditional Rulers, His Imperial Majesty, Canon Dr Richard Ogbon, Ogoni-Oghoro the first while anointing Oborevwori said his track records portrayed him as a consummate leader with strong passion for the wellbeing of the people.
The highly respected King noted that Oborevwori is a homegrown politician who have been in the political radar for nearly three decades and still counting, adding that his enviable achievements in the past five years as the longest serving speaker since the creation of Delta State, attest to his widely acknowledged competence, credibility, humility and capacity.
HRM Canon Ogbon, further posited that reports received by the royal fathers of Urhobo nation points to show that among the aspirants Oborevwori appears to be the most preferred governorship candidate as can be seen from his endorsement by twenty eight lawmakers in the State House of Assembly, Urhobo People in Diaspora, and several other groups.
"We have received the good reports about your personality, and I dare say that you are competent to occupy a higher office.
"You informed us here today that you want to succeed our amiable governor, Senator Dr Ifeanyi Arthur Okowa, in 2023.It is a good and credible ambition. You are good to go.
"May God Almighty grant your request, may Urhobo nation ancestors grant your noble request, and may the Angels of victory, anointing for success, the God of Power and our Lord Jesus Christ, go with you and guide your steps to Osadebe House Asaba, in Jesus Name, Amen
"On behalf of other traditional rulers here present, I hereby anoint you to succeed in your quest to become the next governor of Delta State, come 2023," King Ogoni-Oghoro the First, added.
One after the other, Urhobo Royal fathers laid hands as well as their immaculate traditional staff of office on Oborevwori. They prayed, asking God and Urhobo Nation ancestors to crown his governorship ambition with superlative success.
Some Church leaders in the capacity of Bishops and Archbishops of Urhobo extraction were also present. They made prophetic declarations over Oborevwori's secured governorship candidacy, suggestive of divine confirmation as the next governor of Delta State, come 2023.
The consultation turned out to be a glamorous event that look like a coronation ceremony of the governor in waiting, Rt Hon Oborevwori, the Ukodo of Okpe Kingdom and National Deputy Chairman, Conference of Speakers of State Legislatures of Nigeria.
Chairman of Coalition for Media Politics and Governance, CMPG, Olorogun Barr Fred Latimore Oghenesivbe, while speaking to newsmen after the royal fathers declaration said the event was loaded with several activities in one.
"This is certainly the climax and the end of the governorship selection process in Urhobo Nation, in this dispensation.
"Oborevwori, is obviously the most preferred governorship candidate by all standards. It is crystal clear from the kind of royal declarations and utterances made by our kings that this is the end for the search of governor Ifeanyi Arthur Okowa's suitable successor from Delta Central Senatorial District," Oghenesivbe said.
***
Photo: HRM Canon Dr Richard Oghon, the Owhorode Olomu Kingdom and Chairman, Urhobo Council of Traditional Rulers, laid his index finger on Rt. Hon Sheriff Oborevwori with the approval of Council members, to specially a point him for the office of governor, come 2023, on Monday 4th April, 2022 at the Palace in Olomu, Delta State.