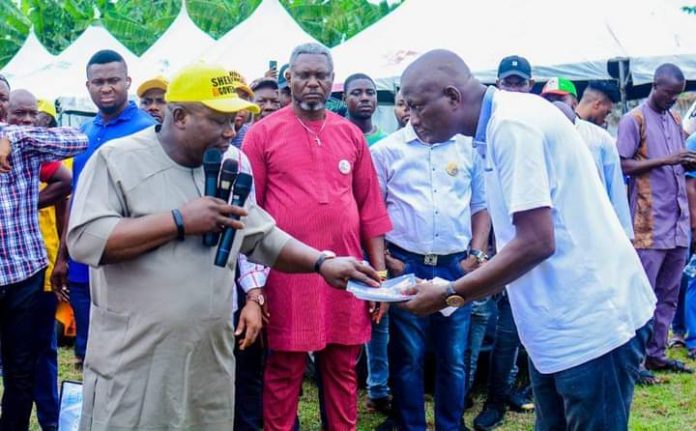 By Fred 'Nuvie Oghenesivbe Esq
Speaker, Delta State House of Assembly and governorship aspirant under the Peoples Democratic Party, PDP, in the ongoing race to Osadebe House Asaba, Rt. Hon Sheriff Oborevwori has again reassured the good people of the state that he will ensure equal opportunity for all Deltans, irrespective of ethnic or political affiliations, if elected governor in 2023.
He gave the assurance on Wednesday 6th April during his consultation tour of Ethiope East, Ughelli North and South Local Governments Areas wherein he solicited the support of party leaders and votes of PDP delegates.
According to him, equal opportunity is a state of fairness in which individuals are treated similarly, unhampered by artificial barriers, prejudices, or preferences, except when particular distinctions can be explicitly justified.
Oborevwori who was visibly overwhelmed by the mammoth crowd and warm reception accorded him and his entourage, further posited that the very essence of representative government is to better the lives of the people, and that anything short of dividends of democracy will be avoided under his leadership, come 2023.
He said if elected governor of Delta State, he would take thousands of Delta youth from the streets and make them entrepreneurs and employers of labour under his MORE Agenda tailored to advance Delta from where the incumbent workaholic governor will stop next year, May 29.
Mr Speaker assured Deltans that he will work very closely with the youth and all stakeholders in his all inclusive government, not only in the area of empowerment, job and wealth creation but also in peace building, security, community development and other socioeconomic classifications under the MORE agenda awaiting implementation, if elected.
Oborevwori disclosed that during his consultation tour of Delta North Senatorial District, the leaders and party delegates accepted him as their son and brother, pointing to show that the incumbent governor, Senator Dr Ifeanyi Arthur Okowa, has greatly enhanced the unity and peaceful coexistence of all ethnic nationalities in the state, and promise to keep the state even more united if elected governor.
The Ukodo of Okpe Kingdom, who is also the National Deputy Chairman, Conference of Speakers of State Legislators of Nigeria, further assured that the deliberate transformational agenda as encapsulated in his robust manifesto will open up monumental infrastructure development in the three Senatorial Districts, and that Delta Central shall benefit greatly in his vision for a new Stronger Delta, where opportunities will flow effortlessly to all citizens irrespective of tribal, ethnic or political affiliations.
"I have come to ask for your support and votes so as to enable me win the party primaries and stand for the 2023 governorship election as the candidate of our great party, the Peoples Democratic Party, PDP.
"I am a true son of Urhobo Nation from Okpe Kingdom in Delta Central Senatorial District. I am your son, your brother and party chieftain. I am smart, humble and patriotic. You have known me for more than three decades, you can attest to my character and good in tensions for our dear state.
"The good people of Delta North promise to give me one hundred percent support and block vote of their delegates at the party primaries. This is heartwarming and I ask you my Delta Central leaders and party chieftains to join me in thanking them for their huge support.
"I am glad to report to my Delta Central leaders that Delta North leaders and delegates gave me and my entourage wonderful reception and great hospitality. It was fun all the way, no dull moments.
"I am here to humbly and respectfully request for Delta Central PDP delegates block vote to enable me step into the large shoes of my boss and leadership mentor, His Excellency, Senator Dr Ifeanyi Arthur Okowa in 2023.
"As you all know, the governor is the leader of our party in the state, and the positive force behind the New Stronger Delta initiative. He has taken our state from the back stage to the front role through good governance, and in all aspects of our human endeavours. He is the Roadmaster, the Promise Keeper and a Visionary Leader.
"I have been a student of Okowa Leadership Academy in the past five years, learning the ropes, and now I am a graduating student. I have acquired the much needed practical and advanced leadership skills.
"I want you to help me step into the shoes of our leader, Gov Okowa, in 2023 and it is your votes that will do the magic. Delta Central can do it. Do it for me, please.
"If elected governor of Delta State in 2023, I will constitute an all inclusive government that will build on the monumental achievements of our leader and governor, Senator Dr Ifeanyi Arthur Okowa. Send me.
"I will develop Delta Central, I will do the bidding of Delta South and concur to the demands and needs of Delta North. I will develop Delta State and make her the destination of choice for local and foreign investors. Asaba shall be home to all Deltans irrespective of ethnic and political affiliations.
"I am a home grown politician. I was elected Councillor and Supervisory Councillor in 1996 under the Zero Party System and also emerged as the first youth at age 22, to be elected Chairman of my community, Osubi Community in Okpe LGA.
"Today, there is an Airport in Osubi community. I fought for it, stood firm to build the airport and today, all Deltans fly in and out of Osubi Airport. I have worked very closely with our amiable governor in the past five years and still counting.
"I know the governor's strong passion for a Stronger Delta and he knows my unrepentant commitments towards advancing Delta to greater heights.
"Support and Vote for me, I will do more. I am a unifier not a divider," Oborevwori assured Deltans.
The highlight of the day's consultation tour was the hosting of the Sheriffied Team to a lavish dinner cum refreshment by construction giant and billionaire, Olorogun John Oguma, at his country home.
Oguma told newsmen that Oborevwori candidacy is divine and that the calibre of personalities in his consultation team attests to his uncommon humility, integrity and pedigree, adding that the massive endorsements for Oborevwori everywhere they went only points to show that he is indeed the most preferred governorship candidate.
"I have been in Oborevwori's consultation movement from day one and I will accompany him till the end. I am convinced beyond reasonable doubt that he will do well if elected.
"I strongly appeal to all Deltans especially PDP delegates and eligible voters to support Oborevwori's candidacy all the way to the party primaries and governorship election in 2023," Oguma added.
Personalities on the day's consultation attendance list include; Deputy Speaker, Delta State House of Assembly, Rt Hon Ochor Christopher Ochor, Leader, Delta State House of Assembly, Chief Hon Ferguson Onwo, Mother of Government, Chief Patience Okwuofu, Olorogun John Oguma, Chief Ideh, Ethiope East PDP Leader, Chief Bernard Edewor, Chief Michael Aduotomre, Chief Judith Enamuotor, Rt Hon Sunny Akpodiogaga Emeyese, Okakuro Tony Oboroh aka Tonikess and Hon Felix Erhimedafe.
Others are; Hon Reuben Izeze, Chief Ebenezer Okorodudu, Rt Hon Solomon Awhinawhi, Chief Tony Uzor, Finance Commissioner and his Youth Development and Urban Renewal counterparts, Chief Fidelis Okenmor Tilije, Hon Ifeanyi Michael Egwunyenga and Hon Barr Arthur Akpowowo, State Director of Protocol, Hon Ifeanyi Eboigbe, Chief Solomon Arenyinka, Chief Amandhe Iduh, Chief Soso Enakerakpo, Chief Faith Majemite, Okakuro Kent Akigho Okiemute, Local Government Chairmen, Youth and Women Groups, Hon Godwin Adode aka Coach Tete, Executive Assistant to Delta State Governor on Communications, Dr Barr Fred 'Nuvie Oghenesivbe, and others too numerous to mention.