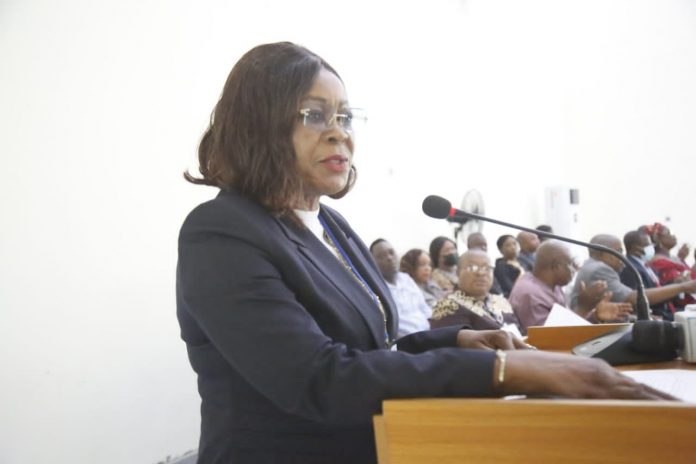 By Magnus Emuji
Delta State Commissioner for Secondary Education, Mrs. Rose Ezewu has reiterated Senator Ifeanyi Okowa administration's commitment towards finishing strong in all policy directions of his administration especially in the education sector in line with his promises to Deltans.
Mrs. Ezewu, who stated this while monitoring the second term examinations in some parts of the state, said that since the inception of the present administration education system had been accorded topmost priority aimed at improving the system for the overall development of the state.
The commissioner, however, stressed the need for Collective efforts towards repositioning the education sector in the state, adding that parents and teachers to always play their role to ensure that children were given the needed attention.
While expressing satisfaction with the conduct of the examinations, Mrs. Ezewu advised students not to compromise their future just as she told them that education was the only instrument that could change their lives hence the need for them to take their studies seriously.
For his part, the Permanent Secretary, State Ministry of Basic and Secondary Education, Mr. Augustine Oghoro said that the State Government had done so much in transforming the education system in the state, explaining that his ministry would not compromise standard in conduct of examinations.
Meanwhile, stakeholders have recommended a more aggressive approach towards inculcating discipline in children and ensure that they were not influenced negatively into vices that could ruin their lives.
Speaking with the monitoring team led by the Special Assistant to the commissioner, Mr. Ejiro Mayor, the Principal of Niger Mixed Secondary school, Asaba, Mr. Benjamin Aseyeni disclosed that his swift intervention and approach had brought sanity to the school.
He enjoined students to desist from vices and pursue their education with more determination, noting that they must not allow peer groups to influence them negatively.
Also speaking, the principal of Osadenis Mixed Secondary school, Mr. Eboh Johnbull, who narrated how the ceilings in his office were vandalized and taken away by a thief who according to him was later intercepted, underscored the importance of more security measures in schools.
It could be recalled that the Director of Examination and Standard in Ministry of Basic and Secondary Education, Mr. Sunday Egomaguna and other staff of the Ministry also monitored the second term examination across the state.