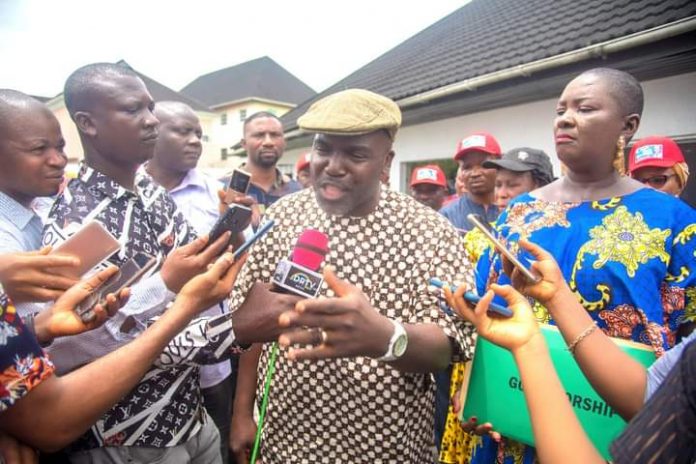 BY FELlX IGBEKOYI, Asaba Delta State frontline guber aspirant Engr. Chris Iyovwaye has again reiterated his enormous capacity to contribute his quota towards growing and developing the State into an enviable world class economy if elected as Governor.
He made this known on Thursday at the PDP State Secretariat in Asaba, the state capital when he submitted his expression of interest form to the party and subsequently declared his interest for the race of becoming the Governor in 2023.
According to him, his SMART Plus Agenda will be anchored on cutting edge technology to stop capital flight while harnessing the human and material resources of the State to build industries geared towards developing a solid economy for the State.
While promising to made a mark in job creation, he said his government would encourage youth employment in a way that their capacities are developed to stand on their own to contribute meaningfully to the system.
"I have adopted the SMART Agenda of Governor Okowa into the SMART Plus Agenda because of the far-reaching intricate ingredients of real-time development inbeded in it. I have what it takes to govern Delta from this level to the next positive level", Iyovwaye said.
Carefully selecting his areas of leadership focus, Iyovwaye has said he would unleash his innovative prowess by anchoring his Agenda on; Security, Energy, Education, Industrialisation and Healthcare.
He told the party chairman that in his database of followers, he had well over 22,000 Deltans who don't belong to any political party but had faith in him and could go wherever he goes. "These category of electorates he has also decided to move them into the PDP at a convenient date the party may give to gather them to join the family"
Enthused by his brilliant submissions, the State Chairman of PDP, Barr Kingsley Esiso described Iyovwaye as a good party man who would come to inform his party executive of his intention to run for an office.
He commended the governorship aspirant for recognising the past Governors and the present one for their visible and well acknowledged performances as Governors.
Esiso, acknowledged the fact that the dynamic politician has the credentials to bring his vision into fruition, affirming that the job of the party executive is primarily to give equal opportunities to all members to excel in their ambitions to become the party's candidates.
His words, "We cannot support any aspirant, because we cannot give what we don't have. The job of aspirants at this stage is to vigorously pursue their campaigns personally with delegates. This time, you are our responsibility being a candidate, but not when you are an aspirant. At that stage, you are on your own with the delegates
"We have 270 wards in the State, and for every ward we have delegates there. You must do everything to canvass and win the votes of delegates ahead of the party's primaries. It's when you have emerged as a candidate that we can now come out as party leaders to support you as our candidate. ", Esiso posited.
The intrigues with party politics leading to primary elections are quite understood by the businessman cum politician, Deacon Chris Iyovwaye. He has followers who have enormous confidence in him and he must do everything possible to clinch the party's ticket in order to fulfill his ambition of leading the State as Governor.
Recalled Iyovwaye, renowned business figure in the Marine sector and industrialist, politician and servant of God, is the Managing Director and Chief Executive Officer of Wellmann Group of Companies had earlier picked the Governorship Expression of Interest Form of the People's Democratic Party (PDP) on Monday