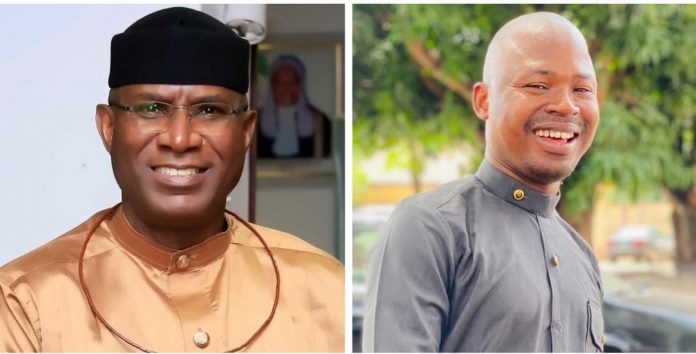 Special Assistant on media to the Delta State Governor Mr Ossai Ovie Success has described Deputy Senate President Sen Ovie Omo-Agege governorship declaration speech as shallow.
Ossai who disclosed this on his verified Facebook page said Omo-Agege sound illogical during his declaration to contest for the governorship seat under the All Progressive Congress APC in Delta State.
He noted that Omo-Agege declaration for governor without an agenda is an insult to the people of Delta State.
Ossai called the deputy senate president deceptive and manipulative.
"During Sen Ovie Omo-Agege declaration to contest for governor of Delta State, Omoagege sound illogical.
All through out his speech , I found out that he has no manifestos and that was why he was unable to list his plans for DELTANS.
Omoagege declaring for a governor of Delta State without an agenda is a big insult to us.
He is an alledge Mace grabber and can never be elected as Governor of Delta State .
Looking at his antecedents, Omo-Agege is not fit to be governor of Delta State.
He is deceptive and manipulative.
Omo-Agege who is a selfish, tribalistic being still has the boldness of accusing governor Okowa of marginalization after governor Okowa trained and empowered youths from his community."
Ossai who wasn't satisfied with Omo-Agege speech said the deputy senate president is uninformed.
"He talked about Governor Ifeanyi Okowa not creating jobs for Deltans and he also accused the governor of marginalization.
I guess he is uninformed with the developments of Delta State because as a Deputy Senate President and senator from Delta Central, he should have known that Governor Okowa has trained and empowered more than 200,000 youths in the state to become entrepreneurs in the last six years.
In Omoagage local government alone , we have not less that 4,000 trained and empowered youths who are now job creators
Omoagege should have also known that Governor Okowa has completed and commissioned projects in all the local governments of the state .
As at today , there is no local government you will visit without seeing the footprints of PDP led administration."
Ossai also enumerated some of Governor Okowa achievements.
"Okowa as a governor has constructed over 1,500 kilometers of road and over 1,000 kilometers of line drainages including the famous stormwater drainage projects to tackle flooding in Asaba, Okpanam, and the Warri, Effurun axis.
Construction of nine new technical colleges at Asaba, Obiaruku, Orerokpe, Oghara, Uvwie, Irri, Omadino, Akugbene and Owa-Alero has reached advanced stage. When completed, they will bring the total number of technical colleges in the state to 15.
Omoagege said Okowa hasn't done anything in the riverine areas of Delta State.
Since he lacked informations, he should fired his aides for misleading him on the happening of Delta State because despite the economic challenges of governance, Governor Okowa has been able construct Ogidigben internal Road, Oporoza internal Road, Okerenkoko internal Roads, Burutu township road phase one and two, Youbebe – Biniebi-ama road, Obotobo – Sokebolou – Yokiri road, Obotobo I community internal road, Sokebolou internal road, Burutu Modern Market, Funding of Ayakoromo Bridge project, Ogbobagbene – Ojobo road, construction/renovation of schools.
What about the newly commissioned Projects in Delta Riverine Communities which include the 2.1-kilometer Obitobon-Elolo-AjaokurreOgbo-Orubu roads in Ogidigben and 2.3-kilometer roads in Benikrukru, both in Warri South-West Local Government Area of Delta State"
He furthered listed some of the governor achievements in Isoko.
"It's laughable when Omoagege said Governor Okowa abandoned Isoko people.
Maybe he is not aware of the completed Oleh Emede Uzere Road, Aviara Araya rehabilitation, Irri Grammar School Road, Oleh Ozoro Back Road, among others.
The newly university by Governor Okowa in Isoko that Omoagege said is not functioning is a big fallacy because as at today, the university has admitted thousands of students which include students from Omoagege village ."
"As a former member of the People's Democratic Party PDP , Omoagege should be ashamed of himself for misleading people .
This is not how people are trained in PDP because the PDP that I know don't train people to tell lies.
He publicly lied that he has brought solar street lights, transformers to all communities in urhobo land Delta State.
Omoagege is a notable liar, mace thief and can never be elected to be Governor of Delta State.
I don't know who is deceiving him , he should have asked questions and evaluate himself before declaring for governor.
Who ever emerged among the competent governorship aspirants in PDP as the PDP Gubernatorial candidate will win in Delta State because of the achievements recorded by Governor Ifeanyi Okowa." he said .