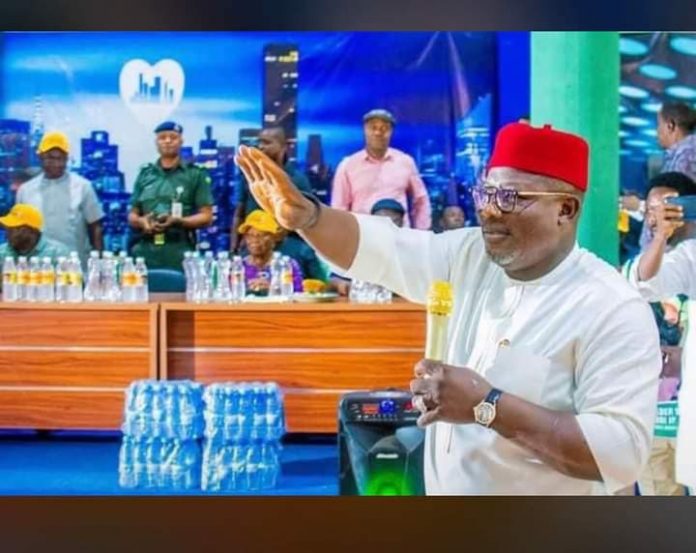 By Fred Latimore Oghenesivbe Esq
In the last couple of days Deltans have been worried over rumours making the round that the widely endorsed governorship aspirant under the Peoples Democratic Party, PDP, and Speaker, Delta State House of Assembly, Rt Hon Sheriff Oborevwori may have been asked to step aside from the race.
The professional rumour mongers cum negative propagandists alleged that the state governor, Senator Dr Ifeanyi Arthur Okowa, had in a private meeting ordered Mr Speaker to step aside and instructed his immediate past Chief of Staff, Hon Festus Ovie Agas to replace Oborevwori, a highly technical script directly linking the state party leader to one of the aspirants in an attempt to reveal that Okowa was not neutral in strict sense.
Findings revealed that the fake news was the handiwork of a powerful cabal working and lobbying to install one of their own as governor Okowa's successor. This is the heart and soul of the matter, battle for relevance and supremacy by loyalists of two major political families in the state.
It was further alleged that detractors planted agents in Oborevwori's consultation team to record any useful information and videos that can be used against him. This is unacceptable, politics of bitterness taken too far. The Pull Him Down Syndrome against Mr. Speaker shall fail.
God is never and will never be author of confusion. Oborevwori is a divine project, anointed to be Okowa's successor and so shall it be. Men look at human face, melt for sugar coated tongues, but God look at the heart of man. Oborevwori's heart is pure gold and he shall be an excellent governor.
He is a man of high taste and class, and shall apply same in advancing Delta's socioeconomic fortunes and infrastructure development as encapsulated in his M.O.R.E agenda, which he clearly articulated during consultation meetings with delegates and party leaders across the state.
It must be stated that Delta State affair is neither a family business nor a business empire owned by an individual or a few individuals. The State belong to all Deltans and we have equal opportunity to aspire and occupy any elective office. We are equal before God, and He alone has the master key of our divine destinies.
The forces against Oborevwori are responsible for the various media propaganda and as the going gets tough, the tough will get going. The SHERIFFIED project is divinely protected by the Amazing Grace of God.
Sheriffied is a praying team and the Right Hand of God that doeth valiant shall suddenly arise to give Oborevwori total victory over principalities and powers in high places. Our hope is in Christ and God Almighty, the giver of genuine power. Mr Speaker shall overcome in Jesus Name, Amen.
Delta State is a governmental, political and geographical entity with equal rights and opportunities for all citizens. Power is transient and can never be domiciled in one individual for life, except hereditary monarchies.
Governor Okowa is the incumbent governor and leader of our great party, PDP. He shall lead the way and we follow, as far as 2023 general election is concerned.
As rightly stated by the Majority Leader of Delta State House of Assembly, Hon Chief Ferguson Onwo, Rt. Hon Oborevwori's governorship ambition has grown beyond him. It is now a Pan Delta Project with destinies of majority of the people of Delta State tied to it.
Rt Hon Oborevwori is generally accepted by Deltans across the three senatorial districts. Party faithfuls defiled heavy downpour of rain to welcome and endorse him as their preferred aspirant, in all the LGAs visited. He is obviously a soft sell aspirant with amazing grace following.
No other governorship aspirant in the state got the kind of huge support that Mr Speaker garnered during his consultation tour of the state. This superb level of acceptance can not and should not be swept under the carpet.
Those plotting against Oborevwori should please thread with absolute caution. We need practical development, good governance, a leader-unifier and a humble governor, not an Oscar Award winner in public speech, oratory and stage showmanship. He is a team player with a heart of gold.
It is on record that DC-23 screened and presented the names of three best aspirants; Rt Hon Sheriff Oborevwori, Olorogun David Edevbie and Olorogun Kenneth Gbagi, and urged Deltans including members of the lobby group to rally round and queue behind any of them. DC-23 membership consists of persons from the two major political families.
The lobby group is a baby of Ibori Political Dynasty, IPD. Over 80 per cent of DC-23 members joined the Sheriffied Team including the Deputy National Chairman, Hon Solomon Ighakpata and the National Secretary, Olorogun Dr Chris Oharisi.
In compliance with DC-23 marching order, Deltans preferred Oborevwori, accepted his M.O.R.E agenda and took steps further to adopt him. Nobody should at this level of foreseeable victory for Mr Speaker deploy political influence or media propaganda to stop the peoples choice.
Oborevwori subscribed to DC-23 screening exercise in 2021, which was well supervised. He was found worthy, competent and eminently qualified by the screening committee headed by a University Professor. He made the final list of three Urhobo best aspirants which was presented to Deltans via a national press conference by the National Chairman and National Publicity Secretary, Chief Ighoyota Amori and Hon Arthur Akpowowo.
It follows that no body is permitted to find faults or flimsy excuses after the comprehensive screening by DC-23. No, it is too late. To find faults is to say that the lobby tour and screening exercise carried out by the lobby group chaired by Distinguished Senator Ighoyota Amori, the Odidimadi of the Universe was inconsequential and irrelevant in the scheme of things.
More importantly, Deltans are already Sheriffied. Party delegates shall vote at the primaries to elect Delta PDP gubernatorial flag bearer. This is the peaceful way to go.
The media propaganda also tend to contradict governor Okowa's promise to be neutral, provide a level playing field for all aspirants at the party primaries. It follows that our unbiased party leader could not have issued such directives or marching order to anybody.
And this fact was corroborated by Chief Mike Loyibo in his press statement on Saturday wherein he confirmed that governor Okowa during their Easter visit in Owa-Alero promised to be an unbiased umpire before and during Delta PDP primaries. Paid propagandists should stop dropping the Governor's name, going forward.
It is therefore very obvious that those individuals sponsoring fake news are very uncomfortable with Oborevwori's massive acceptance and popularity within and outside the party across the state. The best thing for them to do is to device strategies to sell and project their unpopular aspirants and let Mr Speaker be. Delta is YELLOW for Oborevwori.
Let the best and incorruptible fellow do the job. The best in this dispensation is Rt Hon Sheriff Oborevwori. He has been providing unblemished leadership to twenty eight lawmakers representing Delta State in the past five years without crisis. He will efficiently and effectively manage the affairs of Delta State to the envy of doubting Thomases. He is upright, accessible, humble and transparent.
Delta must never slide backwards, it's forward ever.
Look no further, be SHERIFFIED.