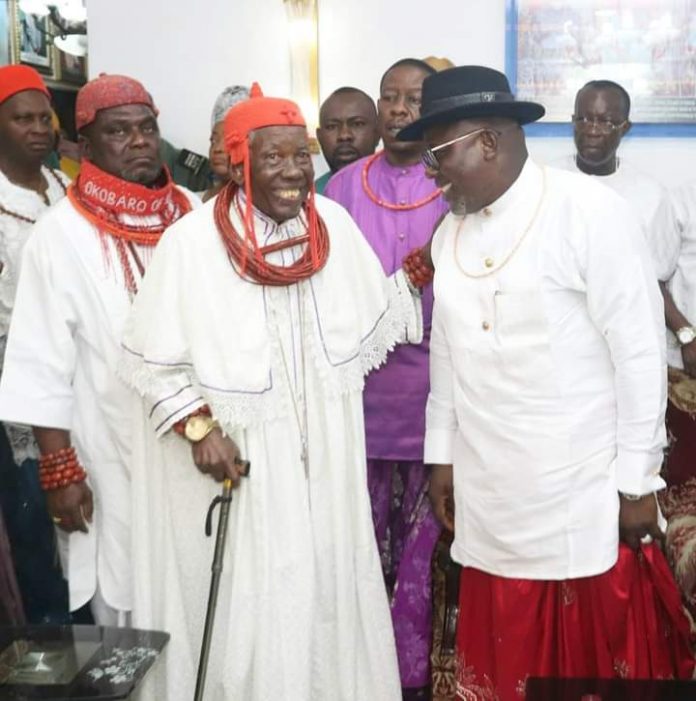 By Fred Latimore Oghenesivbe Esq
It is important that you read this article to the last paragraph because information is power. You will enjoy reading it and at the end of it all you will be able to make informed decisions.
David Edevbie is essentially not a politician and he knows. This is the reason why he does not have human relations and not accessible while he held sway as Commissioner for Finance and as Chief of Staff.
Today, he is everywhere kneeling down for every Dick and Harry and attending birthday parties and other ceremonies uninvited. On a good day, Edevbie is an arrogant, disrespectful, inaccessible, very proud and unfriendly.
He suddenly formed humility and will be the first to greet you because of governorship election. Thanks to Democracy that allows the people to elect their governors. Governorship election has temporarily humbled Edevbie to an unimaginable level of simplicity and decorum. Jesus is Lord!
WHO IS DAVID EDEVBIE? Edevbie is a financial consultant serving and servicing economic interests and financial empire of a group of highly influential and powerful oligarchs whose main target is the Delta State Treasury.
From 1999 to 2007, the state treasury was controlled by Edevbie as Finance Commissioner for the oligarchs and the sad tales of financial misappropriation cannot be forgotten in a hurry. He could not deploy his intellectual capacity, power of oratory and global work experience to protect the state treasury from being drained.
The state image was badly damaged and efforts are ongoing to restore the integrity of Deltans and the state as a result of the world press focus on Delta as the capital of corruption in the world, occasioned by Edevbie's reckless mismanagement of Delta State Treasury.
And after reading through the response of Edevbie Campaign Organisation to my article titled "UPU Edevbie Commercial Endorsement, Not Urhobo Nations Interest," I came to the conclusion that a hardened criminal is a shameless person. But one thing is clear, Deltans will not again allow the looting of their treasury by the oligarchs. Delta money will remain in Delta, not in foreign bank accounts.
Educational qualifications, international banking experience, global connections and world class technocrat and all that points to one issue, "Edevbie cannot be trusted with Delta State treasury" because under his watch and supervision our monies developed wings and flew to several banks overseas.
It follows that Edevbie's global banking experience, academic degrees and oratory power were acquired and developed to permanently serve the financial empire of powerful political and commercial oligarchs. Deltans are well informed and they have vowed never to allow their treasury to be brutalised and drained the second time, to the detriment of Delta development and wellbeing of our people.
In their response, the writer struggled intensely to justify the illegal, political and financially induced endorsement of Edevbie and quoted Oghenesivbe's reports as his reference point.
Yes, Rt Hon Oberevwori and Dr Fred Oghenesivbe commended PG Moses Taiga in the past because he promised that UPU will be apolitical but later made a degrading U-turn and descended into the arena of partisan politics by endorsing a party aspirant, David Edevbie.
Edevbie Campaign Organisation also questioned Governor Okowa's moral and leadership integrity, saying that His Excellency, the Governor of Delta State goofed for supporting Oborevwori who claimed to have street credibility. Deltans are fully aware that Okowa never declared public support for any aspirant. This is laughable.
And for unjustly and disrespectfully questioning the moral and leadership integrity of our amiable governor and state leader, I will temporarily descend into the arena to spill some beans. Okowa should not be the subject matter in Edevbie's 2023 governorship campaign.
Edevbie Team went further to castigate Rt Hon Sheriff Oborevwori to have said he had street credibility and as such not fit to govern Delta State. This is laughable because the Sheriff Oborevwori that Deltans know is a perfect gentleman, responsible, a team player and philanthropist.
Oborevwori does not serve the economic interests of oligarchs and not a penny got missing or misappropriated under his watch as Speaker in the past five years and still counting. He is a prudent and honest gentleman.
We all know what "Street Credibility and Street Wisdom" stands for in modern society and in the political milieu. Simply put "Street Credibility is acceptability among fashionable young urban people; an individual generally acknowledged as a role model and a patriot.
The dictionary meaning of Street Credibility goes thus "a convincing command or display of the style, fashions, knowledge, etc, associated with urban people and positive modern lifestyle."
In what ways does the definition or concept of Street Credibility pose risk to society or good governance in democracies? The Edevbie team viewed street credibility as a taboo and a negative concept, whereas they claimed to be the reservoir of knowledge and decency.
2Face Idibia and other musical icons around the world once said they had street credibility and all the song tracks on street credibility won Awards including that of 2Face. Street credibility is associated with modernity and urban civilization, not a negative concept.
A decent person will not aide and abet criminality, and will not short change the people for the selfish economic interests of oligarchs. Edevbie is serving the interest of oligarchs, not the interest of Urhobo nation. And this time around we must get it right, do away with fake claims of serving Urhobo interest whereas they are battling to take charge of Delta Treasury for themselves and themselves alone.
The Oligarchs are citizens of United Kingdom. They and their children including UPU PG Moses Taiga and David Edevbie, whereas Rt Hon Sheriff Oborevwori and his children are citizens of Nigeria, no dual citizenship. His first son, Fred Oborevwori was born here, living with us here and doing business here. He served me a bottle of Fanta the other day I visited his father in Osubi, a humble youngman.
Oborevwori's investments are all in Delta State. He is a man of the people, loved by all and sundry. He has street credibility and street wisdom which he uses to effortlessly mobilize the grassroots for the growth and expansion of our great party, PDP. He is a role mode for our youth, an urban socialite with unblemished public service records spanning three administrations.
What does Edevbie represent? I will tell you again. He is an agent of oligarchs with dual citizenship. His investments and fixed bank deposits are in UK and European countries, not in Nigeria.
Edevbie hails from Isoko and Afiesere but can't speak Urhobo fluently. He is a British trained financial strategist serving only the interests and financial empires of oligarchs, not the interest of Urhobo nation.
Edevbie and Moses Taiga including the Oligarchs are British citizens with common economic interests. They all lived in UK together and have been friends for decades. This Diaspora friendship accounted for the Kangaroo, paddy paddy cum cash and carry endorsement of Edevbie on Saturday night in Lagos at the private residence of Taiga, not at UPU Secretariat in Uvbiamuge. You get it the picture clearly, right? Good.
Oborevwori is a proper illustrious son of Urhobo nation and have been part of all events that promotes Urhobo Interests. His governorship bid is a Pan Delta project and true representation of Urhobo interest, not the interest of Oligarchs. This is the great world of difference between Edevbie and Sheriff Oborevwori.
In clear terms, Sheriff Oborevwori represents a true Pan Delta mandate for 2023 governorship ticket while Edevbie represents the economic interests of a powerful, highly influential network of Oligarchs and economic saboteurs. Sheriff is to serve Deltans while Edevbie will always serve the Oligarchs.
PG Moses Taiga erred by unilaterally endorsing David Edevbie in violation of UPU constitution. He promise to be apolitical but later descended into the arena of partisan politics by endorsing Edevbie for governor. Endorsement of a party aspirant is purely political and ultra vires the powers and functions of a sociocultural organization.
It is on record that other sociocultural organisations in Delta State did not at any material time openly endorse any governorship aspirant from 1999 till date. They do so through extensive underground lobby and carry other senatorial districts leaders along in a coded process as recently corroborated by our amiable elder statesman, Chief E.K. Clark in his masterstroke interview with my bosom friend, Emma Amaize.
Finally, sound educational background, global work experience and power of rotary becomes useless and odious when the fellow in question main objective is to serve the economic interests of Oligarchs, to the detriment of the vast majority of the people.
And in the instant case Edevbie's lorry load of global financial banking experience and trucks loaded with academic certificates are now worthless and meaningless to the people, because he is always serving and will continue to serve the economic interests of oligarchs to the detriment of the economic interests of the state and wellbeing of Deltans
This is where we are and that's why PDP delegates won't vote David Edevbie at PDP primaries next month. And no amount of UPU and United Nations endorsements can change the ultimate decision of delegates and the good people of Delta State.
Edevbie was rejected in 2014/2015 and he will be rejected again by PDP delegates in 2022.
Oborevwori represents the genuine interests of Urhobo Nation and Delta State in general. He does not have the experience of how to arrange funds in foreign banks, but he has made his mark in the world of business, politics, governance, legislation and excellent human relations laced with humility, respect for elders and constituted authorities.
He is the longest serving Speaker since the creation of Delta State. He is competent and the most ideal person to step into governor Okowa's shoes as governor in 2023, by the special amazing grace of God.
Delta is YELLOW for Sheriff Oborevwori and there is no going back.
Oborevwori's detractors and PG Moses Taiga should get ready to attend Ukodo of Okpe's swearing in ceremony as governor of Delta State on May 29, 2023.
Happy Easter, Jesus is the Lord.
Look no further, be SHERIFFIED.