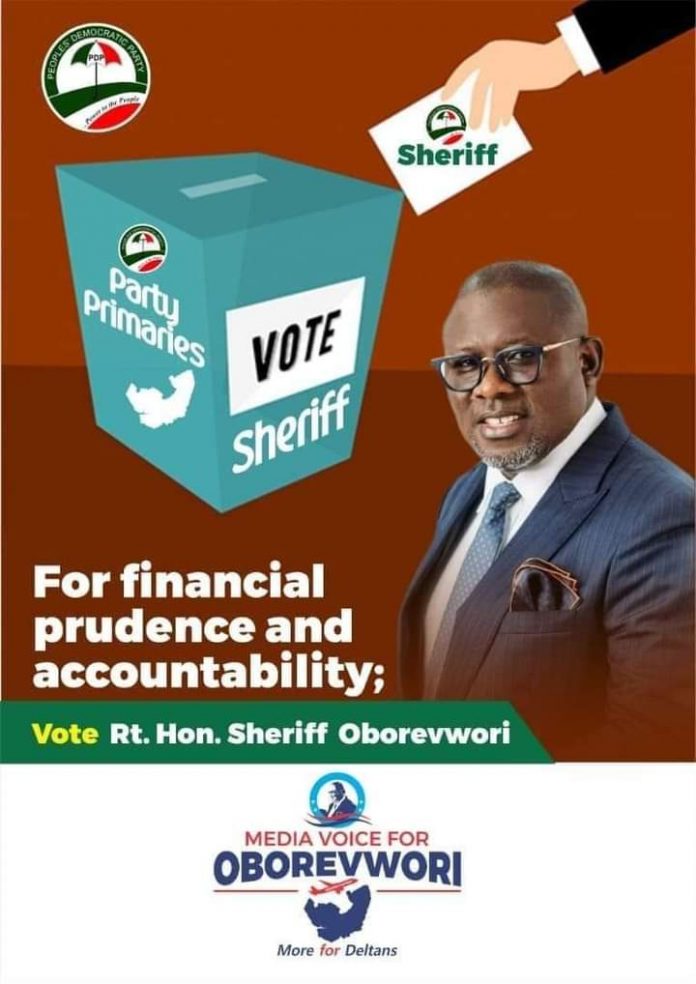 By Fred Latimore Oghenesivbe Esq
#sheriffied
It is very obvious that Edevbie Campaign Organisation is banking on dirty politics and mudslinging in the ongoing politics leading to Gubernatorial party primaries of the Peoples Democratic Party, PDP, in Delta State.
A story titled "PDP Delegates vow to Rescue Delta From Bad Choice" written by Edevbie's avatars, one Pius Okokoh, peddled all kinds of falsehood, blackmail and name calling against leading PDP governorship aspirant, Rt Hon Sheriff Francis Oborevwori, JP, and also misquoted Fred Latimore Oghenesivbe in an attempt to vilify, discredit the sound educational qualifications and solid integrity of Oborevwori.
The said story was published on Saturday night and Sunday morning 14/15th May, 2022 in brazen arrogance and deliberate violation of Delta PDP Chairman's passionate appeal to party aspirants and supporters to focus on issues based campaign.
It will be recalled that Delta State Chairman of PDP, Okakuro Barr Kingsley Esiso had in a detailed press statement appealed to aspirants and their supporters to avoid internal mudslinging within PDP family and focus on issues based projection of governorship aspirants.
Delta State PDP structures and the Chairman, should take note and do the needful to avoid another round of unpleasant media warfare, as Edevbie campaign organisation engages in endless politics of acute desperation and self inflicted bitterness.
Those living in glass houses should never be the first to cast stones at those living in brick facilities.
It is unfortunate that Edevbie Campaign Organisation have nothing convincing to talk about other than to engage in profitless bad mouthing and peddling of lies, fake news and misleading propaganda to score cheap political point that is not forthcoming.
Rt Hon Sheriff Francis Oborevwori is in good standing. His academic credentials are perfect from Primary Living Certificate to Master Degree in Political Science.
Edevbie Campaign Organisation is strongly advised to take copies.of the certificates at their disposal for verification at the various issuing authorities and publish certified true copies of Oborevwori"s academic certificates for the world to see.
And if they are truly sure and convinced that Oborevwori Sheriff is not the same as Oborevwori Francis, the best thing to do is to parade the two separate individuals to justify their allegations. Failure to parade the two individuals amounts to dirty politics and futile attempt to score zero political points.
This election is not about intelligent rogues, signature forgers, looters and smart money laundering agents, its about continuity in good governance and sustainable socioeconomic and infrastructure development of Delta State. And Oborevwori is best for the job.
Deltans and PDP delegates are solidly behind Rt Hon Sheriff Francis Oborevwori, the Pan Delta Governorship Project for all Deltans.
Victory is sure for SHERIFF.
Look no further, be SHERIFFIED.