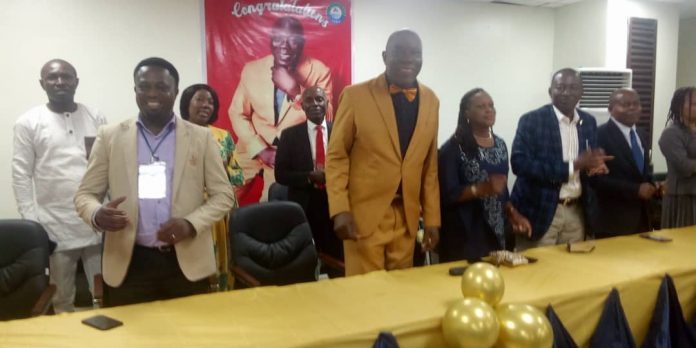 By Magnus Emuji
Stakeholders in engineering profession and in Delta State have lauded the retiring functioning Permanent Secretary in the State Ministry of Water Resources, Engr. Emmanuel Onoriode Odogun for his outstanding contributions and services to the state government.
The stakeholders including the Permanent Secretary, Ministry of Energy, Engr. Blessing Edewor , the MD/ CEO of KDKL, Lagos , Engr. Esedafe Solomon, the Permanent Secretary, Ministry of Works, Engr. Fred Dafioghor and the Chairman of the Nigerian Society of Engineers, Asaba branch, Engr. Chris Ayidu among others who spoke separately during the 60th birthday celebration / retirement ceremony organised for Engr. Odogun , described the former Director of Irrigation , Drainage and Flood Control as a dependable and reliable colleague.
Speaking in his goodwill message, Engr. Edewor , who said that the retired water Engineer was very instrumental to several achievements in the water sector, adding that he was a rare bred civil servant who carried out his duties with utmost diligence and commitment.
While stressing on the need for every civil servant to consider retirement as a thing , Engr. Edewor said that the key to succeed in civil service was the ability to persevere and commitment just as he congratulated Engr. Odogun on his retirement from service.
He urged civil servants not to be afraid of retirement but prepare for it on time , adding that there was nothing to be afraid of in retirement just as he noted that Engr. Odogun was leaving the service after meritorious service when his competence and commitments were still needed.
Earlier, the chairman of the occasion, Engr. Esedafe Solomon said that it was a thing of joy to retire with good health, adding it was important for every civil servant to plan for their retirement on time so that they have something to leverage on for survival.
He advised the retiree to always exercise and be mindful of the type of food he would be eating now that he had joined the group of senior citizens , adding that he should be in touch with people so avoid loneliness which according to him was not healthy for people who were aging .
In their various goodwill messages, the Permanent Secretary, Ministry of Works , Engr. Fred Dafioghor , the Director- General of Water Regulatory Commission, Engr. Henry Idama and the General Manager of Rural Water Supply Agency (RUWASA) , Engr. Clement Adiotomre said that he was accessible and accommodating at all times.
They also described him as a team player and results oriented individual whose efforts in ensuring water supply in the state was commendable even as they wished him success in his future endeavours.
Others who spoke including the General Manager of Small Town Water Supply Agency, Engr. Anthony Unuafe , the chairman of the Nigeria Institute of Water Engineers in the state, Engr. Jombo and the Director of Planning, Research and Statistics in Ministry of Water Resources Development, Mr. John Imilar described the celebrant as a quintessential administrator, saying that his modest contributions to water sector was worthy of emulation.
Responding, the celebrant, Engr. Emmanuel Odogun said that civil service was one of the best places to work, asserting that civil service always have a way of nurturing and preparing every officer to greatness provided they were ready to adhere to the rules and regulations guiding them.
Engr. Odogun, who appreciated the State Government for giving him the opportunity to serve also expressed his profound gratitude to his professional colleagues and all the staff of the ministry for their supportive role in his success while he was rendering services to the ministry and the state government at large.
Highpoint of the ceremony which was attended by the Permanent Secretary, Delta State Ministry of Higher Education, Dr. Anthony Nwokolobia among others was the presentation of award of excellence to Engr. Odogun by the Nigeria Society of Engineers as well as the cutting of his birthday cake.