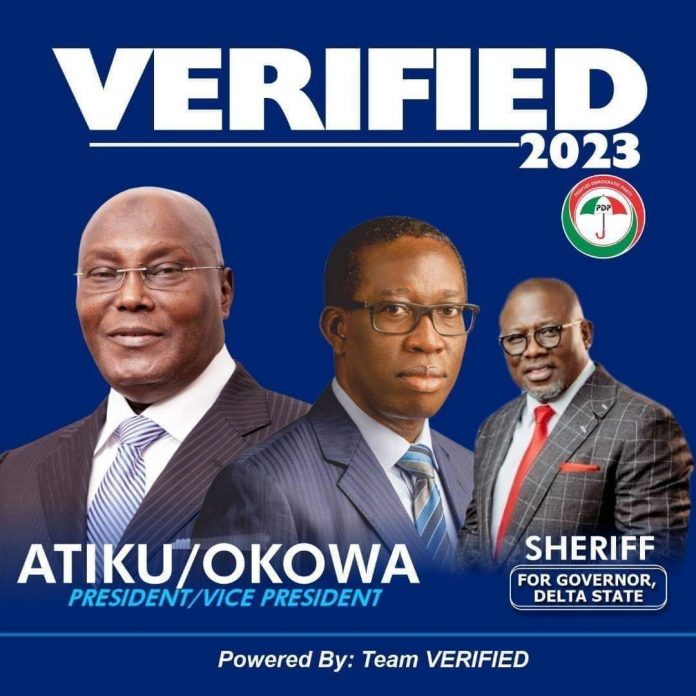 By Fred Latimore Oghenesivbe Esq
#eacgovdelta
The immediate past Commissioner for Higher Education, Prof Patrick Emuoboghare, is no doubt a Professor of Human Kinetics, who also doubles as a controversial politician. He is a sweet talker but very crafty and can be unreliable politically, to a large extent.
His recent exit from Okowa administration was foreseeable by political astrologers who walked through his political future and his dirty dealings with the enemies and detractors of the State Governor, Senator Dr Ifeanyi Arthur Okowa.
Muoboghare recently granted interview to some Journalists which was widely circulated on social media. I listened to his take on the ongoing legal battle between Delta PDP governorship candidate, Rt Hon Sheriff Francis Oborevwori, the Peoples Democratic Party and Muobo's political associate, Mr. David Edevbie.
He said PDP had no business joining issues with the infamous Federal High Court Judgment now on Appeal, and that Governor Okowa, as Vice Presidential candidate of PDP, ought not to interfere with the fallouts of the state PDP governorship primary.
Even though Prof Emuoboghare tried so hard to hide his bitterness and rage over his recent sack as Delta Commissioner for Higher Education, his choice of words clearly sold him out as a radical mole that was planted in Okowa administration by adversaries and haters.
The Professor of Human Kinetics at Delta State University Abraka, was so reckless with words that he almost referred to Okowa as a father Christmas for appointing him as Commissioner for Higher Education. His uncontrollable outburst revealed the "devil's craft" with which he formed and faked loyalty while his pretentious master and servant relationship with governor Okowa lasted.
As we know it today, Oborevwori is not an Independent candidate, he was sponsored by PDP and it is well specified in the Electoral Act 2022; it is the responsibility of political parties to field candidates for election. No room for independent candidates, therefore Oborevwori is not and cannot stand alone.
The ballot papers also present party logos for eligible voters to identify and thumb print before finally casting their votes. It follows that Prof Muoboghare's unbridled tongue revealed his acute hatred for Gov Okowa's leadership by disconnecting him as the state leader of PDP from the internal affairs of the party, more particularly the ongoing legal battle for the Soul of Delta State.
Muoboghare must be reminded that Okowa as the state leader of PDP cannot be a stranger in the affairs of the party and cannot be separated from the party's governorship candidate, Rt Hon Sheriff Francis Oborevwori.
The previous governors in the state did not abandon governorship candidates of the party and one begins to wonder why Prof Muoboghare was cracking his brain and chewing lips on this matter.
On the other hand, PDP sponsored the candidate and Oborevwori will run on the platform of the party in 2023. Therefore, it has locus stand to Appeal against the judgment widely believed to be a gross miscarriage of justice.
Oborevwori is not an independent candidate, he is the governorship candidate of Delta PDP and governor in-waiting. He is well educated and was on Thursday inducted as fellow of the Nigerian Institute of Management, NIM. He had been a member of NIM for several years.
His business acumen was timely, specially recognised and honoured by NIM, the only nationally and internationally recognised professional body for all cadres of managers in Nigeria. Congratulations to Delta PDL governorship candidate, Rt Hon Sheriff Francis Oborevwori, JP, the Ukodo of Okpe Kingdom.
Prof Muoboghare and his gang of Delta Unity Group, which is obviously the reincarnation of the now infamous DC-23, should be mindful of their "Kalokalo politics" anchored on fake notion of intellectualism, elitism and lootism. They are familiar spirits in the political terrain.
It has been alleged that Delta Unity Group of Prof Muoboghare is well funded and sponsored by known oligarchs and pilitical contractors. Their major and only focus is Delta State treasury. That's their only known and identified easy cash point.
Lastly, Prof Muoboghare and his gang of busy body politicians are on a political journey to nowhere because affliction on Delta treasury shall not arise again.
Deltans resolved through delegates votes at the governorship primary to end the looting era. The gang up against Delta treasury as represented by Delta Unity Group, shall fail, a foreseeable futile political conspiracy.
Edevbie will not be governor of Delta State in 2023. Their "spoiler game" against our party's governorship candidate in Delta State, Rt Hon Sheriff Francis Oborevwori shall crash like a pack of cards.
Expect M.O.R.E from 2023 to 2031 in Delta State, with Oborevwori as Governor.