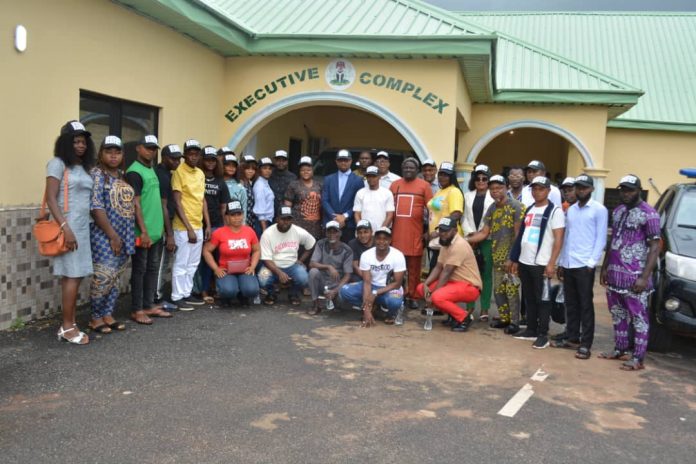 The Executive Chairman of Aniocha South Local Government Area of Delta State, Hon. Pastor Jude Chukwunwike has called on youth to adequately utilize the social media space for the Peoples Democratic Party victory ahead of the 2023 general elections.
Hon. Pastor Chukwunwike who stated this while playing host to a political pressure group Team Verified at his office in the council Secretariat, Ogwashi-uku commended the group for seizing the social media space for the PDP continuity in the state and rescue Nigeria mission movement at the national level.
While applauding the vibrancy and civility of Team Verified during the state PDP primary elections across the state, the soft spoken chairman told the group to remain focus as they use the achievements of Governor Ifeanyi Okowa's lead administration to campaign for the PDP victory across the state.
He admonished the team to continue to preach the good news of Atiku/Okowa to Nigerians mostly the Youths who are yet to believe in Atiku/Okowa rescue mission and other PDP candidates.
The council boss who noted that Deltans remained "Sherifffied", maintained that despite the current political challenges confronting the state PDP, that the party will come out very strong.
Earlier in his remarks, Director General of the group Hon Frank Onyenuwe said the group which cut across the state, with various local government coordinators, have come to identify with the council boss and unveil the group aims and objectives to him.
He noted that the council chairman has also distinguished himself and shown good leadership qualities by building a strong and formidable Governance in Aniocha South local government.
According to the DG, "we have studied you from a distance and also carried out some verifications on your projects both infrastrutural and human capital development and we found you worthy and credible.
Hon. Onyenuwe however commended Hon. Pastor Chukwunwike for the good works he being doing at the grassroot levels.
The high point of the event was official branding of Hon. Pastor Jude Chukwunwike as brand ambassador of team Verified
Team VERIFIED ……Victory is Sure.