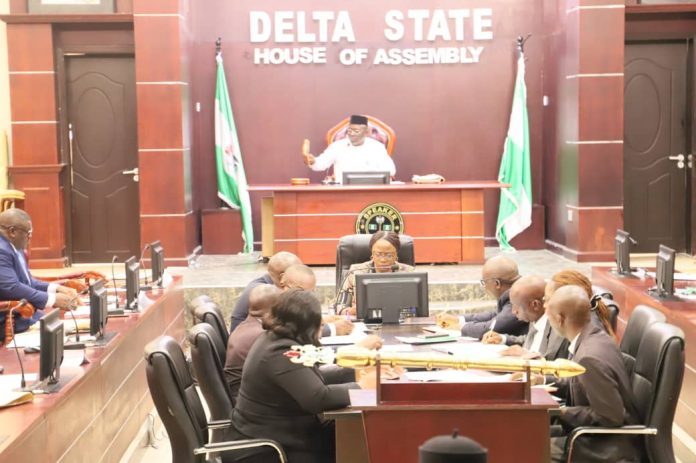 line with constitutional provisions and relevant laws of the state, the Delta State House of Assembly, Wednesday, screened the five nominees whose names were forwarded to it for appointments into different offices in the state public service.
The five nominees got their appointments confirmed immediately after the screening exercise at plenary, presided over by the Speaker, Sheriff Oborevwori.
The five nominees were Mr Fred Edefe Obe for appointment as Commissioner and a member of the Delta State Executive Council, Mr Patrick Itor as a member of the Delta State Sports commission,Mr Lawson Efenudu for re-appointment as Secretary Bureau for State Pensions as well as Mr Benjamin lgo and Dr Frank Atube as Chairman and Secretary Bureau of Local Government pensions respectively.
Mr. Fred Edefe Obe, a renowned human rights activist from Isoko North was introduced by the member representing the constituency in the House, Hon Jude Ogbimi who x-rayed the sterling qualities of the nominee, saying that the appointment was a square peg in a square hole.
Mr Obe's appointment was confirmed following a motion to that effect by the Majority Leader, Hon Ferguson Onwo, seconded by the Deputy Speaker, Rt Hon Ochor Christopher Ochor.and adopted.
Mr Patrick Itor from Warri North who also got his appointment as member of the Delta State Sports Commission rectified was introduced for the screening exercise by the Deputy Majority Whip and member representing Warri North Constituency, Hon Alfred Martins.
The screening for re-appointment of Mr Benjamin lgo, a retired Permanent Secretary who hailed from Ughelli South, and Dr Frank Atube, a retired Head of Personnel Management in the Unified Local Government Service Commission from Ika North East as Chairman and Secretary, Bureau of Local Government pensions respectively, was seamless as both nominees had once appeared before members for same exercise.
As provided by the House rules, both men were introduced for the screening by members representing the two constituencies, Reuben Izeze, Ughelli South and Anthony Elekeokwuri, Ika North East.
The House also screened and confirmed the reappointment of Mr Lawson Efenudu who hailed from Isoko North as secretary Bureau for State Pensions, after he was introduced by the member representing his constituency, Hon Jude Ogbimi.
Motions for the confirmations of the nominees were moved by the House Leader, Ferguson Onwo and adopted.
Governor Ifeanyi Okowa had last week Wednesday forwarded the names of the nominees for the various appointments to the state legislature.
The letters conveying their names were read by the Speaker, Rt Hon Sheriff Oborevwori at plenary session of the House.