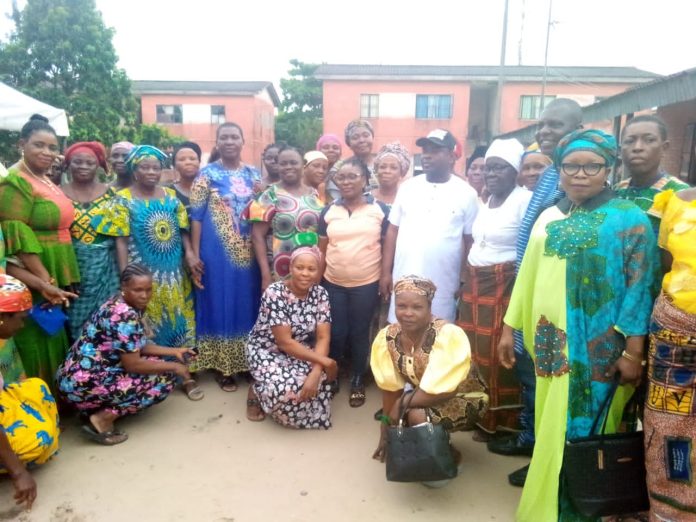 ESE ADAGBRA
The Delta State House of Assembly Candidate of the All Progressive Grand Alliance APGA Udu State Constituency,Mr Monday Okubio has announced undisclosed amount of money for the empowerment of 5 Widows to enable them strengthen or start any business of their choices as he promised to increased the number if elected.as a Member of Delta State House of Assembly to represent Udu State Constituency.
Mr Okubio while addressing Widows and Women in Delta Steel Company DSC Housing Estate in Orhuworun town Ward 9, asked them to vote for Chief Great Ogboru for Governor,Mr Peter Omaruaye for Senate,Chief Daniel Ekorhi for Federal House of Representatives and himself for Delta State House of Assembly so that he will be able to work with the Governor to bring democratic dividends not only to the widows/ women but the entire people of Udu.
Mr Okubio expressed disappointment over the performance of those who have represented and representing the area both in the state and federal levels over the deplorable State of DSC township and Women in the area.While stressing that women are the most reliable set of people in the democratic business and assured to give them all the attention they deserv.He noted that what the women are required to do is just to for them to vote APGA and leave the rest for him and others.They will start by making the difference in their lives and the entire people of Udu.
He said he is touch and pained by the plight of Widows who are special people therefore deserves special attention.He promised to give them grants to strengthen or commence any business of their choice.He urged them to vote for him and other Candidates of the party adding that they will see the difference between them and others.
Earlier Mrs Elizabeth Alonge, who said she has been with Chief Great Ovadje Ogboru right from the days of South South Rain Coalition till date expresse confidence in the ability and capability of Mr Okubio whom she said she has also known for sometime now as a reliable and trustworthy Young Man and if given the opportunity he is not going to disappoint the Widows/ women and the people of Udu.
On her part Mrs Otumevakpor Bose, Woman Leader and Coordinator of the Widows / Women in DSC Township expressed gratitude to Mr Okubio and declared their unalloyed support for him.She said that it is clear that since he can dip his hands in his pocket to empower 5 WIDOWS,/ Women,it is obvious that when given the opportunity he is going to do more which they have no doubt about.Highlight of the occasion was singing, dancing and prayers by the Widows Women for the success of Mr Okubio and all other candidates of the party come 2023.