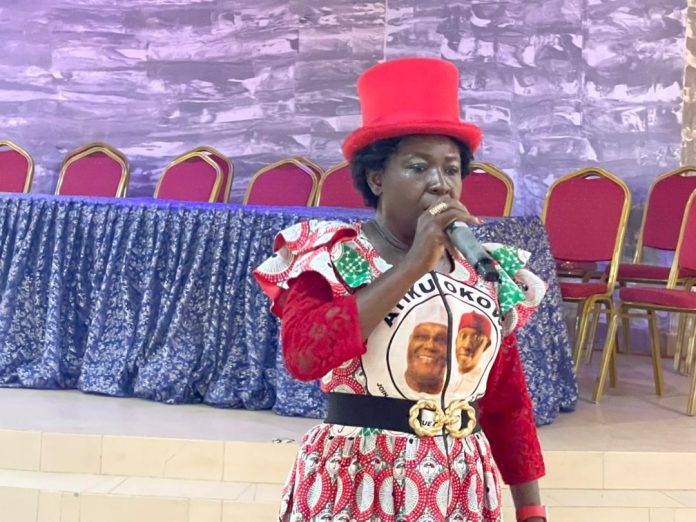 Chief Whip, Delta State House of Assembly and Deputy Director, Religious Engagement Committee, Delta State Campaign Council, Hon Pat Ajudua has charged Nigerians to vote massively for Atiku-Okowa ticket on Saturday this week to get Nigeria working again.
Hon Ajudua who made the call during an interactive session by the Religious Engagement Committee with Pastors and Leaders of churches in Oshimili North local government area, urged the people to use the ballot box to say no to further suffering in the land, inflicted by the All Progressive Congress, APC.
The Chief Whip said maladministration of the APC led federal government had brought untold hardship to Nigerians, stressing that all segments of the society, including the body of Christ must reject the party and its Muslim-Muslim ticket in the forthcoming general elections.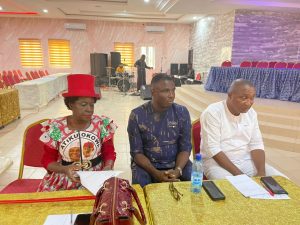 Hon Ajudua explain that Atiku-Okowa presidency is the solution to the mirage of problems presently facing the nation, maintaining that the duo of Atiku Abubarkar and Ifeanyi Okowa will ensure that Nigeria is restructured, rebuilt and placed on part of peace, unity, progress and sustainable growth.
The Lawmaker explained that at no time Governor Okowa betrayed the South, disclosing that the only meeting of governors of the zone held in Lagos on the issue of presidency was fashioned towards adopting Ahmed Tinubu as a sole presidential candidate for southern Nigeria which was rejected.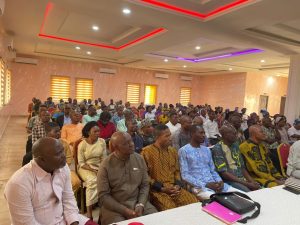 While urging the religious leaders to take the reform and rescue agenda message of Atiku-Okowa to their various churches and mobilize members to vote for PDP come Saturday 25th February 2023, Hon Ajudua
said with Ifeanyi Okowa as Vice President and Sheriff Oborevwori as Governor, Delta will witness unprecedented development.
"I want to appeal to you leaders of various churches in Oshimili North to come all out for the reform agenda of Atiku Abubarkar and our own "EKwueme" Governor ifeanyi Okowa. What is happening here today is being replicated across the 25 local government areas of the state.
"Nigeria needs Atiku-Okowa presidency. The nation needs Atiku, the unifier, and Okowa, the God fearing administrator to rescue, recover, reset and rebuild this country. Churches must be actively involved as bible tells us that "When the Righteous Rule, People Rejoice", Ajudua stated.
Chairman, Oshimili North Religious Engagement Committee, Dr Austin Obidi, while welcoming the Pastors to the interactive session, commended the body of Christ for the prayers and support to the Okowa's administration in Delta state in the past seven and eight months which he said has done so much to uplift standard of lives and infrastructure in the state.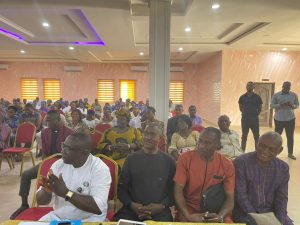 Dr Obidi who took time to highlight the exemplary leadership qualities and style of Dr Okowa and commitment to the growth of churches in the land, urged the people to be integral part of the making of Atiku and Okowa President and Vice President by voting enmass for the ticket on Saturday.
He said only Atiku-Okowa ticket can change the present negative narratives being experienced in all sectors of the nation's economy, maintaining that every Nigerians must support PDP to win for the overall interest of the country.
"We are all witnesses to the hardship APC federal government has inflicted on Nigerians. Nothing is working presently. We don't want further destruction of the fabrics of this nation. Nigerians need Atiku-Okowa to recover the country and make it work again.
"I urged you, your friends, relatives and congregations to vote massively for Atiku-Okowa come Saturday. We must reject APC to end poverty and wickedness in the land. Atiku as President, Okowa as Vice President and Sherrif as Governor will bring greatness to Delta State. The trend favours Atiku Okowa President", Dr Obidi emphasized.
Chairman Oshimili North local government council, Hon Innocent Esewezie, said Atiku-Okowa Presidency holds so much for Nigeria and urged the people to deliver them and all candidates of the PDP at the polls.
Hon Esewezie enjoined the religious leaders to mobilize their congregations to vote for credibility and competence, stressing that Dr ifeanyi Okowa will make a fantastic Vice President of Nigeria.
He said Okowa remains a symbol of good governance and great ambassador to the states of South South region, even as he urged the people to support the PDP team to victory on Saturday.
"As you get to your various places of worship, please educate your congregations on great things ahead of this country if Atiku is elected President and Okowa Vice President on Saturday. Mobilize your members to vote for the PDP massively to make Nigeria great again.
"Forget this sentiments about Obi as the tides are not favorable to such leadership for now. Nigeria needs Atiku-Okowa presidency to reset the country. PDP holds a lot for this country. Let say no to vote on sentiment and yes to credibility and competence. Atiku-Okowa represent competence. Okowa will make a fantastic Vice President", Esewezie admonished.
In his remarks, Bishop C. C. James paid glowing tributes to Governor Ifeanyi Okowa for his leadership prowess, saying that his administration in Delta State brought unprecedented development in the state.
He urged the people to go against agents of violence and any other acts capable of derailing the forthcoming elections, saying that Nigeria requires to be rescued from threshold of further destruction.
Some of the religious leaders who spoke affirmed that Delta State and indeed South South would benefit a lot in Atiku-Okowa presidency and promised to mobilize support for the PDP.
Prayers were offered for peaceful 2023 general elections.