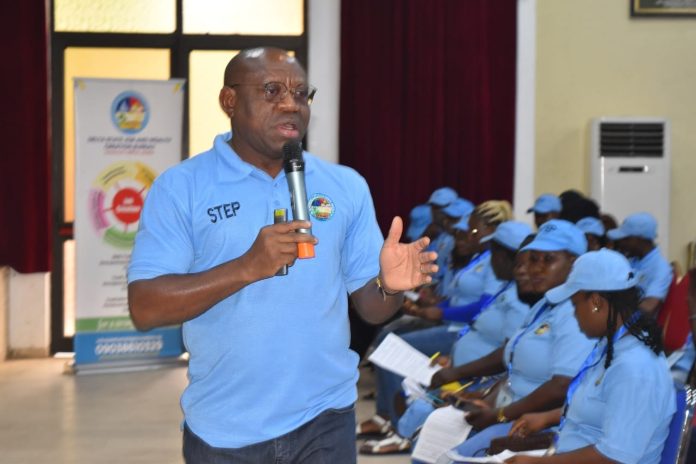 By Gertrude Onyekachukwu-Uteh
A one-day workshop on Entrepreneurship and Business Management Training (EBMT) has been concluded in Asaba with a call on the trainees to work hard to become seasoned wealth and job creators.
The workshop held in Government House, Asaba was attended by 514 beneficiaries of the Delta State Government's Skills Training and Entrepreneurship Programme (STEP) who enrolled into the 2022 cycle.
The trainees have successfully completed hands-on training and proficiency test in six vocational skills such as Audio-Visual Services; Electrical Installation and Solar Works; Catering and Confectionery; PoP, Screed-Making and Painting; Hairdressing and Braiding, and Tiling and Interlocking.
In his opening remark, the Chief Job and Wealth Creation Officer and the Head of Station, Prof Eric Eboh, gave an overview of the workshop. He emphasized that integrity is the underlying factor of the job creation programme.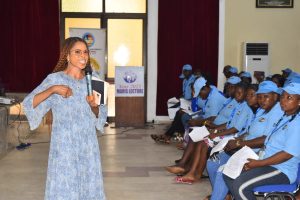 He said the training would inculcate in them personal leadership skills, advising them to value and to apply the knowledge acquired throughout the training into day to day operation of their businesses after their graduation and establishment with starter packs.
In his words, "Starter pack is important, but it is not the most important thing in the programme. The most important is the knowledge. Knowledge will help you and take you from this level to a higher level. You may lose your starter pack, you can never lose the knowledge acquired because it is within you."
He recounted the training processes the beneficiaries have undergone such as selection, orientation and personal effectiveness training (OPET), hands-on training in different vocational centers, personal effectiveness and leadership development (PELD), and the proficiency test.
He tasked them to make utmost use of the lessons gained and to take advantage of the opportunity provided by the state government to become star ambassadors of the STEP programme.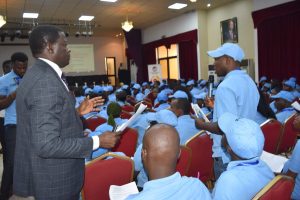 He pointed out that 9,154 Deltans have benefitted through the Delta State Job and Wealth Creation Bureau, with YAGEP engaging 1,776 youths. He also said 5,051 youths benefitted from the Skills Training Entrepreneurship Programme (STEP), adding that the Graduate Employment Enhancement Programme (GEEP) engaged 170 youths, while the Production and Processing Support Programme (PPSP) supported 2,157 already existing farmers.
On his part, the Executive Assistant to the Governor and Head of Directorate of Youth Monitoring and Mentoring, Mr. Edward Mekwunye, represented by Mr. Jude Chikezie, explained that DYMM has been part of the job creation programme since inception.
According to him, "Governor Okowa inculcated DYMM right into the job creation programme, starting with STEP and YAGEP which later metamorphosed into other programmes. We have often visited you right at your training centres to ensure that you get maximum benefit from your trainers. We look forward to your graduation and establishment with starter packs after which our mentorship programmme begins."
On experience sharing, STEPreneur Chinonye Achugbue tasked them to carve a niche for themselves by being dogged in the face of challenges. While charging them to be disciplined and to maintain high quality, she encouraged them to learn through their mistakes in order to improve their products and services.
Lectures such as, "Planning and Starting Your Business Enterprise: Things to Do," "Preparing and Writing a Business Plan" and "Participants' Practical Exercise in Preparing a Business Plan," were presented by the resource person, Pastor Afolabi Adun.
Sarah Segba in Audio-Visual Services and Evans Erikefe in Electrical and Solar Works expressed their gratitude to the state government for the opportunity given to them to acquire vocational skills for a life of self-employment.
For STEPreneur Segba, "My training experience has been very interesting. At first, it was very challenging but I thank God for the trainers who helped me to believe in myself. The whole journey of Audio Visual Services has been amazing. It has broadened my horizon and my mind to know more about art and nature, and to be able to tell stories about people through pictures and videos."