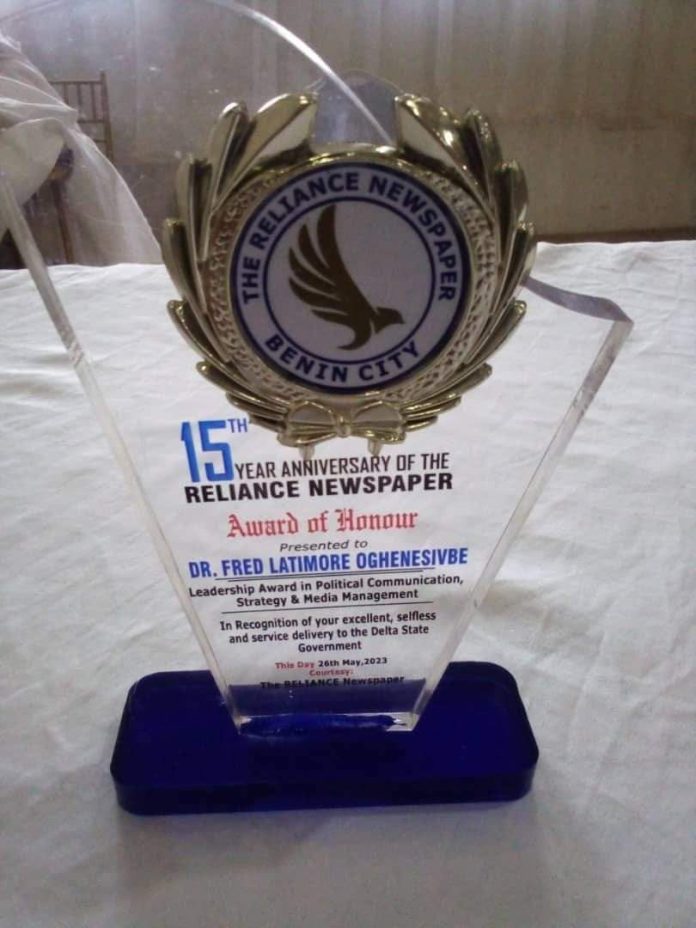 Executive Assistant on Communications to Delta State Governor, Olorogun Barr Fred Latimore Oghenesivbe, has said that the state Governor, Senator Dr Ifeanyi Arthur Okowa, served the good people of the State with great passion, and achieved tremendous results in socioeconomic and infrastructure development in eight years.
Oghenesivbe made the assertion at the 15th anniversary celebration of Reliance Newspapers on Friday, while receiving the "Leadership Award in Political Communication Strategy and Media Management," from the Editorial Board and Management of the Benin City based media organisation.
He disclosed that Okowa stopped wasteful spending, introduced fiscal discipline, blocked financial leakages and prudently managed the state financial and material resources to achieve goals encapsulated in the SMART and STRONGER Delta agendas spanning eight years, adding that the achievements of the Okowa administration is so huge that his successor will have to work extra hard to beat the staggering record.
Oghenesivbe, however assured that the incoming governor of Delta State, Rt Hon Sheriff Francis Oborevwori, has the needed capacity, experience, integrity and competence to deliver quality dividends of democracy to residents of the state, as he assumes office on May 29.
Okowa's EAC was represented at the event by Delta Bureau Chief of Daily Times Newspaper, Prince Nosakhare Akenzua.
The prestigious Leadership Award in Political Communication Strategy and Media Management was bestowed on Oghenesivbe, less than three days to the end of Okowa administration in Delta State.
The Award, according to the Editorial Board of Reliance Newspaper, is in recognition of Okowa EAC's selfless and quality professional service to the Government of Delta State, display of courage, tenacity and creative skills in crisis communication management in the face of daunting challenges in electionering campaigns for his party, the Peoples Democratic Party, PDP.
Oghenesivbe thanked the management of Reliance Newspaper for recognizing and honouring him, saying that his Boss, the governor of Delta State, Senator Dr Ifeanyi Arthur Okowa, CON, and the state government invested so much in sharpening his skills by attending five state sponsored capacity building workshops at Channels Television Academy, Chartered Institute of Information and Strategy Management in Abuja.
He further disclosed that Delta State government also sponsored his professional doctorate degree programme in Information and Strategy Management at the Billingual University of Togo, in conjunction with CIISM Nigeria. He was awarded the doctorate degree in 2021 at LBUT in Togo.
He dedicated his latest prestigious Leadership Award in Political Communication Strategy and Media Management, to God Almighty, and to his Boss, Senator Dr Ifeanyi Arthur Okowa, who gave him the needed support and platform to exhibit his professional skills in the past six years as Executive Assistant on Communications.