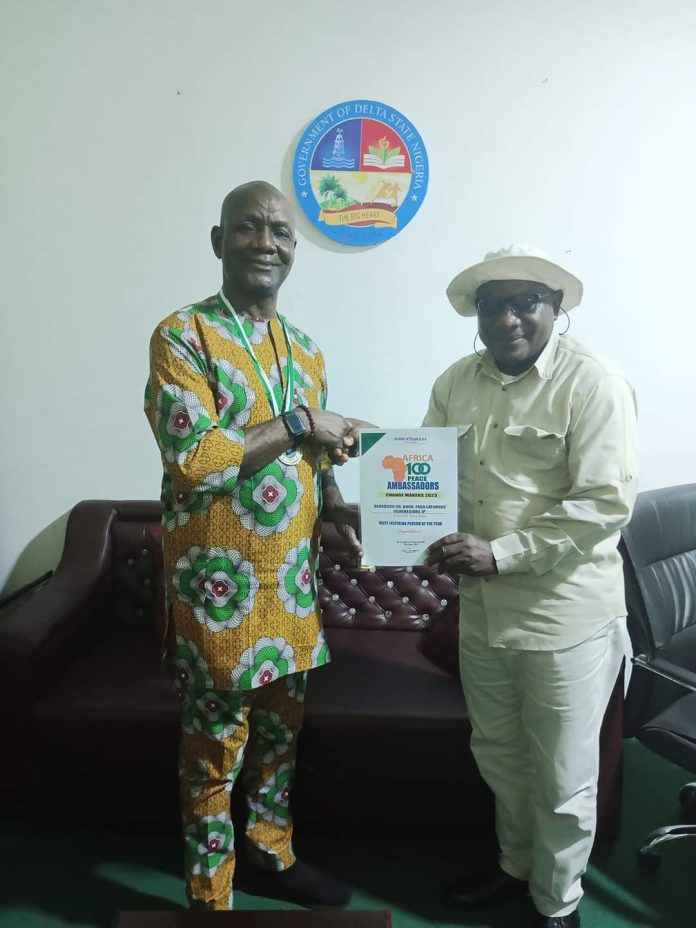 The editorial board and management of two news magazines, the Africa Digest in collaboration with Nigeria Radar publications, has presented the "Most Inspiring Person of the Year 2022/23 Award" to the immediate past Executive Assistant on Communications to Delta State Governor under Okowa administration, Olorogun Dr Fred Latimore Oghenesivbe Esq, describing him as a game changer in Communication Strategy and Media Management.
Presenting the Award, Vice Chairman of Africa Digest Magazine Editorial Board, Mr Tony Okwunebe, said the Award is in recognition of Oghenesivbe's leadership roles in strategic communication, professional ingenuity and for his noble efforts in projecting policies, programmes and achievements of Okowa administration for the period of six years that he served as EACGOV.
The joint editorial board noted that Oghenesivbe was consistently on top of the game as a top class media and communication strategist during the just concluded 2023 general elections, and as the Spokesperson of Delta State Campaign Council of the Peoples Democratic Party, PDP.
---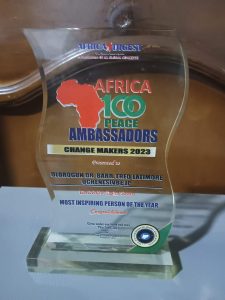 "This Award is in recognition of your inestimable professional track records as a renowned communication strategist, media manager, a game changer and for doing things differently while maintaing high ethical standards.
"This event is to commend you for your selfless service to Delta State and Deltans, and by extension Nigeria. Your intellectual property in the media space globally, no doubt, placed Delta and PDP in positive light. Your creative writing skills is amazing, impactful and result oriented.
"The strategic roles you played before, during and after the recently concluded general elections, and which partly ensured victory for the PDP and her candidates, Rt Hon (Elder) Sheriff Francis Oborevwori, his Deputy, Sir Monday Onyeme. They have taken over the mantle of leadership of the state, and it is hoped that their tenure will Advance Delta.
"It is on this note that the joint editorial board of Africa Digest and Nigeria Radar news magazines deemed it necessary to honour you with the 'Most Inspiring Person of the Year 2022/23 Award, Congratulations," Okwunebe said.
In his response, Oghenesivbe thanked the management and editorial boards of Africa Digest and Nigeria Radar publications, saying that he was convinced and still very much believe that the 2023 governorship candidate of PDP, who is now the Governor of Delta State, Rt Hon (Elder) Oborevwori, will do well as Okowa's successor.
He used the occasion to assure Deltans that the M.O.R.E agenda of Oborevwori was not conceived as Okowa's third term agenda, but a deliberate agenda to build on the achievements of past governors, and that includes; the Ibori, Uduaghan and Okowa administrations.
Oghenesivbe noted that he did what he had to do as a loyal party man during the just concluded general elections, adding that he remained a strong believer in the abilities, capacity and competence of governor Oborevwori.
He described the incumbent governor as a long standing friend, assuring that he would always do the needful in his capacity to project the policies, programmes and achievements of Oborevwori administration, because of the lofty programmes enshrined in the M.O.R.E socioeconomic blueprint.
The immediate past EAC to Okowa, dedicated the Award to Almighty God, for his divine protection over his life and family, and also dedicated it to his immediate past Boss, Senator Dr Ifeanyi Arthur Okowa, for giving him the unrestricted space to operate and exhibit his professional skills from April 3, 2017 to May 28, 2023.
"I deeply appreciate this Award, and to say thank you to the joint editorial boards of Africa Digest and Nigeria Radar publications for recognizing my contributions in realm of communication strategy and media management.
"I appreciate the human capacity building and training I got from government. The state sponsored several professional membership development training programmes for me, within and outside Nigeria, plus a Professional Doctorate Degree certification by the Liberal Billingual University of Togo,in conjunction with the Chartered Institute of Information and Strategy Management, CIISM. These efforts of government obviously reflected in my performance in the past six years.
"The M.O.R.E agenda of this administration is meant to advance Delta. The good governance strides of governor Oborevwori will soon be felt, now that government is taking shape in the state.
"I urge all Deltans to continue to support this administration, keep praying for the governor and his Deputy, and be hopeful as Oborevwori deliver on his electioneering campaigns promises to the good people of Delta State, irresponsible of political affiliation. He's governor for all Deltans," Oghenesivbe said.