Speaker, Delta State House of Assembly, Rt. Hon Emomotimi Dennis Guwor has said that the 8th Assembly under his leadership would place high premium in the capacity building of its workforce.
Rt Hon Guwor stated this when he played host to the leadership of National Institute of Legislative and Democratic Studies in his office at the State Assembly Complex, Asaba.
The Speaker said the capacity building of the workforce, would include both the legislators, their aides and legislative workers in the Assembly and that would be done through regular training and retraining.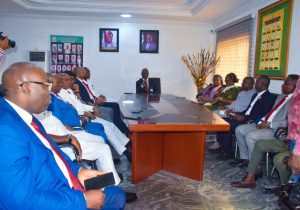 Guwor noted that the State Legislature would strengthen its collaboration with the National Institute of Legislative and Democratic Studies, NILDS to achieve the set goal.
He said NILDS has been a frontline training institute for legislative staff in the country, saying that the Delta State Assembly had in the past benefited immensely from the agency.
Guwor stated that the visit was a pointer that the Institute was poised to sustaining the relationship as well as its leadership role in building capacity at the Delta State Assembly.
"National Institute of Legislative and Democratic Studies, NILDS, has been a major partners with the Delta State Assembly in training and retraining of its workforce. The partnership will continue to grow as the trainings have been very impactful.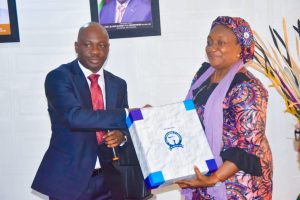 "We will not take all we learnt in past trainings and those to come in the near future for granted. The House prides itself as the most vibrant State Assembly in the country because of the knowledge at our disposal. For that reason the House will at all times open it hands to receive more of the trainings. We will bring all the knowledge to bear in our legislative duties", Guwor emphasized.
The Speaker explained that the House would not take the visit for granted and will continue to partner with the institute for future training and retraining of staff.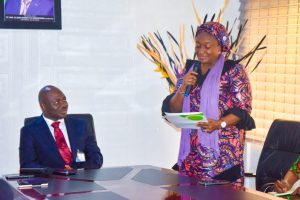 Earlier in her speech, the leader of the delegation, Mrs Rekiya Ibrahim-Atta told the Speaker that they were in Asaba to congratulate him on his emergence as Speaker of the State 8th Assembly.
Ibrahim-Atta who is the head of training and International Cooperation, NILDS commended the Delta State Government for what she described as its high level of participation in the training and retraining of its workers.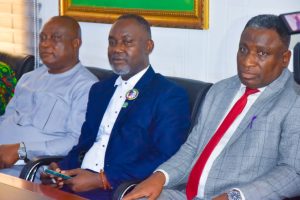 She stated that the Delta State House of Assembly had remained in the fore front in capacity building of its workforce and urged the management to sustain it.
Highpoints of the visit were exchange of souvenirs by the Speaker, Emomotimi Guwor and the visiting leadership of NILDS.
The Deputy Speaker, Arthur Akpowhowho, other Principal Officers and Acting Clerk of the House, Mr Otos Aghoghopia were present during the courtesy visit.