Convener and Chairman of the Integrity Group, a formidable political pressure group aimed at promoting the MORE agenda of Governor Sherriff Oborevwor's administration across Nigeria, Dr. Oke Idawene has called on all Deltans home and abroad to support the M.O.R.E agenda even as he cautioned detractors against act capable of derailing the administration.
Idawene gave the advise at the swearing in ceremony of Oshimili North Chapter Executives of the group in Asaba, Delta state capital.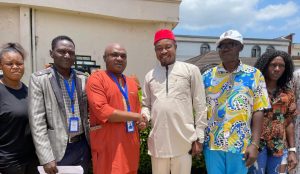 While enumerating some of the projects executed by Governor Oborovwori within 100 days in office, the Convener of the group said anyone who is not supporting the Governor to advance the state's development remain an enemy of the state.
"It's only an enemy of Delta state that can distract Governor Sheriff Oborovwori's administration and we are standing up tall to say no to any distractions against the governor and his M.O.R.E agenda mantra.
"To this end, we are calling on Deltans, home and abroad anybody who is distracting the Governor to desist before we declare him or her an enemy of the state. Because Governor Oborovwori mean well for Delta state. The multi-billion naira roads and bridges projects endorse for construction in Warri and environs are pure testament that Deltans will see more human and capital development under the Oborovwori's administration.
He observed that Integrity Group is an ambassador of the M.O.R.E Agenda and You Matter Foundation of the governor's wife pet project, which is committed towards propagating their policies and programmes to the grassroot across the 25 LGAs of the state.
Idawene however called on Deltans to be patient with the Governor on political appointment that it will get to all deserving individuals.
Earlier in his acceptance speech, the newly sworn in administrator of Oshimili North Chapter of group Hon. Felix Nwaebichi promised to remain good ambassador of the group.
While pledging the group unalloyed commitment towards the vision and mission of the state council, Nwaebichi reinterated the local government executive readiness to convert more ambassadors for the group across the ten political wards in the local government area.
In their separate goodwill messages, the state Director, Research and Intelligence and his counterpart in Director of protocol Dr. Matthew Chinedum Ezeh congratulated the newly sworn in executive and urged them to work as team.
Those sworn in include; Hon. Felix Nwaebichi (Administrator), Mr. Nwanze Francis (Deputy Administrator), Pastor Ikechukwu Benson (Secretary), Mr. Chukwujindu Nwokolo (Treasurer), Miss Benita Annie Mercy (Woman Leader), Mr. Zeal Ugbode (Youth Leader), Comrade Frank Kemona (Financial Secretary), Miss Oweazim Emmanuella (Publicity Secretary), Rev. Alex Ajibike (Assistance Publicity Secretary) and Mrs. Chukwu Faith (Provost).