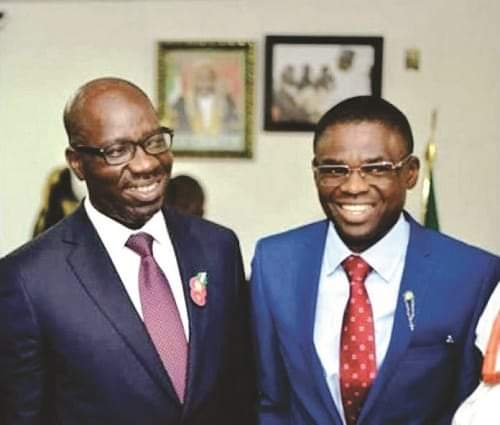 Communication Strategist and Chieftain of the Peoples Democratic Party, PDP, Dr Fred Latimore Oghenesivbe, has commended governor of Edo State, Godwin Obaseki, for the timely reconciliation with his deputy, Comrade Philip Shuaibu, saying that the conflict was becoming an embarrassment to PDP family.
Oghenesivbe gave the commendation on Friday, during a live radio programme monitored in Asaba, wherein he noted that Edo being a twin sister state of Delta from the defunct Bendel State, was and still an integral part of Delta political calculations, which was why former governor Ifeanyi Arthur Okowa, and other major stakeholders relocated to Edo State in 2020, to work round the clock with the party structures in Edo, to ensure the landslide victory of governor Obaseki and Shuaibu.
He asserted that when the news broke out that the duo of Obaseki and Shuaibu were at loggerhead, PDP family in Delta perceived foreseeable negative effects, considering the fact that Edo governorship election is fast approaching, adding that Comrade Shauibu consciously exhibited uncommon humility by apologizing to his Boss and leader, governor Obaseki.
On the issue of various tribunal judgments in Delta State, Oghenesivbe who was Delta PDP campaign spokesperson in the 2023 general elections, said petitions already resolved in favour of PDP namely; House of Assembly, House of Representatives, Senate and Governorship elections shall, without prejudice, be sustained at the Appellate Courts due to glaring facts in issue and weighty evidence, as well as lack of substance in the petitioners/Appellants prayers.
"We fasted and prayed for speedy reconcilation between governor Obaseki of Edo State, and his Deputy, Comrade Philip Shuaibu. The disagreement was obviously unhealthy, but God stepped in and it's all over for good
"In 2020, Delta in collaboration with multifaceted PDP party structures in Edo State, laboured so hard to ensure landslide victory for our party and candidates, Obaseki and Shuaibu, as governor and deputy. It's time again to consolidate on that victory.
"Edo is Delta twin sister state, birthed from the defunct Bendel State. They came from the same political womb, and we shall continue to encourage and partner each other in the political system, so as to consistently prevail against political detractors and the opposition. We shall again join political forces in 2024, to ensure PDP gallant victory in Edo State.
"Here in Delta, we've achieved landmark judgments at the Tribunal, and the most superlative one was that of the governorship, wherein governor Oborevwori and PDP won three post election cases in one single day, ditched the All Progressives Congress, APC, Labour Party, LP, Social Democratic Party, SDP, and their governorship candidates. It was awesome and we give God, all the Glory!
"We are confident that all these landmark Tribunal victories shall be sustained at the Appellate Courts, and rerun, where necessary, shall be won overwhelmingly by our great party, PDP.
"Oborevwori is already doing the needful through his M.O.R.E agenda. And at the end of the first tenure of this administration, the opposition parties will again be relegated to the back seat for another monumental victory for PDP in Delta," he assured.