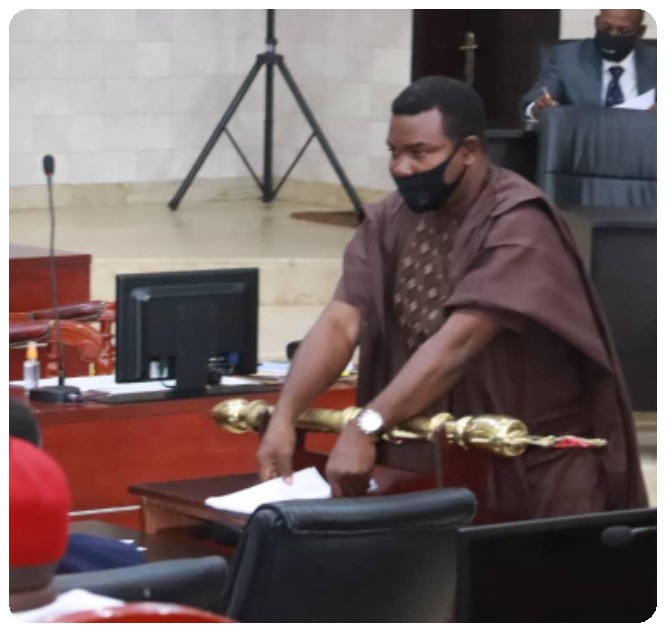 The Delta State House of Assembly Committee on Public Accounts, Wednesday, commenced the consideration of the 2016, 2017 and 2018 Audit reports of some selected ministries, offices and government institutions in the state.
The Chairman of the Committee, Hon Anthony Emeke Elekeokwuri in his remarks at a brief opening ceremony held at the State House of Assembly Complex, Asaba, said the exercise is in line with relevant laws of the state as well as Section 125, sub section 5 of the Constitution of Federal Republic of Nigeria as amended.
Hon Elekeokwuri who represents Ika North East in the House, recalled that the Auditor General, State, had submitted the 2016, 2017 and 2018 Audited report of the State Government to the State House of Assembly and was referred to his led Public Accounts Committee for scrutiny and report back to the house.
Flanked by members of the Committee, including Honorables Solomon Ighrakpata, Emeka Nwaobi, Fred Martins, Peter Uviejitobor, Charles Onyiyere and Felix Anira, the Lawmaker said a resolution will be passed on the report of the committee after it must have been laid before the house during plenary.
He explained that the exercise was not in any way witch-hunting or targeted at some persons but basically at ensuring that right things were done and free the state of undue interference and pressure.
Hon Elekeokwuri disclosed that the last time the exercise took place was in 2016, emphasizing the need for accountability and transparency in governance at all times.
He said the committee had looked into the report as submitted to the State Legislature, especially documents from the external Auditors, saying that issues raised on the report by the Auditor General State as well as the findings of members, needed to be clarified, hence the public hearing.
Hon Elekeokwuri charged all appearing before the Committee to be open in their presentations and commended the Auditor General State for being part of the exercise.
The Ika North East Representative stated that process and procedures were key to good governance, emphasizing the commitment of the state government at bringing greater dividends of democracy to the people.
The establishments appearing before the committee for the Audit exercise, include Ministries of Works, Transport, Health, Environment, Basic and Secondary Education, Energy and Agriculture and Natural Resources.
While the instructions include, Delta State University, Delta State Polytechnic, Ozoro, Delta State Polytechnic, Ogwashi Uku, Delta State Polytechnic, Otefe-Oghara, College of Education, Agbor, College of Education, Warri and College of Physical Education, Mosogar.
Also appearing before the committee is the Office of Accountant General of Delta State.