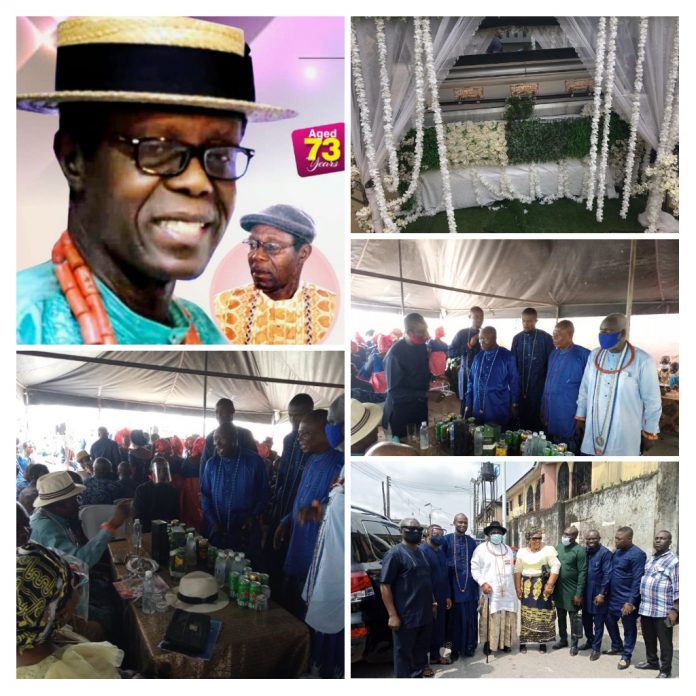 The remains of late Pa. Orighoye Felix Gbiwen a retired seasoned first class banker and former manager United Bank for Africa , U.B.A was committed to mother earth at his residence in Warri Friday August 15, 2020 amidst so many well thought out soul touching praising remarks.
Pa. Gbiwen whose funeral rites began Thursday August 13 with service of songs at his residence he was a committed member of Unity Baptist Church, Ugbori, Warri and held several meritorious positions to the Glory of God, the event was well attended by the member Representing Warri Federal Constituency at the Federal House of Reps, National Assembly, Hon. Chief Thomas Ereyitomi who is also a well respected chief in Warri Kingdom with his staff and supporters, entered the arena receiving a vivacious ovation from supporters at the ceremony.
Pa. Gbiwen"s son, Barr. Alex Gbejule Gbiwen is the Senior Legislative Aide to the Member Representing Warri Federal Constituency at the Federal House of Reps, Chief Ereyitomi, he was highly elated to have his Boss around and his fans to wipe away his tears at the event which became a carnival like ceremony with so many musical bands thrilling including 'Ogono for Jesus" with beautiful attires and renditions to admiration of all at the funeral rites of passage doing the Biogbe dance in converted Christian songs in addition with beautiful displays.
One of the children of late Pa. Gbiwen, Barr. Alex Gbiwen described his father as a disciplined and hardworking man with high sense of integrity.
Those that paid glowing tributes to late Pa. Gbiwen include Mr. Patrick Fegene a politician, Chief Solomon Arenyeka a family member who described Pa. Gbiwen as a lover of his people who organized the Bobi and Ugbege communities family members very well and volunteered his residence for meeting and as Secretariat of the descendants Union, sounding it clear that he was a strick man and never want anything done wrongly at all times while he was alive, they urged the children to emulate good legacies he left behind.
Other Warri Chiefs present at the agog ceremony include : Chief Francis Omatseye, Chief Fred Ogbe, Chief Winifred Egbejule, Chief Olley, Chief Michael Odeli , Chief Patrick Yalaju, Amb. Toyin Agbolaya JP some members of Nigerian Bar Association both at National level, legislative aides to Hon. Ereyitomi as well as DESPADEC staff.
Some other notable dignitaries that graced the event are: John Aikpokpo-Martins the 1st Vice President of the Nigerian Bar Association, Olakunle Edun, the National Welfare Secretary of the NBA, Emmanuel Uti, Chairman NBA Warri Branch his Vice , F.C. Okala other Senior and Junior lawyers where Barr. Alex Gbiwen served as the immediate past assistant secretary.
Late Pa. Gbiwen until his passage was a second member of District Customary Court Warri, was aged 73, he is survived by a wife, Mrs. Helen Omamuli Gbiwen, seven children namely: Mrs. Tosan Adeyera, Mr. David Gbiwen, Mr. Frank Gbiwen, Mr. Nayon Gbiwen, Mrs. Temidoyo Quaker, Barr. Alex Gbejule Gbiwen and Mr. Tuoyo Gbiwen as well as brothers , sisters and too many relations.