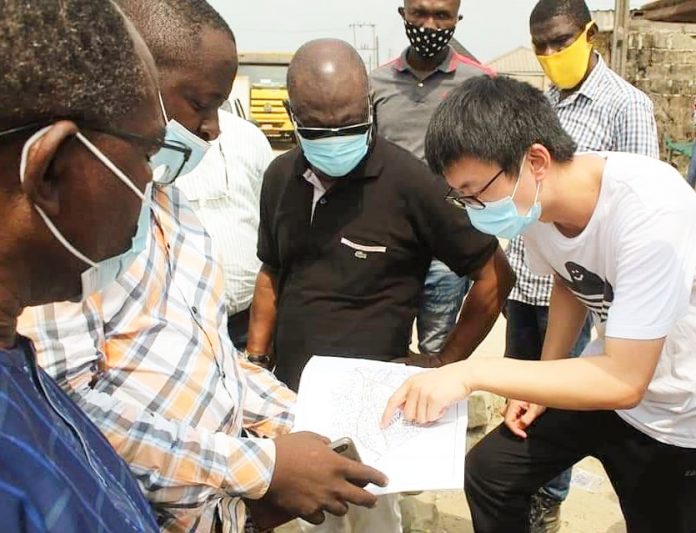 By Fred Latimore Oghenesivbe Esq.
#eacgovdelta
It is now crystal clear that the Okowa administration have lofty infrastructure development plans for the commercial City of Warri, contrary to misinformation peddled by the chief scribe of Warri Rebirth Movement, WRM; as the Director General of Warri/Uvwie And Environs Special Area Development Agency, Comrade Ovuzorie Macaulay inspects ongoing projects.
Macaulay while inspecting some of the flood control measure construction projects, in company of Site Engineers of CCECC and Levant Construction Ltd, said the state governor, Senator Dr Ifeanyi Arthur Okowa, is determined to complete ongoing projects despite delays experienced in 2020 due to national lockdown as a result of global Covid-19 pandemic.
He assured Deltans of the readiness of his agency to deliver on her mandate to execute meaningful infrastructure projects in Warri, Uvwie and environs, being the geographical jurisdiction of the agency, adding that the state government is determined to holistically address and fund the multifaceted infrastructure deficit inherited by this administration.
Macaulay has this to say; "I am very satisfied with what I have seen both at CCECC and LEVANT construction sites. I dare to say that they are maintaining standards in project execution; the jobs are of high quality, and the quality of materials and technical skills will be sustained.
"There are complications here and there, but the contractors were able to exhibit exemplary skills in terms of engineering works and technical expertise. We are on course and very soon these projects shall be commissioned by the state governor, Senator Dr Ifeanyi Arthur Okowa.
"Yes, we lost valuable time to Covid-19 last year due to the national lockdown, but we are back to site and work is in progress. Our contractors are working very hard to deliver based on the revised time frame and there is no going back on the new completion dates.
Speaking at one of the sites visited, the Site Engineer of Levant Construction Ltd, Engr. Bassem El Sayed, disclosed that they were eager to finish their job as soon as possible, taking advantage of the dry season.
"At Third Marine Gate, we were given two weeks to finish all the underground drainage; so we shall meet the target. At Esisi Road, we are doing the clearing of the water ways and to finish each road within two weeks from now.
The Site Engineer of CCECC, Engr. Ike Chike, assured Macaulay that once the relocation of electric polls, utilities and structures are tackled, speed of work shall multiply towards timely completion of the project as stipulated in the contractual agreement.
"Due to the time lost to national lockdown, there is a team of engineers and management staff currently reviewing the period, and when that exercise is completed, it will be communicated to us; and with that we hope to come up with a new work plan that will facilitate the timely completion of the project," he assured.
In the light of the above, it is safe to assert that the state government is doing the needful to ensure that the infrastructure deficit inherited by this administration in Warri/Uvwie and environs is tackled and practically addressed, subject to availability of funds in an era of economic uncertainty propelled by Covid-19 pandemic.