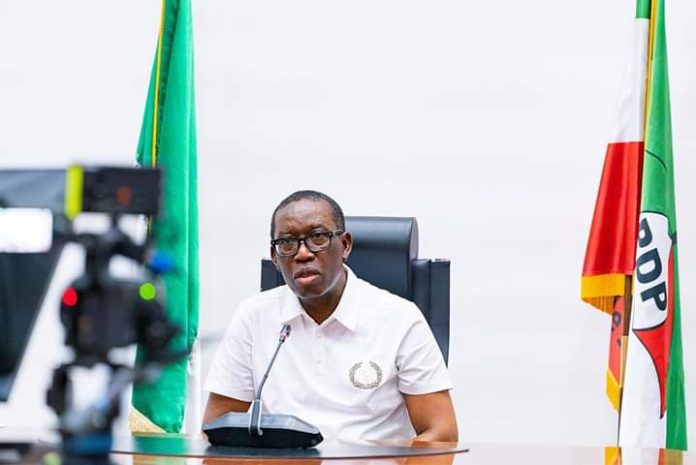 Executive Assistant to the Governor of Delta State on Communications, Dr Fred Latimore Oghenesivbe, Esq has said that Senator Dr Ifeanyi Arthur Okowa, is focused on handing over a Stronger Delta to his successor at the end of his historic tenure in 2023.
The EAC gave the assurance in a swift response to the unjust misinformation by Warri Rebirth Movement, WRM, alleging tribalism as the bane of underdevelopment of some cities in the state, pointing out that the governor's infrastructure development agenda is holistic, devoid of nepotism, tribalism and partiality.
Oghenesivbe asserted that the establishment of a development agency for Effurun, Uvwie and Warri environs by this administration, remained a deliberate effort by the governor to address the problems of critical infrastructure deficit in those areas, in line with the SMART agenda and Stronger Delta mantra, adding that the Director General of the Agency, Comrade Ovuzorie Macaulay and his team are working round the clock to implement projects and other assigned responsibilities of the agency.
He further noted that the Covid-19 pandemic which occasioned global economic depression and series of lockdown; was largely responsible for the perceived slow implementation of infrastructure projects across board, pointing out that several projects have been approved for the agency which must be completed and commissioned before the terminal date of Okowa administration.
Okowa's EAC assured WRM and the good people of Delta State, that governor Okowa will do everything and anything possible within his powers to spread infrastructure development to the three senatorial districts, subject to availability of funds; noting that star projects like the Steven Keshi International Stadium, Technical Colleges across the 25 local government areas and the multi billion Naira ultra modern state Secretariat, attests to his visionary leadership.
"The global economic crunch occasioned by Covid-19 pandemic is largely responsible for slow pace of infrastructure development in year 2020. However, the 2021 Delta budget and subsequent funding will complete and kick start new projects across the state, including Uvwie, Effurun and Warri infrastructure projects.
"Covid-19 and global economic depression does not recognise geographical boundaries and Delta State is not an exception. We shall go through these challenging times together and rebuild our economy, so as to fully actualise the Stronger Delta vision.
"Warri, Uvwie, Effurun and environ have been captured in the state critical infrastructure development plan of this administration and work is in progress.
"The state governor is very passionate about projects, and will always do the needful to fulfill his campaign promises to the people, as can be seen from his monumental achievements in the past five years and still counting," Oghenesivbe said.