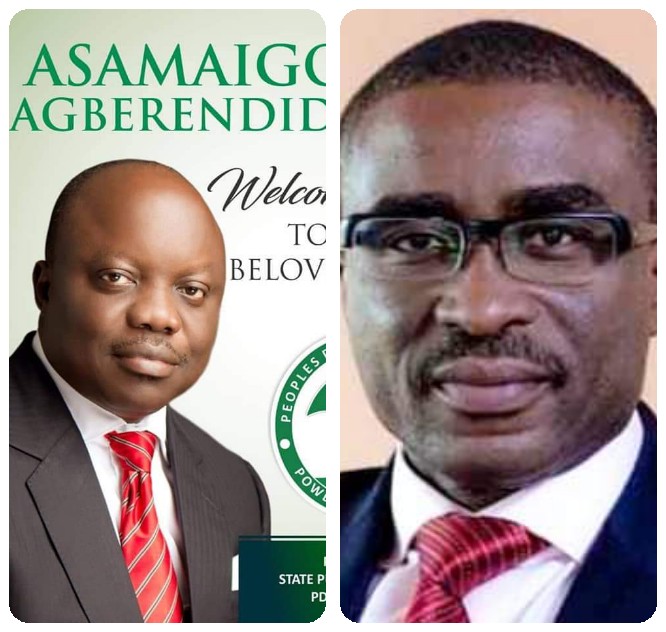 By Fred Latimore Oghenesivbe Esq (Eacgovdelta).
The leadership of Delta State Chapter of the Peoples Democratic Party, PDP, has described the return of the former governor of the State, Dr Emmanuel Uduaghan, as a welcome development, saying that if it is not PDP, it cannot be the same as PDP.
The party in a statement by State Chief Publicist, Dr Ifeanyi Michael Osuoza said "it is gratifying to note that our great party is again making deep and appreciable inroads into the political space. Our inclusive politics, consensus building disposition, egalitarianism, good governance records, patriotism and all the qualities that distinguish us from others, are already speaking for us.
"We are excited that our former Governor is back home. Politics is about the people; recent political developments in Nigeria have also shown that power and relevance comes from the people. The Uduaghan we know is not unmindful of this fact, this is in addition to the fast-changing political atmosphere in the Country.
Therefore, we are very happy to welcome our former Governor and all the returning Party members back into our fold."
In the same vein, the Chief of Staff to the Governor of Delta State, Olorogun David Edevbie, described Uduaghan as a true leader, a team player and a valuable pioneer member of PDP, who served the state as Commissioner for Health, Secretary to the State Government and as governor from 2007 to 2015.
He noted that the former governor's brief exit from the party created a lacuna which his return has timely resolved, adding that PDP is now more robust and more united since the incumbent governor and leader of the party in the state, Senator Dr Ifesnyi Arthur Okowa assumed office in 2015 and still counting.
Edevbie, who is one of the key players in the new era democratic process congratulated the PDP family, and former governor Uduaghan for bold steps taken to ensure political reunion with the party's structures.
The CoS pointed out that he was delighted with the right strategic steps taken by His Excellency, Dr Emmanuel Uduaghan, who has now reunited with his political family.
"I am happy that our former governor, Dr Emmanuel Uduaghan, is back home to PDP, and it Is worth celebrating.
"PDP is well structured from top to bottom, and in most cases, one can easily predict stakes and results of set out goals. More importantly, we have visionary leaders in PDP who genuinely wants the growth of the party as well as the wellbeing and prosperity of all Deltans. This is very important which other parties cannot guarantee.
"Therefore, I wish to respectfully urge other members of our great party, PDP, who for one reason or the other left to please return home because the big umbrella is huge enough to accommodate us and much more.
"Our visionary and amiable party leader in the state, His Excellency Senator Dr Ifeanyi Arthur Okowa, recently appealed to Nigerians to vote PDP in 2023. The appeal is timely, and I respectively join my Boss the governor to call on all Nigerians to partner with PDP in 2023,
"The signs are everywhere, pointing to show that it is only PDP that can take our dear Country to greater heights without inflicting unnecessary pains on Nigerians through inflation, frequent hikes in the pump price of petrol and the incessant increase in electricity tariffs.
"I welcome HE Uduaghan and wish him all the best as he joins hands with other leaders of our party to actualise the laudable visions of a Stronger Delta, as clearly articulated by the governor, Senator Dr Ifeanyi Arthur Okowa," Edevbie said.