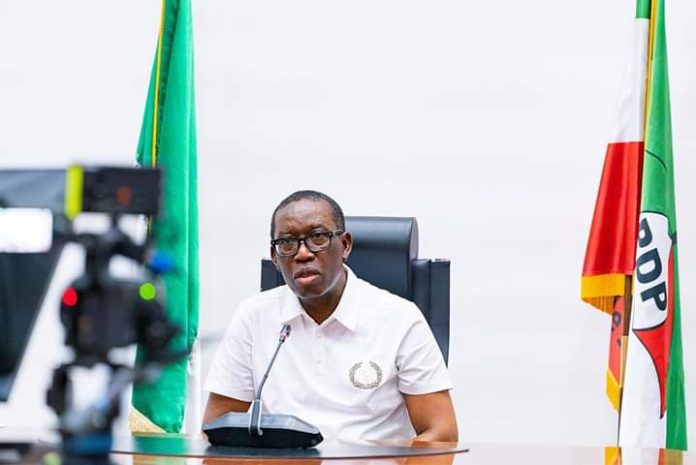 Governor of Delta State, Senator Dr Ifeanyi Arthur Okowa, has enjoined Nigerians and indeed the good people of Delta State, to remain focused and united as we individually and collectively work at various capacities to take the nation to greater heights.
The governor in a short broadcast to Deltans in Asaba on Thursday, October 1, 2020 noted that though Nigeria is yet to achieve her desired goals in some aspects but had made remarkable progress in the entrenchment of constitutional democracy, particularly in the past 21 years and still counting.
He observed that economic growth is experiencing serious drawbacks and monumental challenges since Covid-19 pandemic reared it ugly head, and assured Deltans of better days ahead.
Gov Okowa quoted an age long American idiom that says; "When the going gets tough, the tough get going," pointing to show the resolve of the state governor and government in surmounting the present economic challenges through innovate public-private sectors partnership, social investment strategies and prudent management of state resources for the wellbeing of Deltans.
The idiom aptly quoted by Gov Okowa is to the effect that when there are major socioeconomic and financial difficulties, capable individuals, creative and visionary leaders (including the governor) are spurred on to overcome them, a strong indication that this administration will continue to do anything and everything legitimate and possible to implement the Stronger Delta blueprints, irrespective of economic challenges posed by Covid-19 pandemic, which of course, is gradually fading away from the surface of the earth.
"For 60 years now we have experienced life as an independent nation, free from colonial rule. I dare to say that we have reasons to be thankful to God, and to celebrate.
"It is not debatable that we are yet to realise our collective aspirations as a united, prosperous country where sentiments are subsumed under our national ethos; patriotism, commitment, honesty, integrity and justice.
"Nevertheless, we must appreciate the progress that we have made so far. I believe we can be proud of how far we have come as a country.
"Yes, we are not where we should be but the truth also is that we are not where we used to be.
"As we celebrate this milestone, I urge us to double our efforts to keep alive the visions of our founding fathers…"
Watch the video clip of the governor's broadcast below: