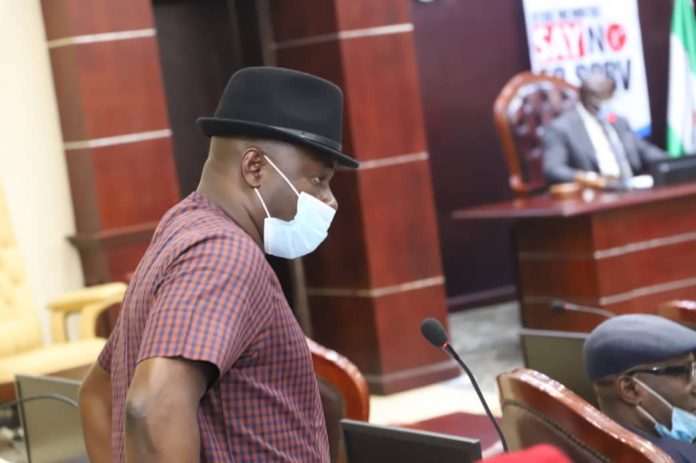 A bill for a law to provide for the Conservation and Management of the Environment in Delta State and other matters connected therein, has passed first reading on the floor of the State House of Assembly.
The bill with a short title "Delta State Environmental Conservation Bill 2020", was read the first time following a motion to that effect by the lead sponsor and Member Representing Warri South West in the House, Hon Emomotimi Guwor and adopted.
The motion was seconded by the Member Representing Ika South, Hon Festus Okoh, at plenary, presided over by the Speaker, Rt Hon Sheriff Oborevwori.
The bill which is made up of seven parts, is being sponsored by Hon Emomotimi Guwor who is the Chairman, House Committee on DESOPADEC and twenty others.
Hon Guwor had in an earlier motion sought the leave of the House to bring in the bill for legislative actions.
The second reading of the bill has been slated for Tuesday 3rd November 2020.
In another development, the State House of Assembly has approved a request by Governor Ifeanyi Okowa for the concessioning of the Asaba International Airport.
The Governor's request was contained in a letter to the House read by the Speaker, Rt. Hon. Sheriff Oborevwori at the floor of the House Tuesday's plenary.
In the letter, the Governor explained that the proposed concessioning of the Airport will among other objectives accelerate investments in new infrastructure at the Airport as well as help in upgrading the existing ones to appreciable standard.
Dr Okowa noted that the planned concessioning of the Airport will enhance availability, quality and efficiency of service to the public as well as increase capacity and diversity of private sector participation in the development of the Airport.
The Governor stated that the development was a bid to leverage on the transport infrastructure towards the diversification of the state economy from heavy dependence on oil revenue.
He said the decision was in line with his administration's operational strategy to create room for the involvement of the private sector in the redevelopment and upgrade of existing facilities in the Airport to meet international standards and attract foreign commercial and cargo Airline operations into the State.
The motion for the approval of the Governor's request was moved by the Majority Leader, Hon. Tim Owhefere and adopted.