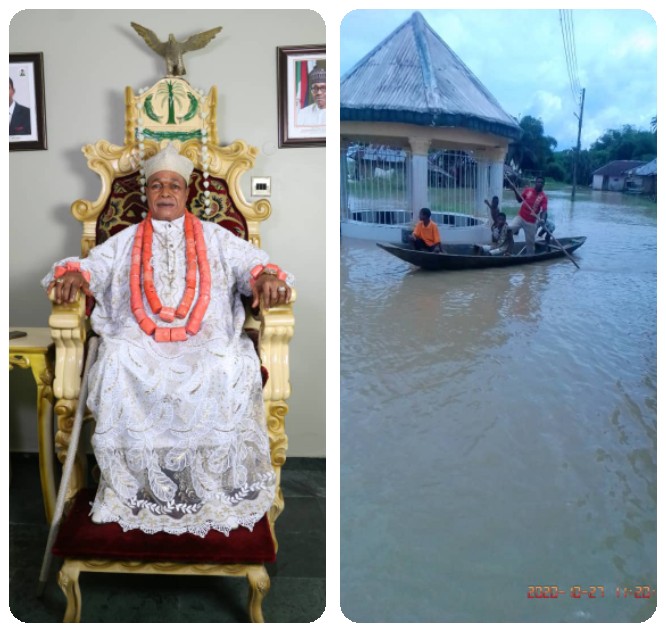 An appeal has gone to federal and Delta State Government to urgently provide relief materials to indigenes of communities in Siembiri kingdom over the recent flooding that have ravaged the entire communities.
The traditional ruler of the kingdom, King Charles Ayemi-Botu in his reactions to the ugly development in his domain, stressed the need for oil companies operating in the area, including SPDC and Agip to intervene without delay.
The Monarch, a former National Chairman of TROMPCON, also called on the Niger Delta Development Commission, NDDC and the Delta State Oil Producing Areas Development Commission, DESOPADEC to come to the aides of the flood victims.
While expressing optimism for the anticipated positive response to his appeals, King Ayemi-Botu, disclosed that particularly affected by the rampaging flood is Okpokunou Urban Community.
"It is a very devastating and deplorable perennial flood disaster that displaces the inhabitants of Okpokunou Urban Community and the affected people are evacuated to make shift IDP camps for temporary settlements . The same is applicable to over five Communities and Satellite villages in my Seimbiri kingdom", King Botu said.
The Monarch expressed concern over perennial flooding across communities in his kingdom, saying that he is more worried that the flood was increasing by the day.
He said the level of destructions was enormous and inhabitants suffered immensely as a result of the violent flood.
"The problem is much on my people. The rising water has continued and the development remains worrisome. My appeal to both federal and state government, including their interventionist agencies such as NEMA and SERA and oil companies operating in my kingdom, is to come to our rescue by providing relief materials to cushion the effects of the natural disaster", king Botu stated.
Continuing he explained "as I speak many of my subjects have fled their homes for safety. So sad seeing houses submerged by water and farmlands washed away as a result of the flood. My kingdom needs urgent help".
King Botu urged his subjects to remain calm and law abiding, as help shall surely come.