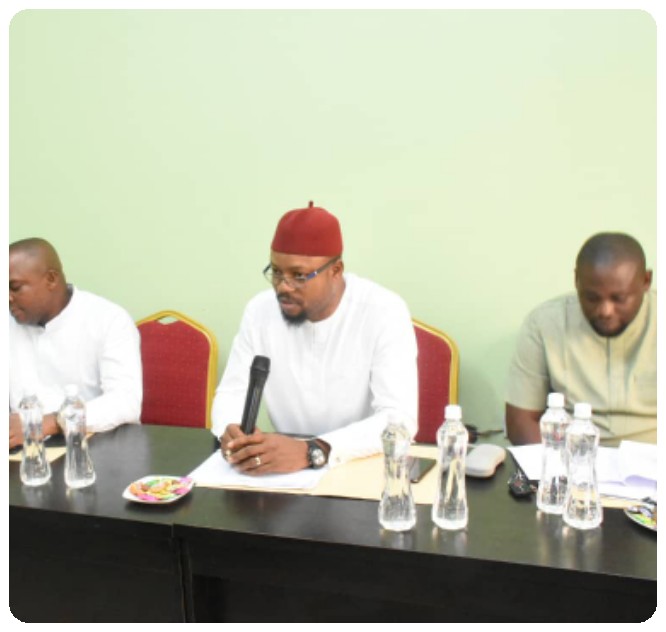 The State Commissioner for Works, Chief James Augoye has appeared before the Delta State House of Assembly Committee on works to defend the proposed sixty six point six billion naira estimate of the ministry for 2021 fiscal year.
Assembly Correspondent reports that the Hon Emeka Nwaobi led House Committee at the budget defense session, restated the commitment of the state legislature to building quality road infrastructure in the state.
Screening the projections of the Ministry for 2021, the Chairman of the House Committee on Works, Hon Emeka Nwaobi, Aniocha North, commended the achievements of Okowa's administration in road construction and rehabilitation.
Hon Nwaobi assured the ministry of adequate budgetary provision in order to fast track more road infrastructure development programs of the state government.
The Lawmaker said oversight functions would be sustained to ensuring that projects were executed in line with best practices.
Works Commissioner, Chief James Augoye said provision was made in the 2021 for the completion of ongoing road and storm water drainage projects, as well as rural, urban and regional development
Chief Augoye stated that several of the roads projects embarked upon in the three senatorial districts of the state would be vigorously pursued to completion, while some new projects would be introduced.
The Commissioner explained that the completion of the ongoing projects as well as introduction of new ones was carefully decided in order to impact on the benefiting communities and the people of the state with a view of enhancing job creation and also boost economic activities.
On budget performance for 2020, Chief Augoye, said that a total sum of N15.4 billion was paid to various contractors handling ongoing and completed projects as at October 2020.
He said the figure represents 44.6 per cent budget performance, adding that the performance would have been higher if not for the Advent of COVID-19 pandemic.
The Works Commissioner explained that the pandemic caused drastic drop in revenue accruing to the state thereby necessitated the reappraisal of activities relating to road construction and payment of contractors.
He listed some of the challenges of the ministry to include unpredictable construction season due to global warming as well as inadequate budget provisions.
Other members of the Committee present at the budget defense meeting were Honorables Oboro Preyor, Emmanuel Sinebe and Ekpotuareyin Pullah.