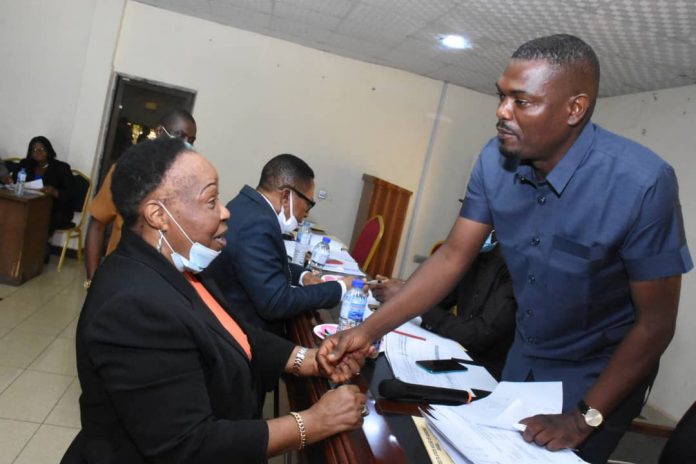 The Delta State Civil Service Commission has been assured of the needed legislative backings to sanction erring civil servants in the State.
The State House of Assembly Committee on Establishment, Ethics and Privileges gave the assurance during the defense of 2021 budget estimate by the various Ministries, Departments and Agencies in the State, urged the Commission to improve on its efforts at instilling disciple in the State Civil Service.
The State Civil Service Commission led by its Chairman , Chief Nkem Okwuofu was among the various MDAs that appeared before the Committee for the defence of its budget at the ongoing exercise holding at the State House of Assembly complex.
A member of the committee, Hon. Reuben Izeze, decried what he described as high level of indiscipline in the civil service and charged the Commission to work vigorously to ensure that to instill discipline in the State Civil service.
Hon Izeze who represents Ughelli South Constituency in the House, said the rate of indiscipline in Service is becoming greatly alarming, stressing that more efforts must be made at restoring sanity in the system.
He particularly enjoined the Commission to ensure that it discharge its duties without fear or favour and congratulated Chief Okwuofu for her reappointment as chairman of the Commission.
The Chairman of the Committee, Hon Innocent Anidi, assured that as legislators, they will give the Commission all the legislative backings needed to do it work effectively.
Briefing the committee on the 2020 performance and projections for 2021, the Chairman, Delta State Civil Service Commission, Chief Nkem Okwuofu said the Commission tends to utilize funds allocated to it to consolidate on its achievements.
Chief Okwuofu stated that as at 6th November, the total budget performance for the year 2020 was sixty percent, disclosing that total budget of the Commission for 2021 fiscal year stands at Two Hundred and Seventy Nine point two million naira.
She assured civil servants in the State of improved welfare package in the coming year just as she charged them to improve on their productivity.
Chief Okwuofu particularly assured workers in the State that the Commission will continue to ensure that promotions were released as at when due.
The Delta State House of Assembly Commission
also took turns in defending their projections in the 2021 budget estimate.