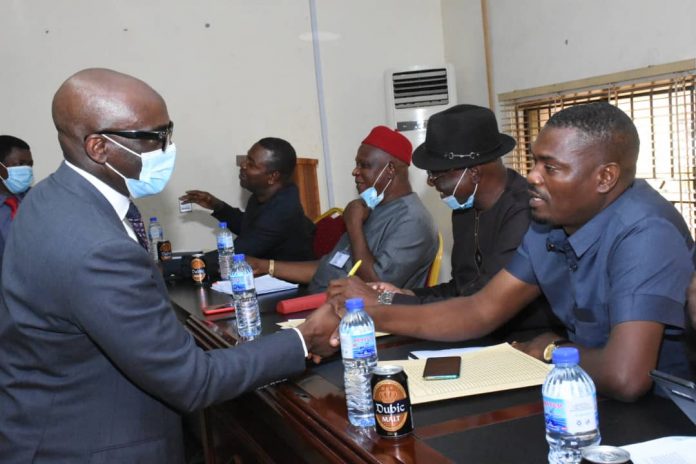 Office of the Secretary to the State Government, SSG and the Directorate of Government House and Protocol have pledged to enhance their services to the state.
The SSG, Mr Chiedu Ebie and the Permanent Secretary, Government House and Protocol, Sir Eddy Ogidi-Gbegbaje gave the assurance in their separate remarks while appearing before the Delta State House of Assembly Committee on Establishment, Ethics and Privileges to defend their 2021 budget proposals.
Addressing the Committee members, Mr Chiedu Ebie, accompanied by the Permanent Secretary, Office of the SSG, Mr Austin Ohoro and other officials, stated the need for adequate budgetary provisions for effective and efficient operations.
Mr Ebie said apart from other administrative functions, the office has proposed funds to assist other federal agencies in the state, including the National Youth Service Corps, NYSC.
He agreed on the issue raised by the committee that budgetary provisions must be in tandem with realities on ground.
The Permanent Secretary, Directorate of Government House and Protocol, Mr Eddy Ogidi-gbegbaje, said the Directorate is essentially to provide services and ensure that the seat of government run efficiently.
Mr Gbegbaje explained that budget performance has been on downward trend as a result of funding which the outbreak of Covid 19 pandemic made worst, even as he expressed hope that 2021 will be a smiling year.
He said the proposed provisions in the 2021 budget estimates was strictly within the cap limit given to the Directorate by the ministry of Economic Planning.
The Office of the Deputy Governor, led by the Permanent Secretary, Mr Maxwell Awuse, while defending their 2021 budget estimates before the Committee, disclosed that some provisions in the 2020 budget that were not accessed, have been recaptured in the proposed 2021 budget.
Mr Awuse expressed optimism of enhanced budget performance in 2021.
The Chairman of the Committee, Hon Innocent Anidi, flanked by other members, including Honorables Anthony Elekeokwuri, Reuben Izeze, Peter Uviejitobor, Felix Anira and Austin Chikezie, commended officials for their efforts towards peace and good governance in the state.
Other government agencies which appeared before the House Committee on Establishment, Ethics and Privileges were the Bureau for State and local government Pensions, the Directorate of Cabinet and Administration and the Office of the Head of Service, HoS.