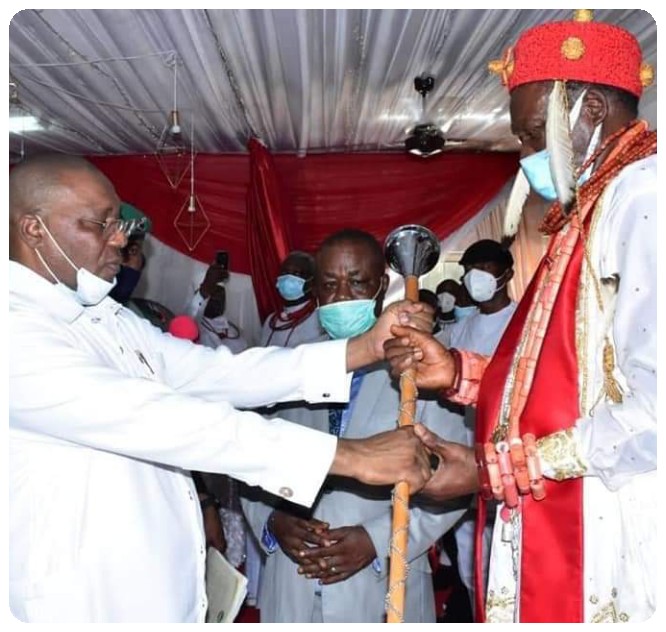 Convener of Agbon Peace And Economic Transformation Initiative, APETRI, and Executive Assistant on Communications to the Governor of Delta State, Dr (Barrister) Fred Latimore Oghenesivbe, has congratulated His Royal Majesty, HRM, Emmanuel Okumagba II, for ascending the throne of his forefathers as the Monarch of Okere-Urhobo people in Warri South Local Government Area of Delta State.
HE urged Okymagba II, to use his new status to join efforts with other traditional rulers in Urhobo Nation, to tackle the unfortunate multifaceted divisions in the Urhobo Progress Union, UPU, alleging that some powerful politicians have systematically capitalised on the endless petty squabbles in the union to hijack UPU structures for their selfish political interests.
The EAC to Governor Okowa further asserted in his goodwill message to the Orosuen of Okere-Urhobo Kingdom that other ethnic nationalities in the state, are secretly mocking Urhobo nation for her inability to speak with one voice and for allowing the political class to use money, unmerited favour and political influence to indirectly "divide and rule" the union, and to the disadvantage of the good people of Delta Central Senatorial District.
Oghenesivbe posited that the time has come for Urhobo nation to be wise, and to take strategic steps to redeem her lost glory, to reposition herself and to truly become the one-stop rallying point for all sons and daughters worldwide, irrespective of political affiliations, adding that UPU has somewhat degenerated to the point where powerful political gladiators in other ethnic nationalities are gradually taking control of the union to prosecute and to solidify their political interests and to prove their relevance in political chess game.
Oghenesivbe further appealed to Urhobo traditional rulers to continue to support and partner with the Okowa administration as a result of obvious commitments by the state governor, Senator Dr Ifeanyi Arthur Okowa, towards infrastructure and socioeconomic development of the three senatorial districts, as can be seen from the monumental achievements so far recorded in the past five years and still counting.
"It is obvious that other ethnic nationalities are mocking Urhobo nation over her inability to resolve the lingering crisis in the UPU, and something urgent, positive and result oriented must be done to wade off political gladiators within and outside Delta central senatorial district who have capitalised on the union's unfortunate squabbles to divide and control our people; and the political class to their selfish advantage, and to the disadvantage of Urhobo nation.
"Some of our sons and daughters in politics have decided to create multifaceted factions within UPU to drive their self centered political ambitions, liaising radically with their political associates outside Delta central senatorial district to weaken the strength and unity of the union. This is unacceptable because we cannot sell our birthright for a morsel of bread.
"It is on this note that I humbly and respectfully call on the newly crowned Orosuen of Okere-Urhobo Kingdom, Emmanuel Okumagba II and other royal fathers and their Chiefs-in-Council to do something urgent about the worrisome and unholy divisions in UPU, and to quickly as a matter of necessity, restore the pride and right of place of Urhobo Nation in our social milieu, going forward.
"I pray God Almighty to grant HRM, Emmanuel Okumagba II, divine wisdom, excellent health, longevity, and may his reign attract uncommon socioeconomic and infrastructure development, peace and unity to Okere-Urhobo Kingdom, and Urhobo Nation in general," Oghenesivbe prayed.