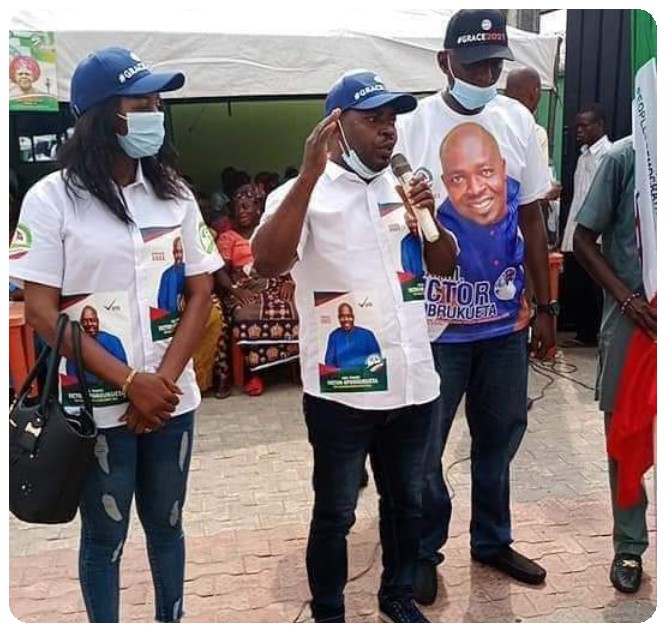 A chieftain of the Peoples Democratic Party, PDP, and Publicity Committee Chairman of Ethiope East Council Election Campaign, Dr Fred Latimore Oghenesivbe, has said that monumental failure awaits Delta State chapter of the All Progressives Congress, APC, due to what he called near zero preparations by the opposition party candidates for council elections slated for March 6, in the state.
Oghenesivbe made the disclosure while speaking as a special guest of DRTV Asaba public affairs programme, Morning Ride aired live on Friday 26th February, saying that persistent electioneering campaign laziness and lack of internal democracy have become the well known trade mark of Delta APC, since 2015 and still counting.
He said PDP in Ethiope East embarked on a massive grassroots campaign and mobilization of eligible voters across DESIEC 20 Ward; from Abraka to Agbon Kingdoms, and paraded party leaders, chieftains and party faithfuls in a consolidated ward to ward interface with the people, led by the LGA Party Chairman cum Chairman of Campaign Committee, Hon Felix Ejovwoke Erhimedafe and campaign Director General, Prof Nyerovwo Tonukari.
Oghenesivbe, who is also the Executive Assistant to the Governor of Delta State on Communications, noted with historical evidence that APC Delta has been bedevilled by internal wrangling, politics of bitterness, highly sophisticated deception during electioneering periods and lack of trust among factional leaders.
He noted that APC has been relegated to the dustbin of political history because of the abysmal performance of APC national government under President Mohammadu Buhari, and as rightly enthused by some distinguished senators on the floor of the Senate while reviewing the persistent socioeconomic, infrastructure and security failures in the country.
He said Delta women in politics are greatly excited by the decision of PDP and Governor Okowa, over the expansion of the roles of women in public service and political leadership; by ensuring that women occupies prime position of Council Vice Chairman in this dispensation, noting that the women and young female adults turned out massively to campaign for PDP, based on the understanding that their future in leadership and public service has been enhanced and absolutely guaranteed.
And in another media parley, Oghenesivbe advised the candidate of APC in Ethiope East, Mr Voke Ighorodje, to wake up from self induced hallucination and daydreaming, pointing out that Pharmacist Victor Ofobrukueta duly emerged as PDP candidate, and the needful was done in accordance with DESIEC guidelines before the expiration date indicated by the election umpire for substitution of party candidates.
He described Ighorodje as a political mediocre, a confused gold digger who does not know the value of gold, adding that the APC candidate is very unpopular, politically naive and belonged to one of the three troublesome factions, which is why his campaign is substantially unnoticed.
"Ighorodje and APC have no agenda for the people of Ethiope East, and he could not articulate his mission or agenda, but tells who ever care to listen that Hon Augustine Ogedegbe was and still the candidate of PDP, as if he was privy to the internal democratic arrangements and substitution of candidate in PDP.
"The entire substitution process which gave the party flag to Ofobrukueta, was long concluded before Ighorodje and his co-travellers got a wind of it. PDP did not and will never contravene election guidelines, not now, now in the future.
"Augustine Ogedegbe is a genuine PDP loyalist and a valuable party man who cannot give in to the dishonest and misconstrued assumptions of the unprepared and unpopular APC council election candidate in Ethiope East, in the person of Voke Ighorodje.
"Ogedegbe attended the enlarged meeting of PDP members at the party LGA Secretariat in Isiokolo, where Pharmacist Ofobrukueta Victor was again presented as the party's candidate, and in the presence of Ogedegbe, who also witnessed the inauguration of the LGA PDP Campaign committee and all the Sub Committees. He had a warm handshake with Ofubrukueta and the duo were in high spirit and in one accord for the council election.
"It is the law that Ogedegbe's presence at the first and second presentation of Ofobrukueta as the party's candidate is indeed sufficient and valid direct and/or implied consent to the candidacy of Ofobrukueta, and Ighorodje must be told that his repulsive antics revealed that apart from ignorantly relying on nonexistent technicalities, he has nothing to offer the good people of Ethiope East council area.
"It is crystal clear that APC Delta is not prepared for March 6 Council elections judging from their scanty campaign gatherings that can be compared to a poorly attended APC family meeting. This is not how to win elections, and failure is knocking on the door of APC Delta, Voke Ighorodje and other APC candidates across the 25 local government areas of the state, due to lack of adequate preparations and electioneering negative mindsets.
"It is a well known fact that if you fail to plan, you automatically have planned to fail. And this is the situation where APC Delta finds herself in the forthcoming council elections slated for Saturday 6th March, Oghenesivbe," said.