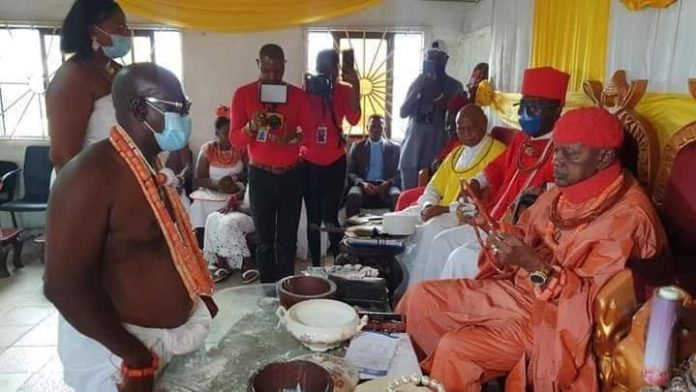 Executive Assistant to the Governor of Delta State on Communications, Dr Fred Latimore Oghenesivbe, has again poured encomium on the Chairman of Delta State chapter of the Peoples Democratic Party, PDP, Okakuro Kingsley Esiso, describing him as a visionary political strategist, electioneering tactician and a core loyalist of the state governor, senator Dr Ifeanyi Arthur Okowa.
Oghenesivbe, gave the commendation in his congratulatory message to Esiso, on the occasion of his new status as the OKPESE of Udu Kingdom, conferred on him by His Royal Highness, the Ovie of Udu Kingdom, Barrister Bethel Delekpe.
He said Esiso has displayed enormous leadership skills over the years, required of the arrowhead of the ruling party in the state, PDP, adding that his potentials are mirrored across the three senatorial districts, accounting for the multifaceted chieftaincy titles, awards and songs of joy blasting through the woofers of life.
Okowa's EAC noted that the leader-loyalist and partners in progress relationship between Gov Okowa and Esiso, is the reason why PDP in Delta state grew tremendously in the past five years and still counting, and urged the OKPESE of Udu Kingdom to sustain his unblemished leadership style.
"Our party chairman, Esiso, is in the fast lane of political leadership, as a result of his proactive and result oriented strategies which consistently placed our party in the state far and above the reach of the struggling opposition parties.
"He is detribalised and conducts the affairs of Delta PDP in conjunction with our state party leader, Gov Okowa, and with good conscience hence there cannot be major conflicts and no factions within the rank and file of PDP in the State, as against the crashed foundation of the major opposition party, APC Delta.
"Esiso deserve more recognition and awards, because of his positive charisma, charming personality, uncommon team player spirit and for PDP Delta numerous election victories.
"He has over the years exhibited high integrity and good conscience, a superb trait that is very scare among factional leaders of fading away APC Delta . Bravo to OKPESE of Udu Kingdom, Okakuro Kingsley Esiso.
"I wish my brother, a true son of Agbon Kingdom, an illustrious son of Urhobo nation and a highly detribalised Deltan, Okpese Kingsley Esiso, the very best that God has in stock for him.
"I pray God to grant him longevity, divine wisdom and inestimable prosperity, and above all, to navigate him to the mountain top of his political career and service to humanity," Oghenedivbe prayed.