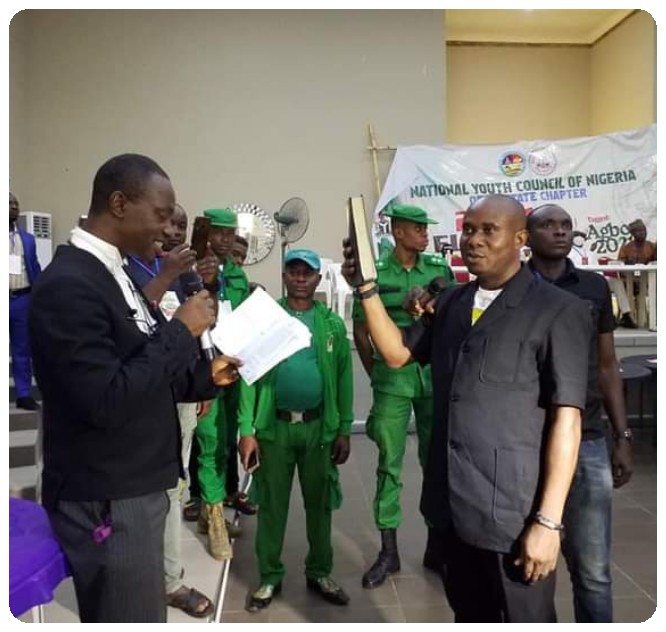 Through the ballots, the National Youth Council of Nigeria, Delta State Chapter has elected new executives to chart the way forward for the next four years in the state. In a keenly contested election, Comrade Kenneth Okorie emerged as the State Chairman, with Comrade Collins Enekorogha, Comrade Wojuola Tomi Akporoghene emerging as the State Secretary General and Media/Publicity Secretary respectively.
With delegates, heads of Voluntary Youth Organizations and Observers applauding the process, the electoral process was adjudged to be one of the best in recent years, with representatives from the National body commending the electoral committee.
In his acceptance speech on behalf of the newly elected Executive Committee Members, the newly elected State council Chairman, Comr. Kenneth Okorie appreciated the delegates for their reposed confidence in him and his excos, promising to build the Youths which would have a lasting effect on Nation building.
"On behalf of the newly sworn in Excos of the NYCN, I must sincerely appreciate delegates for reposing their confidence in myself and my excos. This clear indication of trust would spur me and my executives to perform better. In our previous administration, it would be noted that irrespective of the unending distractions, we were able to deliver on our electoral promises, even much more than was anticipated. I want to reassure all here present and even those at home, that this new administration would deliver more! We have been empowered with your votes and we would deliver."
I also want to thank God for giving us a youth friendly and listening Governor, who has the interest of the Youths at heart, but we must always ask for more, we want His Excellency to work on empowering more Youths, not Just through the job creation office but also other ministries and the youth council." he said.
On those who lost out the youth Governor called on others who contested to note that his administration wad one for all. He noted that he needs their wealth off knowledge to lead his administration addint that "they are going to be part of me."
Speaking to newsmen after the epoch making congress, Comr. Tomi Akporoghene stated that the newly elected executives would swing into action immediately for the benefit of the Delta state Youths. He noted that the vision of the Okorie led Youths was to build Youths who would be self sustained, civil and also put government on their feet for the betterment for the state.
He further noted that with the agility of the newly elected executives, the Delta state Youths were positioned for a turnaround as it affects their well-being.
Voluntary Youth Orientations present charged the new excos to be diligent in the discharge of their duties, encouraging them to always put the interest of youths first before their personal interest.
Comr. WT Akporoghene
Media/Publicity Secretary
National Youth Council of Nigeria
Delta State.