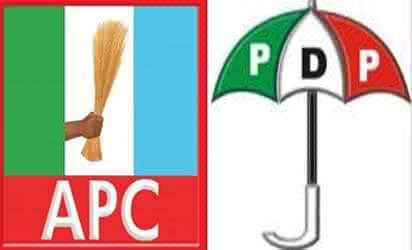 Executive Assistant to the Governor of Delta State on Communications and Justice of the Peace, JP, Dr Barr Fred Latimore Oghenesivbe has congratulated all Chairmen and Councillors Elect under the platform of the Peoples Democratic Party, PDP, saying that the All Progressives Congress, APC, goofed yet again.
The EACGOV in a statement made available to newsmen in his home town, Kokori in Ethiope East Local Government Area, on Sunday 7th March, posited that PDP has been vindicated as APC failed woefully in the just concluded council elections, pointing out that the political supremacy of PDP is so intense that the main opposition party, APC, should not dream of making any significant impact in future elections, especially 2023 general elections.
Oghenesivbe, a fellow of the Civilian Institute of Democratic Administration, fcida, noted that the beauty of constitutional democracy is that it guarantees freedom of association and right to willingly exercise civic responsibilities and/or duties; including freedom to vote for party of choice, which is why APC Delta will for a very long time to come wallow in consistent electioneering miscarriages and monumental failures because of the self inflicted bad governance, lack of due process and absolute disregard for the rule of law which has become the trade mark of APC national government under President Mohammadu Buhari, and adopted by all States under APC in Nigeria.
He said lack of preparations for election cannot be cured withdrawal from the contest out of self pity, and on the day of election as was the case with APC Delta in the just concluded council election, pointing out that for opposition party to do well in any electioneering contest it must be seen to be prepared by garnering sufficient grassroots support, present popular and credible candidates and must have good manifesto or agenda that the people can buy into, and that APC Delta failed in all of the above listed criteria.
Oghenesivbe further asserted that APC Delta will never fail in the area of internal factionalisation, trade by barter politics, petty squabbles among factional leaders, petition and cross petition, frivolous litigations and unhealthy rivalries within the rank and file of the party (APC), but will never be prepared to win, and not good enough to win elections in the state, not now, now in 2023.
In contrast, Okowa's EAC averred that PDP Delta will forever be united, always fully prepared for elections, constantly glued to the people especially eligible voters, the Governor, Senator Dr Ifeanyi Arthur Okowa, doing the needful to consistently spread jobs and wealth, inspecting and commissioning projects and providing good governance since 2015 and still counting.
He disclosed that PDP landslide victory in the just concluded council elections was as a result of governor Okowa's visionary leadership, hard work, solid synergy between the state party chairman, Okakuro Kingsley Esiso and the entire state party structures coupled with the massive campaign and mobilization of eligible voters, well informed populace through voters education, and are well acquainted with the laudable and results oriented policies and programmes of the Okowa administration.
"PDP victory at the just concluded council election is well deserved, it is a product of hard work, superlative electioneering strategies, clear cut exhibition of political supremacy and the good governance initiatives of the PDP led government in the state.
"You don't pass examination in flying colours by wishful thinking. You must read very hard according to the exam syllabus or course contents as approved by the school examination body.
"And in the instant case, political engineering through effective grassroots mass mobilization as well as established trust between the party and the people is key to election victory.
"It is safe to assert that PDP's masterclass victory at the just concluded council elections in Delta State, is hinged on the above positive political syllabus which the party adhered to religiously while APC shameful abysmal performance was largely traced to reading books not listed in the exam syllabus.
"APC Delta and her candidates consulted books that were not recommended for the examination; they failed to campaign, no agenda, no grassroots support and fielded unpopular candidates while majority of them have been alleged to possess questionable character, and therefore not fit and proper persons to occupy elective positions.
"Lack of adequate preparations and other negative factors within the APC crashing family may have accounted for party's last minute withdrawal from the 2021 council elections, and on the day of election, 6th March as a face saving strategy," Oghenesivbe said.