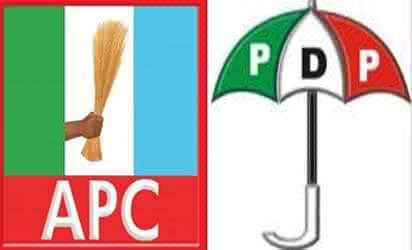 The Delta State PDP has lampooned the inconsequential withdrawal of the All Progressives Congress, APC from the Saturday, March 6, 2021, Delta State Local Government Council elections, describing it as too late and an already anticipated decision from a confused and fractured political party which could not even successfully organize its membership registration and revalidation exercise and was totally unprepared to participate in the polls.
Responding to a press statement titled: "Delta Local Government Polls: Delta APC Pulls Out of The Elections…Says DSIEC, PDP And Governor Okowa Have Cheated Deltans Again!" and signed by Sylvester Imonina Esq., Publicity Secretary (Caretaker) APC Delta State, on 6th of March, 2021, the Delta State PDP Publicity Secretary, Dr. Ifeanyi Osuoza said he was not surprised by the naive action and well-known attention-seeking habit of APC to wait until election day to withdraw, declaring however that the decision of the opposition party is of no consequence to the electoral process, especially since the stipulated time for all party activities concerning the elections to end, had since elapsed.
The statement reads thus: "The Delta State PDP is not surprised by the naive and attention-seeking action of the APC to withdraw from the March 6, 2021, Local Government elections. Their withdrawal confirmed our earlier suspicion, following its earlier spurious press statement which attacked and accused everybody of working against them.
"Their lack of preparation for the polls was so obvious that they had to resort to the usual ploy of name-calling, blackmailing everybody from the press to security agencies and making their lame excuses and baseless allegations of connivance.
"Battered and bruised by a calamitous membership registration and revalidation exercise and badgered by a plethora of legal tussles, including litigations by their members over the imposition of candidates for this same LG election they have now withdrawn from, after fraudulently selling forms and dubiously collecting money from unsuspecting aspirants, the APC knew they lacked any form of cohesion and structure to challenge the PDP for anything.
"They were so unprepared for the council polls since they really have nothing to offer Deltans and having been adequately cautioned to desist from instigating and inciting violence on election day, had no other choice than to quickly embrace the convenient option to shamelessly withdraw from participating in the polls.
"We wish to state categorically however that the withdrawal of APC from the March 6, Delta Local Government Election is of absolutely no import or significance to the electoral process because they have already been listed as one of the political parties participating in the elections and they will get whatever is due to them, including results, at the end of the election.
For the avoidance of doubt, the Delta State Independent Electoral Commission (DSIEC) listed 11 political parties that will participate in the March 6 Delta council election. The Director, Public Affairs and Communication at DSIEC, Arubi Orugboh, named the political parties as Peoples Democratic Party (PDP), All Progressives Congress (APC), New Nigeria Peoples Party (NNPP), All Progressives Grand Alliance (APGA) and African Democratic Congress (ADC).
Others are the Labour Party (LP), Social Democratic Party (SDP), Boot Party (BP), Accord Party (AP), Action Congress (AC), and Allied Peoples Movement (APM).
The APC realized that it has nothing to campaign with, except its misleading and negative propaganda and so settled from the onset to raise baseless allegations of victimization and connivance as a ready excuse to cover for their pathetic lack of preparation, massage their deflated egos and manipulate the mindset of their gullible loyalists with their deliberate refusal to campaign to Deltans.
"The PDP on the other hand campaigned robustly, colorfully, and comprehensively to all the nooks and crannies of every Local Government Area, with verifiable achievements and solid pledges to deliver more dividends of democracy to Deltans. The campaigns were well reported in all media and we were fully prepared for the elections.
"impeccable reports reaching us at this time and from very reliable quarters, confirm that the turn out of Deltans to vote was quite impressive and the process was free, fair, credible, and violence-free, across the length and breadth of Delta State.
"We want to therefore use this opportunity to warmly congratulate Deltans for their overwhelming faith and confidence in the process by turning out en-masse to vote for their preferred candidates and join other well-meaning Deltans in the collective effort to build a stronger Delta in the electoral sector and shame those who have nothing to offer except, lies,.confusion and baseless allegations.
God Bless Delta State.
PDP! Power to the people.
Dr. Ifeanyi M. Osuoza
State Publicity Secretary
PDP, Delta State.