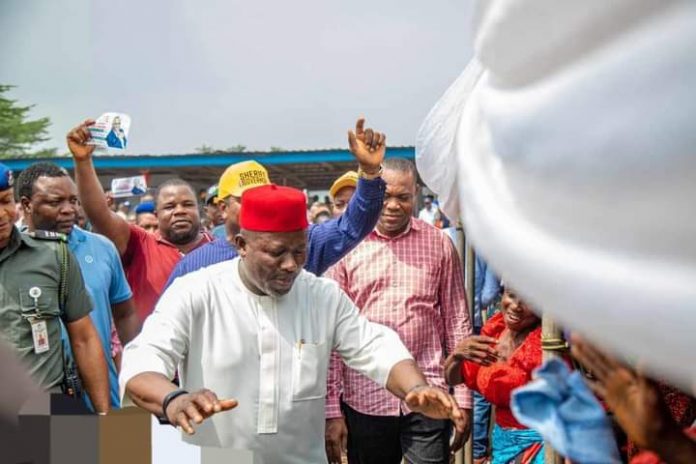 By Patrick Ochei
One of the frontline aspirants for the Governorship position of Delta State and Speaker, Delta State House of Assembly, Rt. Hon. Sheriff Oborevwori has said that he is a product of Anioma Nation, adding that he is poised to continue with the consolidation of Governor Ifeanyi Okowa's achievements in office.
He made this assertion during his consultation visits to the nine local government areas of Delta North (Anioma), where he met with delegates and party leaders under the platform of the PDP.
Oborevwori who is enjoying popular acceptance amongst the people of Anioma Nation, pledged to be a unifer and one who would see Asaba as the capital of Delta State.
The soft speaking but articulate politician, said he had been a student of Governor Okowa over the years, learning his styles, strategies and administrative prowess even as a Speaker, maintaining that he had learnt enough to step into his shoes to lead the State.
Presenting his social contract (manifesto) with the people in a book form to PDP LGA leaders in Aniocha North, Oshimili North, Oshimili South, Aniocha South, Ndokwa West, Ndokwa East, Ukwuani, Ika South and Ika North-East, Oborevwori assured to consolidate on Okowa's impeccable legacies by ensuring that the spreading of projects across the three Senatorial Districts of the State continues honestly and transparently.
The acceptance of the foremost Governorship Aspirant was overwhelming even as he was assured that Delta Northerners are only interested in an Aspirant who will consolidate on the achievements of Okowa while also maintaining the existing peace and harmony in the State.
In those consultation meetings were the who-is-who in Delta North politics who came out purposely to validate the aspiration of Right Honourable Sheriff Oborevwori.